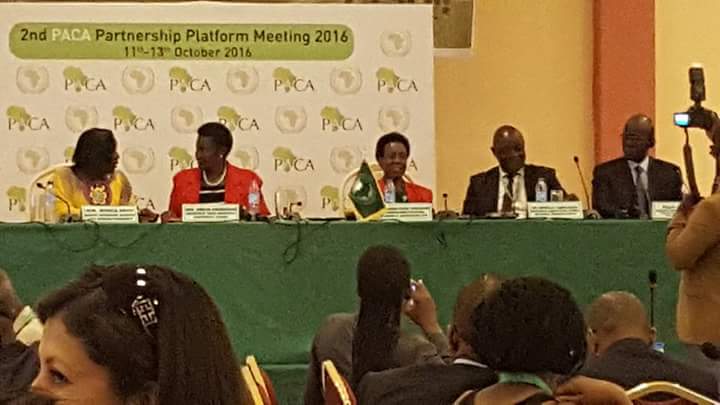 11-13 October 2016.
The 2nd PACA Partnership Platform Meeting (PPM)
brought together senior
government officials from African Union Member States (government ministries from agriculture, trade and health), Regional Economic Community (REC) representatives, farmer organizations, consumer associations, large and small business sector representatives, civil society, development partners, donor communities, the African Union (AU).
The meeting aimed to achieve the following objectives: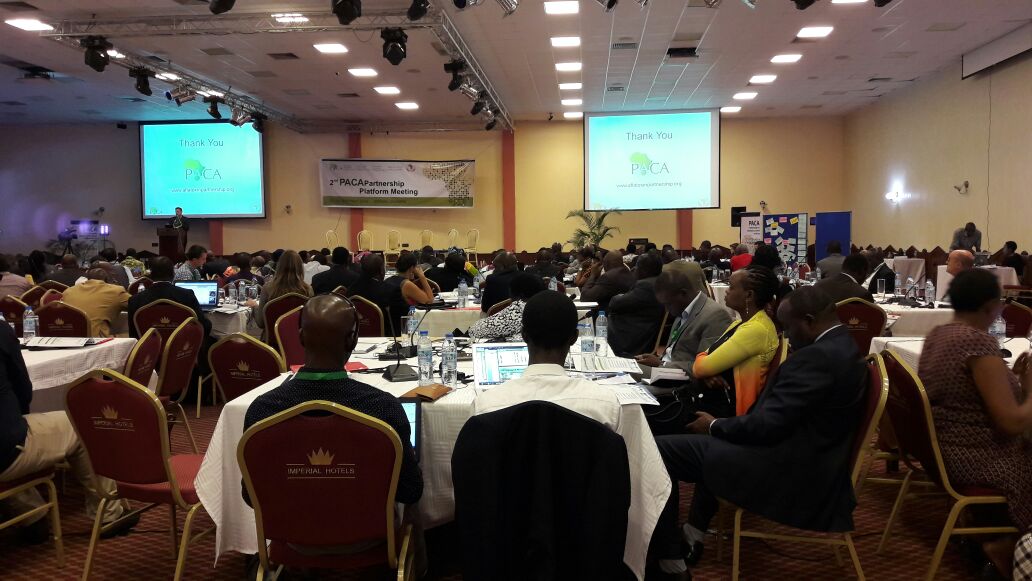 Track progress of implementing the specific actions identified at the 1st PPM.
Assess efforts of the last two years (2014-2016) of implementing PACA activities at continental, regional and national levels, in order to capture the attained successes and recorded challenges, for the development of a clear roadmap for the next two years of implementation.
Celebrate the numerous programs and activities being implemented by partners in managing aflatoxin, particularly the active leadership of key agents of change and aflatoxin mitigation champions active on the continent.
Endorse planned approaches for implementing PACA Phase II, 2016-2019.
Strengthen instruments and mechanisms for accountability, M and E and reporting for PACA stakeholders.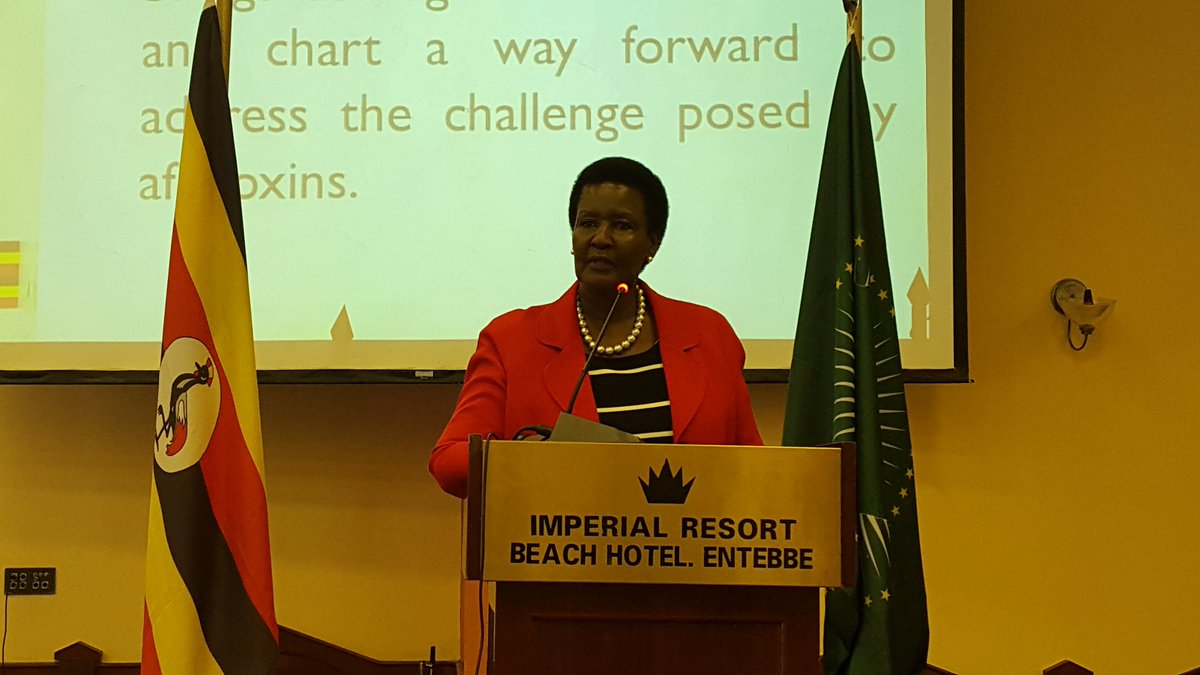 Hon. Minister of Trade, Industry and Cooperatives of Uganda
For a full description of the PACA PPM 2016, see following documents:
PPM 2016 Agenda (English and French) including descriptions of the following side events:
Parliamentarians Engagement for Aflatoxin Control in Africa
Strengthening Partnerships for Increased Impact of Non-State Actors in Aflatoxin Control
Aflasafe ™ Innovative Biocontrol Solution for Aflatoxin Control
11 October 2016
.
CTA Roundtable on Engaging the Private Sector for Aflatoxin
:
The Roundtable gathered over 35 participants, amongst which were CEOs and programme managers from groundnut, grain, chili, coffee producers, millers, traders and processors, input and equipment suppliers, technical and financial service providers, and development partners from across African and beyond. Representatives from AFRI-Nut - Malawi, Cereal Millers' Association - Kenya, CTA, GrainPro –
East Africa, Meds For Kids - Haiti, Nestlé – West Africa, PACA, USAID, Women's organisations in Uganda and Zimbabwe, were in attendance, amongst others.
In the upcoming weeks, CTA and PACA will release the joint report of the 2015 study on "Improving the Evidence Base on Aflatoxin Contamination and Exposure in Africa: Strengthening the Agriculture Nutrition Nexus".
During the side event, some of the private sector-led initiatives to contain aflatoxins that had resulted in achieving growth in market share, and meeting consumer demands while increasing brand and quality recognition were:
Self–regulation and the adoption of internal standards, which are, in some cases, stricter than national and international norms;
Private sector-driven model: provision of input credits and higher prices for quality produce to farmers;
Adoption of a farm to fork approach (train and support and test through the chain) -train farmers in good agricultural practices e.g. using farmer field school methodology and conduct aflatoxin testing on site (Romer Agrastrip, Mobile Assay, traceability protocol);
Establishing joint ventures with major research facilities (e.g. BeCA-ILRI Hub, PMIL, universities for compliance testing, sampling; APTECA for proficiency testing;)
Forming alliances with other private sector actors and producer groups;
Investing in capacity building of staff and infrastructural development.
The President of Uganda, Yoweri Museveni
and Judith A. Francis, CTA Senior Programme Coordinator,
2nd PACA Partnership Platform Meeting in Entebbe, Uganda.
The following priority actions were compiled at the side event and were conveyed to the plenary
session of the PACA Partnership Platform Meeting on 13th October as key elements of a private sector engagement strategy:
Mobilize matching grant schemes for increasing access to technologies and services to support innovation
Build alliances with consumer groups to create awareness and demand for safe quality foods without creating panic
Build alliances with farmer groups/associations/cooperatives for scaling-up the adoption of good agricultural practices and collective sourcing, as incentives for premium prices
Lobby government for incentives to support innovation in the food and feed value chains and updating and improving implementation of aflatoxin regulation governing the informal and commercial sectors.
Download the
final report of the side event
Related:
Noting that the successful implementation of aflatoxin control efforts requires constant advocacy and support by policy makers, and Agents of Change/Champions who make extraordinary efforts in the adoption, implementation, and success of aflatoxin mitigation, the 2nd PACA PPM celebrated the nu-merous programs and initiatives being implemented by partners in managing aflatoxin.
Champions were selected from four thematic areas 1) Research and technology; 2) Policy and creating an enabling environment; 3)
Advocacy and communication
and 4) Resource mobilization.
On advocacy and communication the winner was the Eastern Africa Farmers Federation (EAFF).
EAFF is the apex organization of all Framers of Eastern Africa. Its role is to voice legitimate concerns and interests of farmers of the region with the aim of enhancing regional cohesiveness and social-economic status of the farmers.
The Federation, apart from voicing views and demands of the farmers on crosscutting issues such as aflatoxin mitigation, also endeavors to promote regional integration of the farmers through trade and good neighborliness.
References: