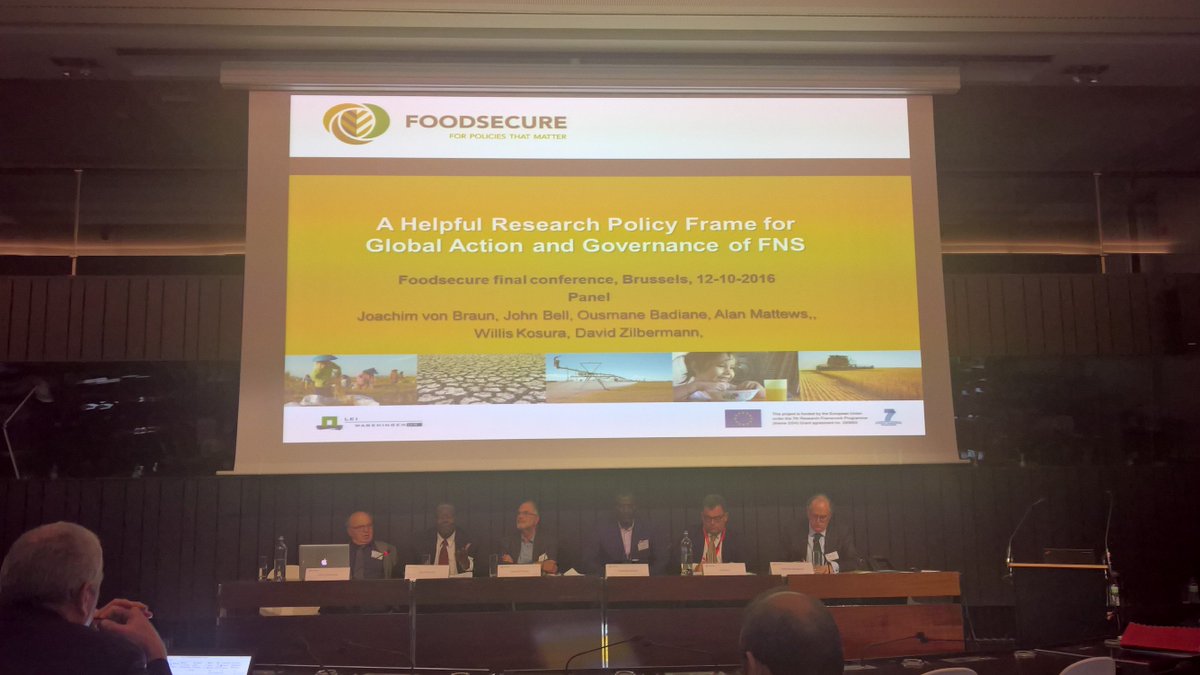 12 October 2016
. Brussels. Some 150 participants consisting of policy and decision makers on FNS in the European Commission, the EU and beyond, with representatives of the civil society, private sector and academia that have a stake in a global strategy for
FNS participated
in a conference entitled "Policies that matter"
.
This conference provided a policy and science
forum on Europe's role in eliminating global
hunger and malnutrition. Reflecting the approach adopted throughout the project, in this final conference FOODSECURE researchers engaged with interested policy-makers and stakeholders during a one-day event to present, share and discuss their research results and findings as well as policy recommendations. an introduction to the project and the overall conceptual framework of the project for assessing and addressing FNS in an uncertain future and in anticipation of more volatile global agricultural markets.
Parallel session 1
: "A policy agenda driven by novel evidence on the determinants of global food and nutrition security (FNS)"
Session 1A
. Culture and socio-economic exclusion driving food and nutrition security in the EU and beyond
Session 1B.
Linking empowerment, innovation and resilience – evidence from farm households
Linking empowerment, innovation and resilience – evidence from farm households by

Nicolas Gerber

(ZEF) and

Martina Bozzola

(IHEID)

Take-home messages

Message 1: Innovation and technology diffusion can be inclusive, but reaching the poor may require looking beyond traditional remedies to low investments in agricultural innovations at the farm level. Interventions on farmers' aspirations may enhance the effectiveness of other policies targeting "external" constraints. Aspiration-raising strategies could hence

support innovation diffusion and creation, as well as FNS.

Message 2: Key technological innovations such as improved seeds can increase the economic resilience of small farmers in the developing world, especially if these technologies prove tolerant to a wide range of conditions. Yet the adoption of improved seeds is itself negatively affected by climate shocks and therefore the intensity of diffusion remains sub-optimal. Institutional changes, and possibly even deeper structural changes, are required to correct this. For example, to support technology diffusion in improved seeds varieties is important not only to invest the development of such technology, but also in experimentation and use at the production (farmer) level.
Session 1C.
Volatile agricultural commodity prices and instability along the food value chain
Parallel session 2:
"How do future FNS challenges shape EU policy action in meeting global sustainability and hunger and nutrition goals?"
Session 2A.
Inequality and inclusiveness: Long term scenarios and robust policy response
Session 2B.
Environmental sustainability of the food system: Long term scenarios, robust policy responses and the 1.5°C warming
Policy panel: "EU policies and global FNS"
Science panel:
"A helpful research and policy frame for global action and governance of FNS"
Introduction and moderator: Joachim von Braun (ZEF)
Panelists: John Bell (DG Research), Ousmane Badiane (IFPRI), Alan Matthews (University of Dublin),

Willis Kosura

(University of Nairobi), David Zilberman (UC Berkeley)
Background:
FOODSECURE
– An interdisciplinary research project to explore the future of global food and nutrition security. 7th framework program, Collaborative Project. € 10.5 mln. March 2012 – 2017. 19 partners from 13 countries. Scientific Coordinator Joachim von Braun (ZEF, Center for Development Research, University of Bonn)
The effect of aspirations on agricultural innovations in rural Ethiopia
Author(s) Daniel Ayalew Mekonnen; Daniel Ayalew Mekonnen; Nicolas Gerber; Nicolas Gerber
This paper identifies the impacts of aspirations on the adoption of agricultural innovations in the context of rural Ethiopia. While most studies on agricultural innovations have focused on identifying observable and resource-related deprivations or 'external' constraints, a related stream of literature suggests that 'internal' constraints, such as the lack of aspirations, could reinforce external constraints and lead to self-sustaining poverty traps. Since both aspirations and the adoption of i...
More
Transfer of Improved Varieties in Informal Markets and the Diffusion of Embedded Innovation: Legal Pluralism in Uganda
Author(s) Martina Bozzola, Tim Swanson, Helena Ting
Summary The authors used household level panel data to look at the diffusion of seed technology among Ugandan farmers. We present a simple target-input model to conceptualize the adoption decisions and management of a new technology in which the best use of inputs under the new technology is unknown and stochastic. In this framework, there is path dependency in the adoption process, since use and adoption are important indicators of the superior efficiency of new technology. Our analysis suggests that the adoptio...
More
Work packages/research areas