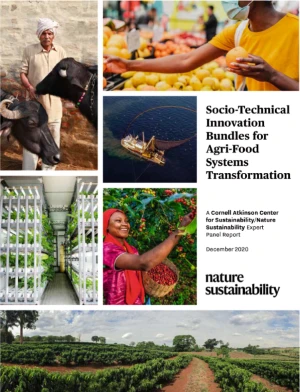 Christopher B., Tim Benton, Jessica Fanzo, Mario Herrero, Rebecca J. Nelson, Elizabeth Bageant, Edward
Buckler, Karen Cooper, Isabella Culotta, Shenggen Fan, Rikin Gandhi, Steven James, Mark Kahn, Laté Lawson-Lartego, Jiali Liu, Quinn Marshall, Daniel Mason-D'Croz, Alexander Mathys, Cynthia Mathys, Veronica Mazariegos-Anastassiou, Alesha (Black) Miller, Kamakhya Misra, Andrew G. Mude, Jianbo Shen, Lindiwe Majele Sibanda, Claire Song, Roy Steiner, Philip Thornton, and Stephen Wood.
Socio-technical Innovation Bundles for Agri-foodSystems Transformation,
Report of the International Expert Panel on Innovations to Build Sustainable, Equitable, Inclusive Food Value Chains. Ithaca, NY, and London: Cornell Atkinson Center for Sustainability and Springer Nature, December 2020.
172 pages
In January 2020, Nature Sustainability and the Atkinson Center for Sustainability jointly
announced
the launch of the
expert panel
on 'Innovations to build sustainable, equitable, inclusive food value chains'. Almost a year later, the
report
'Socio-technical innovation bundles for agri-food system transformation' is now complete and available to our readers and the wider community.
The authors embarked on a stimulating collaborative effort to synthesize existing knowledge on the current state of global agri-food systems, and to recognize the most critical drivers of change that could transform such systems over the next 25–50 years. Their goal was important and ambitious: to identify the innovations that would turn agri-food systems into healthy, equitable, resilient and sustainable systems, and shed light on the enabling conditions for such innovations to diffuse and scale up.
The panel's rigorous synthesis and analysis of existing research leads compellingly to multiple actionable recommendations that, if adopted, would simultaneously lead to healthy and nutritious diets, equitable and inclusive value chains, resilience to shocks and stressors, and climate and environmental sustainability. The panel refers to this set of goals as HERS (Healthy, Equitable, Resilient, Sustainable), implicitly emphasizing the importance of SDG 4: Gender Equality.
There is an abundance of available technologies in domains like that of cellular and digital agriculture, food processing and safety, resource use efficiency among others.
Many more technologies are likely to emerge in the future. Numerous available digital innovations are of special interest as cross-cutting solutions, including, for example, applications of molecular printing, biodegradable coatings among many others.
Portfolios of different innovations for different segments of the value chain will drive change. But it is not all about technologies.
The report highlights the importance of developing innovative financing mechanisms.
Current government farm subsidies should be reallocated to support innovations.
On the private investment front, there is potential to unlock capital by shifting investors' preferences, but there are barriers.
Given the diversity of agri-food systems, there should be efforts to provide research and development support where it is needed — think of Africa where most of the growth in food demand will happen over the next decades and where agri-food systems are inefficient, unsustainable and broadly speaking lag behind in terms of public health and social dimensions.
There is also need of innovative social protection tools to support those who might suffer as a result of implementing disruptive innovations, and of advances in civic engagement. Rapid convergence in value chain certification schemes is critical to step up standards, and other value chain innovations are discussed in the report. Transformative innovations also have to be channelled to produce healthy and nutritious food as part of the effort to deliver systemic transformations.