18-22 October 2021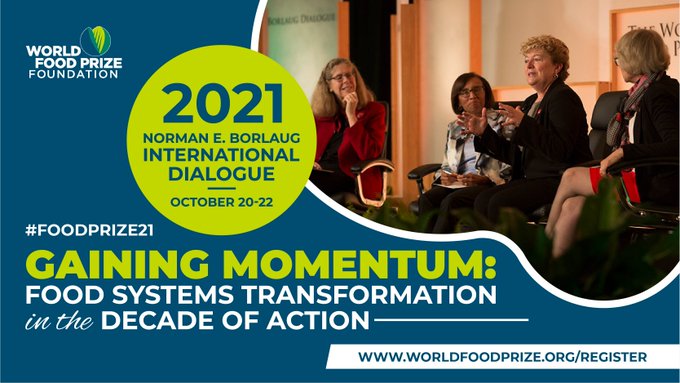 The International Borlaug Dialogue
The "Borlaug Dialogue," each year brings together over 1,200 people from more than 65 countries to address cutting-edge issues related to global food security and nutrition. The three-day conference convenes a wide array of scientific experts, policy leaders, business executives and farmers and has been called "the premier conference in the world on global agriculture." Through the Borlaug Dialogue, the World Food Prize Foundation helps build alliances in the struggle against world hunger and malnutrition.
The International Borlaug Dialogue follows the UN Food Systems Summit (FSS) and the 49th Plenary Session of the Committee on World Food Security (CFS) while building forward for COP26 and the Nutrition for Growth Summit, to gain momentum in the Decade of Action. Country commitments and Coalitions of Action adopted during the UN FSS will be highlighted during the Borlaug Dialogue, reaching additional audiences and widening opportunities for partnership.
Extracts of the programme
19/10
. 13:30 CEST.
Enabling Food and Nutrition Security in Drylands
By ICRISAT
This panel highlighted opportunities and importance of global collaboration, and brainstorm the way forward for food and nutrition security in the dryland regions of the world.
Moderator:

Dr Rajeev Varshney

, Research Program Director- Accelerated Crop Improvement, ICRISAT

Yemi Akinbamijo

Executive Director, Forum for Agricultural Research in Africa (FARA)

Julianne Biddle

Director Multilateral Engagement, Australian Centre for International


Agricultural Research

Jane Ininda

Director and Chair, ARUA Centre of Excellence in Sustainable Food Systems (ARUA-SFS) University of Pretoria, South Africa

Arvind Kumar

Deputy Director General- Research, ICRISAT, India

Trilochan Mohapatra

Secretary, Department of Agricultural Research and Education and DG, Indian Council of Agricultural Research, Govt. of India
Respondents
Dr Anthony Whitbread

, Research Program Director – Resilient Farm and Food Systems, ICRISAT
Dr Michael Hauser, Research Program Director – Enabling Systems Transformation, ICRISAT

Dr Rebbie Harawa

, Regional Director Eastern & Southern Africa, ICRISAT

Dr Ramadjita Tabo

, Regional Director West & Central Africa, ICRISAT
As the world looks to promote sustainable agriculture and fight food insecurity, agroecology (often incorrectly conflated with "organic farming" and "regenerative farming" by some international actors) and agricultural biotechnology continue to be two central topics in developing sustainably agricultural systems. Unfortunately, anti-GE sentiments that are principally driven by political pressures give the false impression that agroecology and biotechnology are incompatible with each. This side-event will seek to have an honest, science-based, and data-driven discussion to reconcile these two approaches to understand how biotechnology can serve as an important tool that can work in conjunction with agroecological practices to promote sustainable agriculture and help small- and medium-sized enterprises and farmers.
Matt Murray

, U.S. Department of State Acting Assistant Secretary (host)

Sarah Evanega

, Cornell University Alliance for Science (moderator)

Beth Bechdol

, DDG, Food and Agricultural Organization of the United Nations

Nassib Mugwanya

, North Carolina State University

Dr. Walter Suza

, Iowa State University