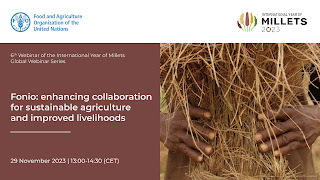 29 November 2023
.
Fonio: enhancing collaboration for sustainable agriculture and improved livelihoods
Fonio is one of the oldest cereal crops in Africa, and among all species of millet, it is the world's fastest maturing cereal (60-70 days). In many Western African countries, fonio plays an important role in household food security and income generation and holds a vital place in cultural identity. Fonio is valued for its high nutrition, ability to grow in areas of drought and high temperatures. Also known for its low-fat content, low glycaemic index, and for being gluten-free, it has the potential to ramp up space in the global market as a functional food suitable for feeding people affected by obesity, diabetes, and celiac disease among others.
IYM2023 provides an unparalleled opportunity to promote fonio as a globally important crop for the future, and bring together researchers and practitioners from different countries and disciplines to share their work and join forces to promote its use for sustainable agriculture and improving local livelihoods.
This webinar showcased current research covering key areas, including taxonomic diversity and distribution, seed science and conservation, uses and livelihoods, genetics, nutrition, cultivation, and value chains. This capitalizes on expertise from across institutes, ranging from the diversity of different landraces, diversification of farming systems, economic implications for fonio, and future genetic transformations.