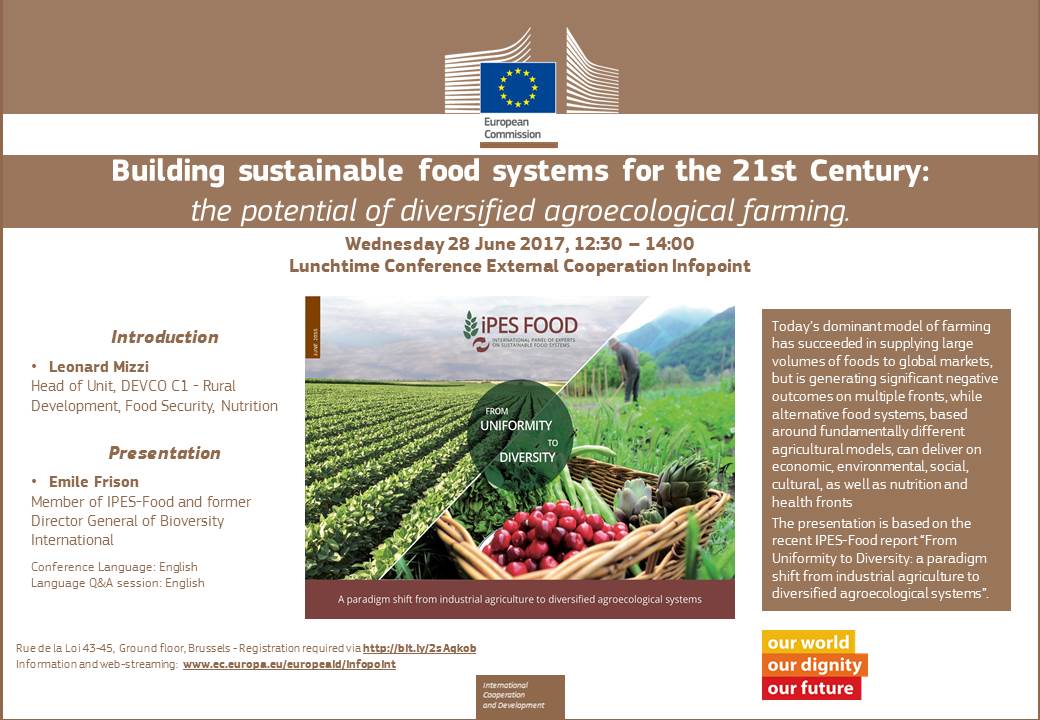 28 June 2017.
Brussels. DEVCO InfoPoint. Today's dominant model of farming has succeeded in supplying large volumes of foods to global markets, but is generating significant negative outcomes on multiple fronts, while alternative food systems, based around fundamentally different agricultural models, can deliver on economic, environmental, social, cultural, as well as nutrition and health fronts
The presentation was based on the recent IPES-Food report "From Uniformity to Diversity: a paradigm shift from industrial agriculture to diversified agroecological systems".
Introduction:

Leonard Mizzi

, Head of Unit, DEVCO C1 - Rural Development, Food Security, Nutrition
Presentation

Emile Frison

Member of IPES-Food and former Director General of Bioversity International
Related:
2nd June 2016.
Launch of the IPES-Food's first major report:
'From Uniformity to Diversity: A paradigm shift from industrial agriculture to diversified agroecological systems'
and presented by lead author Emile Frison, former Director General of Bioversity International.
Main messages
:
Input-intensive crop monocultures and industrial-scale feedlots must be consigned to the past in order to put global food systems onto sustainable footing, according to the world's foremost experts on food security, agro-ecosystems and nutrition.
The solution is to diversify agriculture and reorient it around ecological practices, whether the starting point is highly-industrialized agriculture or subsistence farming in the world's poorest countries.
The report asks three key questions:
What are the outcomes of industrial agriculture / diversified agroecological systems?
What is keeping industrial agriculture in place?
How can the balance be shifted?
"Some of the key obstacles to change are about who has the power to set the agenda. The way we define food security and the way we measure success in food systems tend to reflect what industrial agriculture is designed to deliver - not what really matters in terms of building sustainable food systems" Emile Frison
"Many of the problems in food systems are linked specifically to the uniformity at the heart of industrial agriculture, and its reliance on


chemical fertilizers and pesticides. It is not a lack of evidence holding back the agroecological alternative. It is the mismatch between its huge potential to improve outcomes across food systems, and its much smaller potential to generate profits for agribusiness firms." Olivier De Schutter, co-chair of IPES-Food.
'This report is on point with its message. Building sustainable food systems needs multiple, diverse pathways. And whether the starting point is highly-industrialised agriculture or subsistence farming in the world's poorest countries, looking at it from an ecological perspective will help promote solutions that are respectful not only of our environment, but of what we produce, our communities and their livelihoods".

Melissa Leach

, IDS director
Read the
full report
Read the
executive summary
Read the
key messages
, also available in
French
and
Spanish
Related: