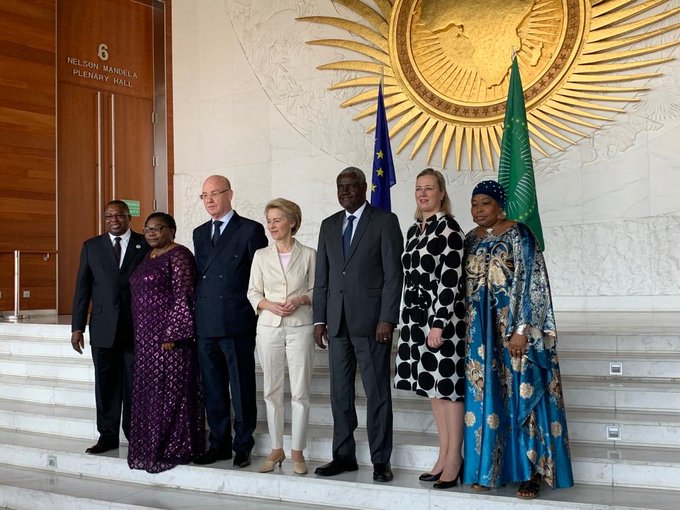 27 February 2020
. Addis Ababa.
The College of Commissioners
of both the European Commission and the African Union Commission meet regularly to provide political guidance to the AU-EU Partnership.
Alternating between the cities of Brussels and Addis Ababa, the meetings aim to be an interactive exchange of expertise and constructive debate on areas of shared interest. In addition, they provide an opportunity to review progress made on the Partnership, to improve cooperation between the two institutions, and to focus on what they can learn from each other with regard to common priorities and challenges.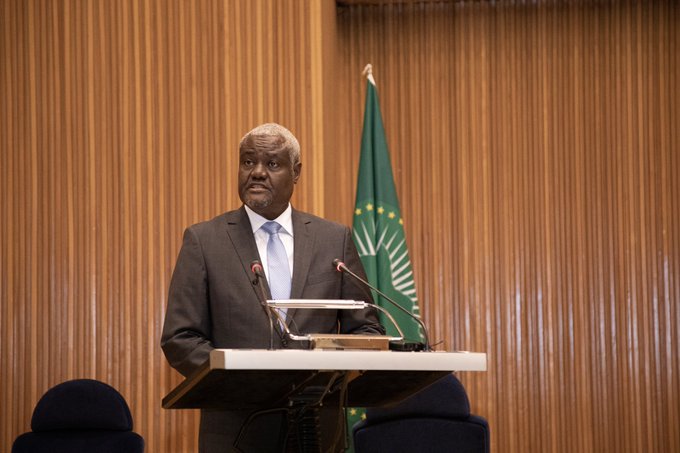 See:
Statement of H.E. Moussa Faki Mahamat, Chairperson of the African Union Commission at the AU-EU College to College Meeting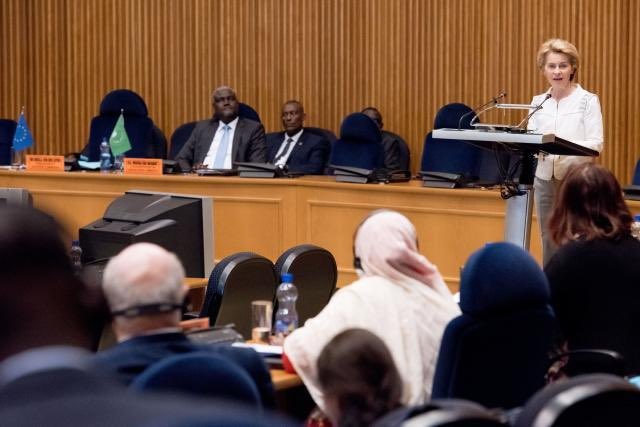 The EU and the African Union (AU) discussed how to take foward their cooperation to address key challenges both Europe and Africa are facing such as the need to promote sustainable growth and jobs, green transition, digital transformation, peace, security and good governance, mobility and migration.
The meeting was also an opportunity for the EU side to consult its African partners on the upcoming
comprehensive Africa Strategy
which President von der Leyen promised to deliver in her first 100 days in office and is due to be presented in early March.
The presentation of this important document will kick-start a wider consultation process that will lead up to the
EU-AU Ministerial meeting in May 2020 in Kigali, Rwanda,
and the upcoming EU-AU Summit in October in Brussels,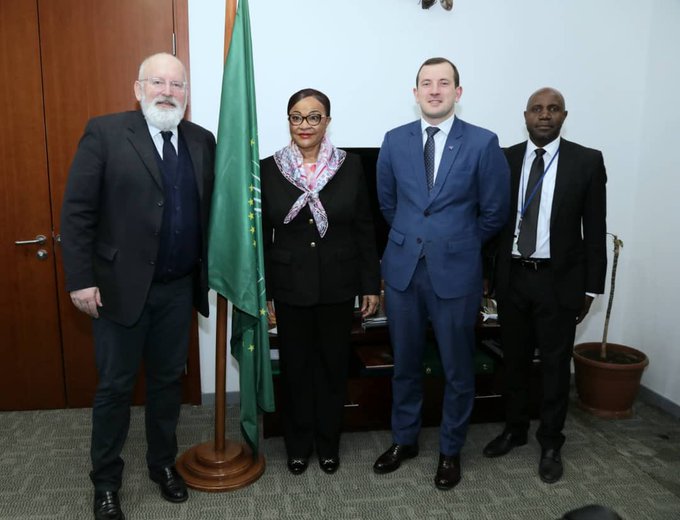 Frans Timmermans, Josefa Sacko,
Virginijus Sinkevičius
where both sides will agree a joint approach on shared priorities.
The last AU-EU Commission-to-Commission meeting took place in Brussels, Belgium, on 23 May 2018. AU and EU Commissioners adopted measures to address pressing global issues in key areas such as peace and security, migration, job creation and agriculture. This new meeting follows the official visit to African Union Headquarters and to Ethiopia by H.E. Ms. Ursula von der Leyen, President of the European Commission, in December 2019.
A record number of College members attends
the 10th European Union-African Union Commission-to-Commission meeting
.
President of the European Commission,

Ursula von der Leyen

Vice-President of the Commission

Josep Borrell

,
Vice-President for the European Green Deal,

Frans Timmermans,

Vice-President for a Europe fit for the Digital Age,

Margrethe Vestager,

Vice-President for an Economy that works for people,

Valdis Dombrovskis

,
Vice-President for Inter-institutional Relations and Foresight,

Maroš Šefčovič

,
Vice-President for Values and Transparency,

Věra Jourová

,
Vice-President for Democracy and Demography,

Dubravka Šuica

,
Vice-President for Promoting our European way of life,

Margaritis Schinas
Commissioners:
Commissioner for International Partnerships,

Jutta Urpilainen

Commissioner for Trade,

Phil Hogan

Commissioner for Innovation and Youth,

Mariya Gabriel

Commissioner for Jobs and Social Rights,

Nicolas Schmit

Commissioner for Economy,

Paolo Gentiloni

Commissioner for Agriculture, Commissioner

Janusz Wojciechowski

Commissioner for Cohesion and Reforms,

Elisa Ferreira

Commissioner for Justice,

Didier Reynders

Commissioner for Equality,

Helena Dalli

Commissioner for Home Affairs,

Ylva Johansson

,
Commissioner for Crisis Management,

Janez Lenarčič

Commissioner for Transport,

Adina Ioana Vălean

Commissioner for Energy,

Kadri Simson

Commissioner for Environment, Oceans and Fisheries,

Virginijus Sinkevičius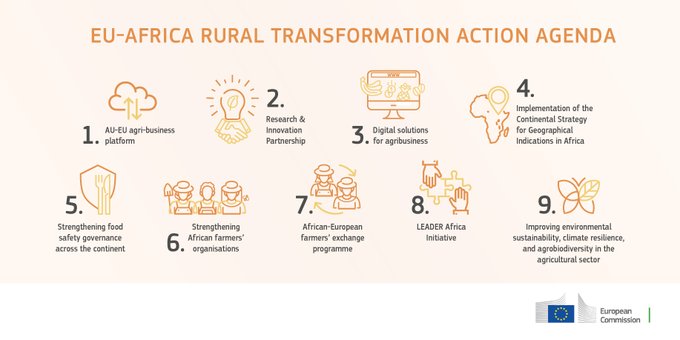 Related:
21 June 2019.
On the occasion of the
third African Union – European Union agricultural ministerial conference
, African Union and the European Union representatives endorsed a Political Declaration, accompanied by an action agenda, with the overall aim of
further strengthening the Africa-EU partnership in food and farming at all levels.
From climate action to an African-European farmers' cooperation programme, these actions build on the
recommendations
put forward by the
Task Force Rural Africa
back in March 2019, an agri-food and rural agenda for the new '
Africa-Europe Alliance for Sustainable Investment and Jobs
' unveiled by Commission President Jean-Claude Juncker in September 2018.