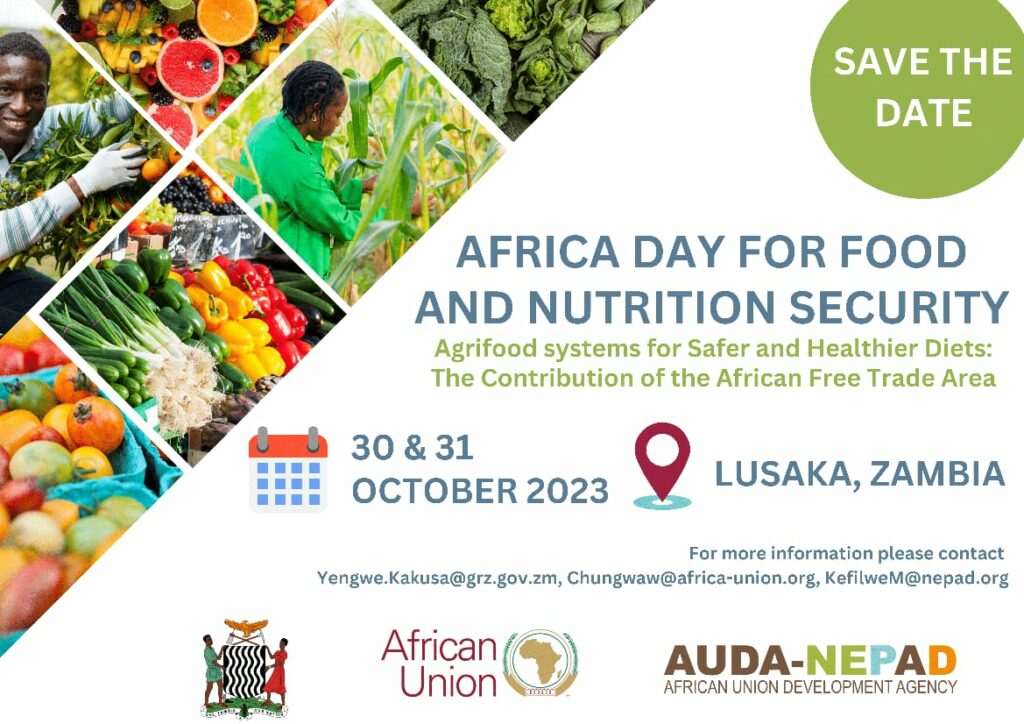 30 October - 2 November 2023
. Lusaka, Zambia
19TH CAADP PP & 14th ADFNS|
Theme: Accelerating the implementation of the African Continental Free Trade Area Agreement in the context of CAADP Commitments for Safer and Healthier Diets
The African Union Commission (AUC) through its Department of Agriculture, Rural Development, Blue Economy, and Sustainable Environment (DARBE), in partnership with the Department of Health, Humanitarian Affairs and Social Development (HHS) and the African Union Development Agency (AUDA-NEPAD), with support of technical institutions and other stakeholders organized the commemoration of the 14th Africa Day for Food and Nutrition Security (ADFNS), the 19th edition of the Comprehensive Africa Agriculture Development Programme (CAADP) Partnership Platform (PP), the associated Malabo Policy Learning Event (MAPLE), as well as the CAADP High-Level Ministerial Forum (HLMF)
30/10 MALABO POLICY LEARNING EVENT (MAPLE)
KEYNOTE ADDRESS: Reaping the Dividend of Two Decades of Policy Reforms for Food and Nutrition Security in Africa -
Dr. Lawrence Haddad
, Executive Director, GAIN
Panel Discussion: Showcasing Success Stories and Key Policy Lessons in Food and Nutrition Security
Setting the scene for the MAPLE by sharing and reviewing concrete examples of success stories in policy reforms and exploring conditions for scale-up.
Ms. Abimbola Adesanmi

, Partnership for Child Development, Nigeria

Ms. Rosemary Mwaisaka

, former Director for Nutrition and ECSA Food Fortification program

Mr. Jervis Zimba

, President of the Zambia Farmers Union

Ms. Doris Utuka

, Gaba National School Feeding Manager, Ghana.

Ms. Muntanga Lindunda

, CEO, Zambia Association of Manufacturers.

Mrs. Ellah Chembe

, CEO, Zambia National Farmers Union
BR Commitment: Boosting Intra-African Trade in Agricultural Commodities & Services
Assess progress toward the Malabo Declaration commitment to boost intra-African agricultural trade.
Raise awareness about the current state, challenges, and opportunities of intra-African trade in
agricultural commodities and services. Share findings, and success stories that can inspire and inform stakeholders.
Dr. Hermogene Nsengimana

, Secretary General, ARSO - Keynote Presenter

Mr. Martin Bwalya

, Independent Food Systems Expert

Mr. Daniel Njiwa

, Director, Regional Food Trade & Markets AGRA

Ms. Anataria Rumb

a, Director of Business Competitiveness Trademark Africa

Mr. Dingiswayo Shawa

, SPS Expert COMESA

Dr. Chris Muyanda

, Vice Chairman, Muska Development Agency - Summary
BR Commitment: Ending hunger and halving poverty by 2025
Dr. Sukati Mphumuzi

, Senior Regional Nutrition and Food Systems Officer FAO - Keynote presenter

Mr. Raymond Chikomba

, Regional Nutrition Coordinator, SADC

Dr Rhoda Mofya

, National Coordinator for Nutrition and Food Security, FAO Zambia

Dr. J Chris Toe

, Senior Advisor WFP

Prof Lise Korsten

, University of Pretoria / AAS

Mr. Ishmael Sunga

, CEO, SACAU

Dr. Laila Omar Gad

, UNICEF Representative to Liberia

Ms. Bibi Giyose

, Senior Advisor to CEO AUDA NEPAD - Summary
31/10 THE 14TH AFRICA DAY FOR FOOD AND NUTRITION SECURITY (ADFNS) COMMEMORATION
OPENING REMARKS:
Mr. Stanlake Samkange

, Out-going Chair of the CAADP DPCG

Dr. Abebe Haile

, Assistant Director-General and Regional Representative for Africa, FAO

Dr. Ibrahim Assane Mayaki

, AUC Special Envoy on Food Systems

H.E. Ms. Nardos Bekele-Thomas

CEO, AUDA-NEPAD

H.E. Amb Minata Samaté Cessouma

, AU Commissioner for Health, Humanitarian Affairs and Social Development
H.E. Ambassador

Josefa Leonel Correia Sacko

, AU-DARBE Commissioner for Agriculture, Rural Development, Blue Economy & Sustainable Environment.

Hon. Rueben Mtolo

, MP, Minister of Agriculture, Gov. of Zambia
High-level Ministerial Panel
W. K. Mutale-Nalumango

(MP) Vice President, Republic of Zambia

Hon. Sylvia T Masebo

, MP, Minister of Health, Government of Zambia

Hon. Reuben Mtolo

, MP, Minister of Agriculture, Government of Zambia

Hon. Makozo Chikote

, MP, Minister of Livestock and Fisheries, Government of Zambia
Perspectives from Partners on the Status of Agri-Food Trade, Food and Nutrition Security: Big Picture Priorities
Mr. Odd Arnesen

, Regional Food Security Envoy, NORWEGIAN AID

Julianna Drinan

. Program Officer: Agricultural Development (Data and Evaluation focus) at Bill & Melinda Gates Foundation (BMGF). Seattle, Washington, United States
UNICEF representative

Kelley Cormier

Food Safety Division Chief, Center for Nutrition, USAID's Bureau for Resilience and Food Security USAID
Deputy director JICA Zambia office

Mr Watipaso Mkandawire

, Regional Food Markets Advisor, FCDO
"UK to host Global food security summit 20th of November in London"
Tim Robertson Senior Agricultural Specialist World Bank
IFAD representative AU
Perspectives from the African Food Systems Parliamentarian Network (AFSPaN)
Hon. Neema Lugangira

, MP Tanzania

Hon. Menyani Zulu

, MP Zambia and the Pan African Parliament

Hon. Jeremy Lissouba

, MP Congo Brazzaville

Hon. Sameer Suleiman

, MP Malawi
MP Ethiopia
MP Kenya
CALL FOR ACTION: Youth 4 Nutrition
Mrs. Estherine Lisinge-Fotabong
, AUDA NEPAD
Award of the 3rd Biennial Review to Recipients
Dr. Godfrey Bahiigwa
, AUC ARD
Launch of the Consortium of Youth in Agriculture and Climate Change (CAYACC)
Ms. Panduleni Elago

, Senior CAADP Advisor, AUC

Dalitso Mbewe

, Coordinator CAYACC
Youth Panel:
Mr. Olumide Idowu

, CAYACC, Western Africa

Ms. Sally Kimathi

, CAYACC, Eastern Africa

Ms. Wafa Misrar

, CAYACC, Northern Africa

Mr. Malama Malama

, CAYACC, Southern Africa
Partners Panel:
Dr. Koffi Amegbeto

, Senior Policy Officer, FAO

Dr. Boaz Keizire

, Head of Policy and Advocacy, AGRA

Ms. Elizabeth Khadeny

i, Director and Vice Chairperson, Safaricom SACCO LTD

Ms. Chido Cleo Mpemba

, AU Youth Envoy
01- 2/11 19TH COMPREHENSIVE AFRICA AGRICULTURE DEVELOPMENT PROGRAMME (CAADP) PARTNERSHIP PLATFORM
01/11 SUB-THEME 1: Reflections on the last 20 years (CAADP @20)
Priorities for the Remaining 2 Years and What Next
Mrs. Estherine Lisinge-Fotabong

, Director, Agriculture, Food Security and Environmental Sustainability, AUDA-NEPAD -

keynote presentation 1

Dr. Godfrey Bahiigwa

, Director, AUC-DARBE

Dr. Abebe Haile

, Assistant Director-General and Regional Representative for Africa

Dr Nalishebo Meebelo

, ReNAPRI Executive Director

Dr. John Ulimwengu

, Senior Research Fellow, IFPRI

Mr. Mafa Chipeta

, Former Director, Department of Technical Cooperation, FAO

Where do we stand and what could be the targets and pathways of the next CAADP cycle?
Dr. Ousmane Badiane

, Executive Chairperson, AKADEMIYA2063 -

keynote presentation 2

Mr. Stanlake Samkange

, Out-going Chair CAADP DPCG

Dr. Holger Kray

, Practice Manager, World Bank

Mr. Odd Arnesen

, Regional Food Security Envoy, Norway

Prof. Jean-Jacques Mbonigaba Muhinda

, Regional Manager, East & Southern Africa, AGRA

Mr. Derrick Sikombe

, Chief Economist, Government of Zambia

Mr Kolyang Palebale

, President, PAFO
01/11 SUB-THEME 2: Harnessing science, Innovation, and research to enhance food and nutrition security
Dr. Clement Adjorlolo

, Ag. Head of Agriculture and Food Security

Dr. Fatunbi Oluwole

, Acting Director, Research, and Innovation, FARA - Keynote Address

Dr. Muzi Sukati

, Senior Regional Nutrition Officer, FAO-RAF - Current Status of Food and Nutrition Security

Prof. Lise Korsten

, University of Pretoria / AAS - Roles of Science and Research in Food Security

AGRA

- Innovation for Increased Productivity and Sustainable Agriculture

Dr. David Amudavi

-Executive Director, Biovision Africa Trust - Role of Agroecology in nutrition and Food Security

Prof. Francis Zotor

, IUNS Vice President - Closing Remarks
01/11 SUB-THEME 3: Financing agri-food and nutrition through private sector involvement
Mr. George Ouma

, Coordinator, AfDB

Mrs. Lydie Kouame

, Deputy Director, WFP Global Africa Office

Ms. Bibi Giyose

, Senior Nutrition and Food Systems Officer, FAO

Ms. Providence Mavubi

, Director Industry and Agriculture, COMESA - Keynote Address: The role of the private sector in agri-food and nutrition financing

Mr. Simon Ziba

, CEO, Vision Fund in Zambia

Ms. Gladys Mugambi

, SUN Movement Business Network, Multisectoral Coordinator for Food Security and Nutrition

Mr. Cheyo Mwenechanya

- Head of Agriculture Banking, Zambia National Commercial Bank (ZANACO),

Dr. Frank Kayula

, Executive, Director, National Smallholders Association, Zambia
Moderator:

Mr. Ashford Ngugi

, Senior Partnerships Advisor, AUDA-NEPAD
Case studies
Mr. Webster Sento

, Executive Director, Setso Indigenous Foods (Agro-processing)

Ms. Jacqueline Kung'u

– Regional Advisor, Research and Monitoring, Nutritional International Africa

Ms. Mariam Malomba

, Managing Director, Shais Farmers

Mrs. Lucy Muchoki

, CEO Pan African Farmers Agribusiness Consortium/NSA - Closing Remarks
02/11 SUB-THEME 4: Harnessing the nexus between CAADP and AfCFTA towards tripling intra-African trade in agricultural commodities and nutrition improvement
Dr. Diana Akullo

, Principal Officer-Sanitary and Phytosanitary, AfCFTA

Ms. Nadine Umutoni

, Project Coordinator, ARSO

Dr. John Mukuka

, CEO, COMESA, ACTESA

Dr. Hakim Mufumbiro

, Coordinator, CCAFRICA,

Ms. Kefilwe Moalosi

, Senior Nutrition and Research Officer, AUDA-NEPAD

Mr Watipaso Mkandawire

, Regional Food Markets Advisor, FCDO

Dr. Amare Ayalew

, Food Safety Expert, AUC
SUB-THEME 5: Strengthening the Capacities of Institutions, Partnerships, Knowledge Management and Learning
Menghestab Haile

, Regional Director for Southern Region, WFP - Strengthening institutional capacities and building partnership

Dr. Augustin Wambo Yamdjeu

, Director of Knowledge Systems, AKADEMIYA2063 - Knowledge Management and Learning – Case-study

Dr. Janet Edeme

, Head, AUC-ARD

Prof. Jean-Jacques Mbonigaba Muhinda

, Regional Manager for East Africa AGRA

Ms. Constance Okeke

, International Project Manager at ActionAid International

Mr. Odd Arnesen

, Regional Food Security Envoy, Norway

Mr. Victor Mbumwae

, National Food Systems Convener, Zambia