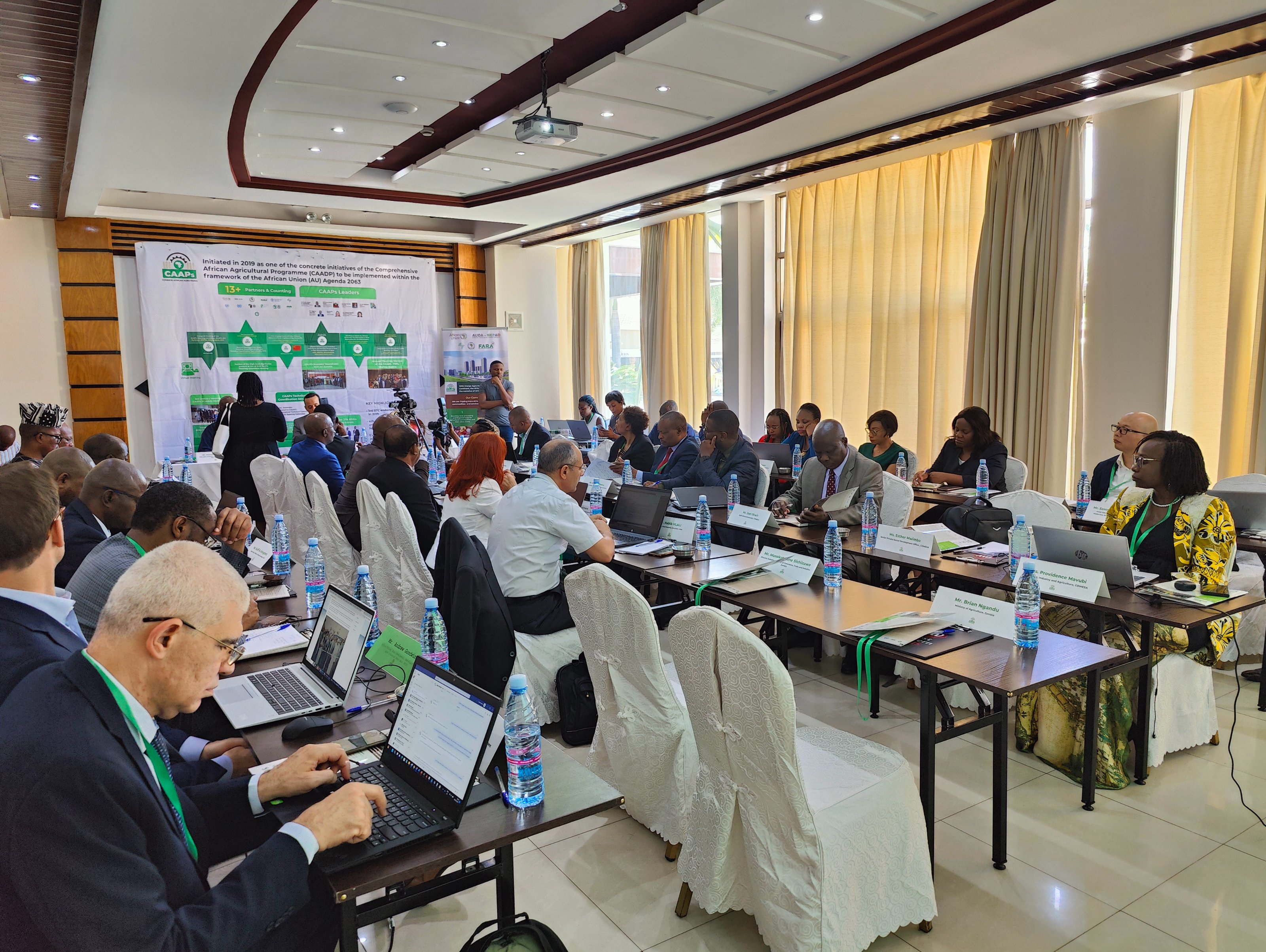 17 - 18 October 2023
. Lusaka, Zambia. COMESA headquarters.
Selection of 8 CAAPs Demonstration projects
. Regional Economic Communities in Africa met to drive forward a proposal for
mega agro-industrial hubs
across the continent that would boost agricultural development.
The
Common African Agro-Parks (CAAPs)
are aimed at boosting regional trade for agricultural commodities, increasing local processing of key agricultural products and reducing food import with support from the
FAO
through its Technical Cooperation Programme (TCP).
Partners participating in the meeting included the
AUC
,
AUDA
, the Common Market for Eastern and Southern Africa (
COMESA
), the
FAO
,
UNIDO
,
UNECA
, the Pan-African Agribusiness Chamber, the Pan-African Farmers Organisation (
PAFO
), the Africa Business Council,
IFPRI
, African Continental Free-Trade Area, Afreximbank,
AfDB
and the CAAPs Secretariat hosted by the
Forum for Agricultural Research in Africa
. The rest were country representatives from Zambia and Zimbabwe, key private sector players such as Bühler Group, Grüner, BRICS as well as the WFP.
This meeting has:
compiled feedback from RECs on the CAAPs process, infrastructure models, and the required legal instruments for joint governance and PPPs in transboundary settings within the AfCFTA context;
agreed on a harmonized process for engagements with countries;
compiled and validated feedback of criteria for mapping future transboundary agro-industrial
development zones in Africa;
developed a joint roadmap for rolling out CAAPs in AU Member States; and
developed action plans for joint resource mobilization and partnership engagement among RECs to develop CAAPs.
"Member states are urged to engage all financial institutions, as #CAAPs are huge investments which requires capital injection." -

Anselme Vodounhessi

, CAAPs Coordinator, FARA
"There is need to come up with innovative solutions to mobilise resources for #CAAPs to be successful" -

Benjamin Akobundu

, @NEPAD_Agency
"#CAAPs is not just a programme but a vision to achieve a food-secure Africa. Things must be done differently to ensure member states realize the full potential of the initiative"

Edna Kalima

@NEPAD_Agency



Background:
The African Union Commission and PPP in the agro food sector
African countries all together, have been spending roughly for the last 5 years, about 90 billion of US dollars every year, to import food commodities on the continent. And this is expected to reach 110 billion of US dollars per year from the year 2025.
It has been hard to achieve the AU Assembly Decision of "tripling Intra-African trade for agricultural commodities and services by 2015" as committed in the June 2014 Malabo Declaration on agriculture transformation; and more, it seems impossible for Africa to take over the food market which is currently outsourced to the rest of the world. This is because Africa has not enough industries to transform raw products, outputs of smallholders farmers in Africa, and this leads to a huge post-harvest loss and a poor level of revenues for farmers.
May 2019.
As concrete response to addressing these challenges, the AU-DARBE and the AU Department Economic Development, Trade, Industry, and mining, came up early in 2019, with the Common African Agro-Parks initiative, the CAAPs. The African Continental Free Trade Area (AfCFTA), entered into force in May 2019, and this comforted the AUC that, coordinated efforts on removing barriers for cross-border investments and trade, can be a reality that enables Africa to harness its enormous potential for agricultural development, agro-industrialization, and integration.
The CAAPs are 5 large common agro-industrial zones with transboundary mega agro-industries and food supply corridors, that will be established in suitable agro-ecological areas, in each of the 5 geographical regions of Africa. Each zone will be dominated by specific agricultural commodities, of which continental value chains will be developed, to produce and process the quantum of the selected commodities, that can be traded amongst African states, to gradually offset the import bill of these commodities. In the list of the selected commodities being discussed by the CAAPs Technical Working Group, Rice, Maize, Wheat, Yam, Cassava, Horticulture, Poultry, Livestock, and Cocoa will be prioritized based on business case analysis and on the outcomes of the regional consultations with members' states and the Regional Economic Communities (RECs).
November 2022. At the AU Summit on Industrialization and Economic Diversification, in November 2022 in Niger, the AU Stakeholders' Joint Declaration on mobilizing partnerships for implementing the CAAPs, recommended the implementation of ten (10) CAAPs Demonstration Projects of about two (2) per region.
April 2023.
The institutions which are members of the CAAPs Technical Working Group composed of the AUC, AfCFTA, AUDA-NEPAD, AFREXIMBANK, FARA, UNIDO, UNECA, PAFO, AfDB, PAAAC, IFPRI, and FAO, have been working in advancing the programming of activities of the CAAPs and this culminated in the outcomes of the 2023 Annual Retreat of the Working Group held at
UNIDO Headquarters in Vienna, Austria in April 2023
, which prioritized concrete actions compiled in 7 major Programme Clusters (PC). These Programme Clusters (PC) are numerated below:
PC 1- Programme Cluster on the CAAPs Projects Preparation (Feasibility, Design Studies, and Investments promotion)

PC 2- Programme Cluster on mapping current and future Agro-parks, food reserves, and food corridors in Africa, and mapping the SHF/SMEs enabling political and business environment for sustainable production under the CAAPs.

PC 3- Programme Cluster on AUDA-NEPAD led engagement with Regional Economic Communities (RECs) under the CAAPs process.

PC 4- Programme Cluster on RECs- led Regional Coordination of member states, and Stakeholders engagement.

PC 5- Programme Cluster on Continental leadership engagement, coordination, and supporting studies for resource mobilization and tools for intra-African trade and cross-border business.

PC 6- Programme Cluster on AfBC and FARA led interventions for strengthening private sector, financing, and business environment for SHFs and SMEs for upscaling most responsive climate smart technologies, sustainable business and financing models for quality and quantity production and supply to agro- industries; and

PC 7- Programme Cluster on Institutional strengthening of the CAAPs Secretariat.
May 2023.
CAAPs has been adopted for consideration as a flagship program of the Second 10-year Implementation Plan (2024-2033) of the African Union Agenda 2063, by the Extraordinary Session of the Specialized Technical Committee on Agriculture, Rural Development, Water and Environment of the African Union (STC) held on 29 May 2023. The total costs of the programme to be implemented by the CAAPs-Technical Working Group institutions, amount to 93,800,000 USD for the next 40 months, whose implementation will see Africa embarking on an agro-industrial revolution with regular investment promotion, in establishing a private sector-led food business development on the continent. So far, the consultation and partnership building process of the CAAPs in funded by AFREXIMBANK and FAO with considerable staff costs support by FARA. AFREXIMBANK is taking the lead of resources mobilising and will mobilize the 20 million USD required to initiate the Priority 1 set of activities of the 7 programmes listed. For the moment the AUC is relying on external donors, but requested AFREXIMBANK to establish an instrument that shall host a Fund for coordinating the resources mobilized for implementing the CAAPs.

October 2023.
A planned engagement in October 2023, with all RECs led by AUDA-NEPAD and hosted by COMESA, will guide on the selection of the remaining 8 CAAPs Demonstrations projects that should be initiated in 2024. Two (2) CAAPs Demonstration Projects are initiated in 2023: (a) the Zambia-Zimbabwe CAAP in Southern Africa (ZimZam CAAP), for maize and dairy products; and the Cote d'Ivoire-Ghana CAAP (CIG Cocoa CAAP) in Western Africa, for Cocoa transformation.
For
the implementation of the cross-border agro parks in Zambia and Zimbabwe, Afreximbank contributed with USD 0.5million USD in seed capital. The outputs are the completion of planning and design studies and the promotion of investments for the ZimZam CAAP and the CIG Cocoa CAAP and the establishment of a supportive cross-border business environment.
The completion of
ten (10) CAAPs Demonstration Projects
will set the basis for undertaking the establishment of the 5 large common agro-industrial zones, one per region, with associated transboundary mega agro-industries and food supply corridors.
Related:
value chain regional level dialogues
The Europe-Africa Business Forum (EABF)
Technical Assistance (TA) to EC/INTPA[1] will support EABF to reflect on the current GG flagships and priorities[2]. It will take into consideration and look for synergies with the events and activities that are implemented by EABF related stakeholders, such as business organisations (for example, Business Europe, Africa Business Council, Eurochambres, Business Africa). The Europe-Africa Business Forum (EABF) brings together public and private sector representatives from Africa and the European Union. As a regional event, it targets stakeholders from all countries of Africa and the European Union around key topics of common interest for the integration of EU-Africa value chains. Between 2021 and 2027, Team Europe, meaning the EU institutions and EU Member States jointly, will mobilise up to €300 billion of investments in digital, climate and energy, infrastructure, health, education, and research.
The EU-Africa Business Forum (EABF)[3] has been the main side event of the EU and the African Union (AU) Summits since 2006. It is a strategic occasion for EU and African private sectors to identify and/or consolidate joint opportunities in the spirit of the Comprehensive Strategy with Africa and the Africa-Europe Alliance for sustainable investment and jobs. The EABF should become a permanent structure as of 2023, making its concept, at the same time, more comprehensive. The TA will facilitate a regional dialogue and collaboration between key EU and Africa private sector stakeholders to ensure a more effective engagement, business opportunities and policy reforms. The TA will support value chain regional level dialogues between the EU and Africa, to strengthen the integration between the two continents in key sectors. During the inception phase it will be imperative to support AUC/DARBE in linking up with this initiative and participated in the agricultural value chain regional level dialogues.
Food technology expertise
Food technology expertise is indispensable for the success of African Agro-Parks due to its pivotal role in enhancing food production, safety, and preservation. Agro-Parks are integrated agricultural production and processing zones aimed at increasing agricultural productivity and value addition. Food technologists possess crucial knowledge about food processing techniques, packaging, and storage methods, ensuring that the agricultural produce from these parks is not only abundant but also of high quality and safe for consumption.
Their expertise allows for the development of innovative and sustainable ways to process and preserve perishable agricultural products, reducing post-harvest losses and extending the shelf life of foods. Moreover, food technologists can facilitate the creation of value-added products, fostering economic growth by enabling Agro-Parks to tap into diverse markets. By incorporating food technology expertise, African Agro-Parks can enhance food security, boost local economies, and promote sustainable agricultural practices across the continent.