30 May - 2 June 2023
. (Durban, South Africa)
INORMS Congress
- Theme:
Towards a Utopia in Research and Innovation Management
The Southern African Research and Innovation Management Association (
SARIMA
) hosts the 2023 INORMS Congress. SARIMA is a membership organization for research and innovation professionals and managers. Its purpose is to strengthen research and innovation (R&I) in Southern Africa and ensure that there is social and economic development of the region.
SARIMA provides a platform for engagement between R&I managers coming from a variety of organisations that are involved in the R&I in the region. It operates at an institutional, national and international level, as well as across the value chain, from research through to successful innovation. SARIMAs key focus areas include research management, innovation and technology transfer and Africa engagement.
SARIMA's mandate stretches from management of research through the continuum to innovation, and its presence in the fast developing African continent, makes it and it's sister African organisations like EARIMA, WARIMA, etc. fairly unique.
The EU's Research and Innovation (R&I) Funding Programme Horizon Europe, as one of the largest such programmes in the world, is a steppingstone into tackling the sustainability challenges globally and the strategic planning of the next Framework Programme (FP10) is about to start.
If it is to tackle both known and, as yet, unknown global challenges, what should it look like and what relevance and importance might this have for other national or international R&I funding programmes?
This workshop, used four possible scenarios of the world in 2028 defined by representatives of the League of European Research Universities in their preparation for the strategic planning of the European Commission (EC).
Four international delegates were invited as "Agents of Change" to develop and discuss with the participants four different potential structures of FP10. Each "Change Agent" represents a different global region offering their specific lens on the upcoming programme. They were supported by four facilitators, experienced in scenario thinking.
Ms Annika Glauner

, ETH Zurich & University of Zurich (Switzerland)

Mr Daan du Toi

t, South African Department of Science and Innovation (South Africa)

Ms Angela Noble

, Leiden University (Netherlands)

Ms Jennifer Ponting

, University of Chicago (United States)

Mr Bruno Wöran

, Paracelsus Private Medical University (Austria)

Ms Doris Alexander

, Trinity College (Ireland)

Ms Kimberly Cornfield

, University College London (United Kingdom)

Ms Tania Tambiah

Swinburne University of Technology, Australia
LERU key messages for the current and future European R&I Framework Programmes
# 9 p.
In its contribution to the European Commission (EC)'s consultation on "past, current and future R&I Framework Programmes", the League of European Research Universities (LERU) presents recommendations aiming at improving the functioning and impact of Horizon Europe and launches some ideas for the future.
To assess the future development of the EUI, EUI created three scenarios that reflect the main driving forces behind the shaping of higher education in Europe: the Bologna Process, the development of the EEA, and innovations in learning and teaching. For each driving force, EUI developed a scenario of the future development of the EUI. Scenarios were assessed by an expert panel.
Dr Vincenzo Lorusso,
European Commission, DG Research & Innovation (DG RTD) :
The AU-EU cooperation in Research & Innovation
The AU-EU Innovation Agenda and the AU-EU Innovation Festival (15 June, Cape Town)
Horizon Europe and its 'Africa Initiative II'
Opportunities for researchers' mobility and training: Marie Skłodowska-Curie Actions, Erasmus+ and EURAXESS Africa
Equitable research partnerships between institutions in the Global North and South are crucial to improving the quality and uptake of evidence addressing global challenges. However, power dynamics create challenges in achieving equity within partnerships, often impacting the extent to which Southern partners can shape research priorities and how research evidence is used. Recognising the crucial role for the research management function in supporting equitable partnerships, this collaborative learning session explored how research managers can drive equity when facilitating multi-partner collaborations in different contexts.
Resource:
UKCDR (2022)
Four Approaches to Supporting Equitable Research Partnerships
# 48 p.
UK Collaborative on Development Research (UKCDR) and ESSENCE on Health Research published a Good Practice Document.
The guidance was developed in consultation with a taskforce of international research funders and draws on the experiences of funders, research organisations and researchers in low-, middle-and high-income countries.
It aims to support equity in research partnerships by assisting funders, research organizations and researchers to improve their ways of working in multi-country research partnerships, particularly in relation to low- and middle-income country (LMIC) contexts.
UKCDR & ESSENCE hosted a virtual session 'The role of funders in enabling equitable research partnerships for development' as part of the Science Summit at United Nations General Assembly 77 (UNGA77) on the 26th September 2022.
These recommendations are grounded in lessons learned in a series of case studies and pertain to one of four interconnected approaches:
Support the research partnership ecosystem
Strengthen research relationships and research systems
Budget for partnership building
Implement processes and procedures that sustain partnerships
This panel session used the case of the
Food Systems Research Network for Africa (FSNet-Africa)
to consider a diversity of perspectives on how to establish and sustain truly
equitable boundary-spanning partnerships
that can contribute to developmental impact through research.
Prof Claire Quinn

, University of Leeds (United Kingdom)

Dr Melody Mentz-Coetzee

, University of Pretoria (South Africa)

Ms Louise Heery

, University of Leeds (United Kingdom)

Dr Petronella Chaminuka

, Agricultural Research Council of South Africa (South Africa) Petronella is the Acting Head of Impact and Partnerships and the Economic Analysis Unit of the Agricultural Research Council of South Africa. She is currently serving as a Global South Scaling Advisor for Science on the Canadian International Development Research Centre (IDRC) scalingXchange project.

Dr Tshilidzi Madzivhandila,

FANRPAN (South Africa)
31/05 Partnerships supporting open research - How funders and publishers can help researchers choose open throughout research lifecycle
This session focused on the partnership between the Science for Africa Foundation (SFA) and F1000 to develop an open research publishing platform, Open Research Africa. Our speakers will discuss how the Open Research Africa Platform is working in partnership to support the reach, sharing, and potential impact of African research to the world, and examine the considerations, challenges, opportunities, and learnings in applying open research methodologies. The
Science for Africa Foundation (Kenya)
(SFA Foundation), is a pan-African, non-profit and public charity organisation, is catalysing and strengthening Africa's science and innovation ecosystems to respond to Africa's sustainable development challenges and to positively impact lives.
Funding bodies from the UK, Europe and North America have supported several initiatives to help develop African research management in recent years. This sessions addressed 3 questions: (a) Impact – Is there evidence to suggest that such projects have changed the development of African research management? (b) Objectives – Have the aims of donor funding changed over time? (c) Future Priorities – What objectives should donors prioritise in any future support for African research management.
Implementing its vision to contribute to the professionalisation of research management in Africa, the Southern African Research and Innovation Management Association (SARIMA) developed a Professional Competency Framework, identifying key competency areas for research managers and administrators, and then facilitated the establishment of the International Professional Recognition Council (IPRC) through leveraging strategic partnerships and funding opportunities.
There is an urgent need for countries in sub-Saharan Africa to develop new systems that will effectively mobilise the power of innovation for addressing a wide range of societal challenges including poverty, climate change and inequality. To this end, there is an ongoing need to experiment, research, evaluate, disseminate and communicate new science, technology and innovation practices that support development of sustainable solutions.
Transformative Innovation Policy (TIP) proposes a new approach to support innovation that addresses societal and environmental challenges. It builds on the possibility of alternative futures, the potential of citizen movements, firms, governments, and knowledge organisations, and the co-creation of solutions through participatory approaches.
Resource: Transformative Innovation Policy in the South African context
This panel shared useful lessons on the prospects for transformative innovation and possible pathways to the formulation, implementation, evaluation and governance of transformative innovation policies across four countries in Africa, namely Ghana, Kenya, Senegal and South Africa.
This book offers a novel input into the debate on development of capabilities for sustainable industrialisation and delivers key insights for both researchers and policy makers when it comes to the question of how to increase the economic co-benefits of renewables expansion.
The chapters in the book use a tailored analytical framework in their studies of renewable electrification efforts in Kenya and other countries in sub-Saharan Africa.
They draw on a mix of project, sector and country level case studies to address questions such as: What capabilities are developed through on-going renewable electrification projects in developing economies? How can the expansion of renewable electrification be supported in a way that also encourages sustainable economic development? What role do international linkages (South-South and North-South) play and what role should they play in the greening of energy systems in developing economies?
The authors provide a new understanding of how green transformation and sustainable industrialisation can be combined, highlighting the opportunities and constraints for local capability building and the scope for local policy action.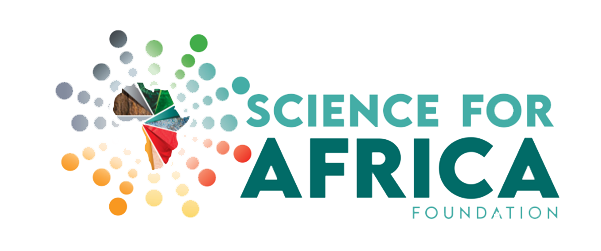 INORMS endorses and supports a range of projects that advance the profession of research management and administration and generate an impact internationally.
Incl:

Mr Vincent Nkundimana

, Science for Africa Foundation (Kenya)
The SFA Foundation takes a holistic approach to science. Its programmatic initiatives are crafted to cater to the entire science ecosystem and span across the value chain from early discovery sciences to translation sciences and targeted cross-cutting gaps.


01/06 Leadership in Research Management Associations
The West African Research and Innovation Management Association (WARIMA)

Mr Dembo Kanteh

(The Gambia)
Eastern African Research and Innovations Management Association (EARIMA)

Dr Edwinus Lyaya

(Tanzania)
Northern African Research and Innovation Management Association (NARIMA)

Prof Amal Amin

(Egypt)
23/05 Data Ethics Policy in Higher Education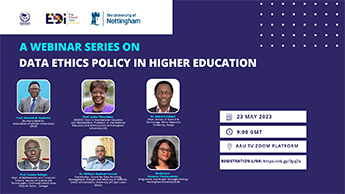 The Association of African Universities (AAU), the University of Nottingham and the Ethical Data Initiative (EDI) are joining forces to campaign for
the inclusion of data ethics in data science education on a global scale
. The campaign begins with a series of informative webinars on ethical data that explore the pressing ethical questions inherent in digital technology, data collection and data-driven research.
This webinar looked into key research questions on:Who owns the data?
Who benefits from my data?
With data capitalism becoming an increasingly recognised concept, how do we avoid the pitfalls of feudalism and colonialism in this new landscape?
With the increase in data intensive research, and focus on data law and ethics in general, do you think it is time that data ethics should become an integral part of the education curriculum in schools and universities? Why?
How can we build capacity for data ethics in universities and industry?