25 November - 3 December 2020.
3rd Global Conference of the One Planet (10YFP) Sustainable Food Systems Programme
The purpose of this 3rd global conference is to provide substantial input to the UN Food Systems Summit that is tentatively scheduled for the third quarter of 2021, building on the achievements of the SFS Programme's membership during the first five years of implementation as well as the outcomes of the Programme's previous two global conferences.
See the week 1 recording on:
30/11

Side Event

Unlocking Finance for Inclusive Agriculture: Aceli Africa SFSP Panel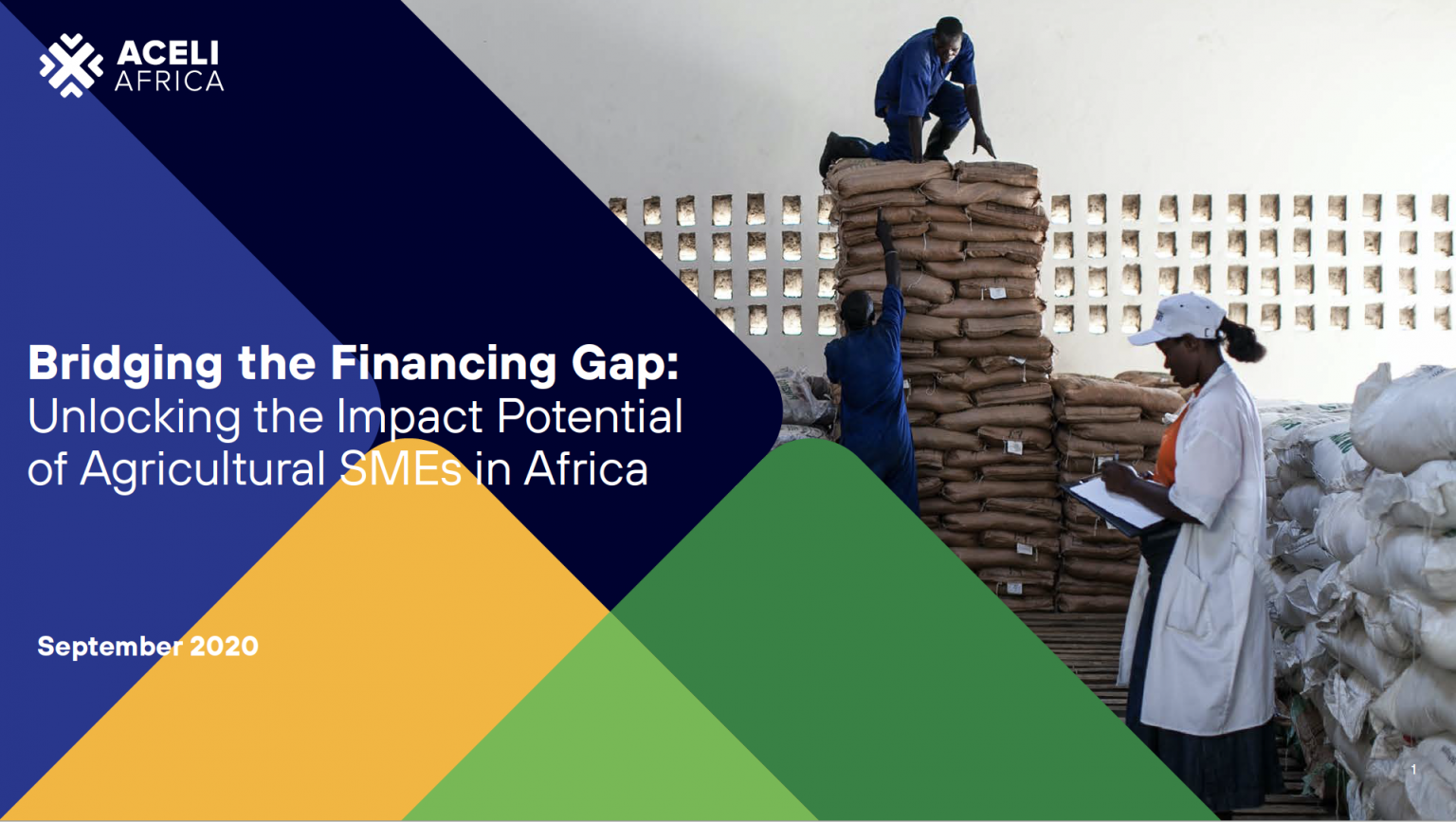 Aceli Report.
Bridging the Financing Gap: Unlocking the Impact Potential of Agricultural SMEs in Africa
September 2020,
69 pages
Aceli Africa and Dalberg Advisors analyzed data from 31 lenders to assess the economics and low volumes of agri-SME lending
Agriculture & agri-SMEs are particularly important in East African economies, but the sector remains chronically under-financed
Annual financing gap of ~$65bn for African agri-SMEs with financing needs of $25k to $1.5m
Agri-SMEs in this $25k-$1.5m segment are under-financed in part because they fall between two lending business models
Three lender types target different agri-SME segments and all have room to grow – if the lending economics can be improved
Aceli Africa Case Study by Convergence
(Published
19 November 2020, 7 pages)
In this case study, Convergence calls out insights from the design of our facility that could be useful for other practitioners designing blended finance initiatives – particularly in the agri-SME sector. Those insights include:

Data collection is a powerful tool for right-sizing concessional capital when designing blended finance interventions, particularly in nascent markets
Blended finance practitioners must balance tailoring custom-fit solutions with reducing complexity
Technical assistance can be useful for addressing both demand- and supply-side constraints
Blended finance can be used to support the development of local markets
30/11 Addressing food systems through consumers – promoting awareness and behavioral change
Chair

Ulf Jaeckel

, BMU, Germany

Daniela Acuña,

Ministry of Agriculture, Chile

Ply Pirom,

WWF Thailand

Andre Nel,

Pick n Pay

Daniel Vennard

, World Resources Institute
30/11 Leveraging public procurement to accelerate SDG implementation
Chair

Stineke Oenema,

UNSCN Coordinator

Erika Bozzay

,

OECD

-

Introduction to the potential and requirements of public food procurement to function as a key food system transformation tool,

Florence Tartanac

,

FAO

Anne-Marie Saulnier

, ECPAR

Peter Defranceschi

, ICLEI

Doris Yawa

Gab,

Ghana
01/12 Global food system dialogue (Invitation only)
Agnes Kalibata

, Scial Envoy for 2021 Food Systems Summit

Renato Alvarado Rivera,

Minister of Agriculture and Livestock, Costa Rica


Christian Hofer

, Director-General, Federal Office for Agriculture, Switzerland

Joao Campari

, Global Leader Food Practice, WWF

David Nabarro

, Co-Director of the Imperial College Institute of Global Health Innovation, Imperial College London, and Head, 4SD
Co-organizers: UNEP, WWF, Hivos-RUAF, Rikolto, the Alliance of Bioversity International and CIAT, and the German Federal Ministry of the Environment, Nature Conservation and Nuclear Safety.
Moderation: Charlotte Flechet, RIKOLTO
Presentation of the initiative: Food Systems Multi-Stakeholder Governance Mechanisms: an assessment of experiences + Multi-stakeholder Mechanisms cases:
Marina Bortoletti, UNEP food systems Associate Programme Officer
Carmen Torres, International consultant, One Planet Network SFS Programme
Mr. Samuel Ikua, Nairobi and Environs Food Security, Agriculture and Livestock Forum (NEFSALF);
Ms. Inoshi Sharma, Director, Food Safety & Standards Authority of India (FSSAI), & Head, Eat Right Initiative;
Mr. 'David Jácome Polit, Quito Agri-Food Pact (PAQ)
02/12
Side event:
15:30-16:15
Stimulating markets for agroecology through public policy
How can public policies enable, transform and consolidate markets for agro-ecology based on the experiences in their regions. For instance, by supporting the direct connection between producers and consumers, or by promoting consumer involvement in multistakeholder platforms focused on building local and regional markets.

To what extent the success for the creation of markets for agroecology depend on public policy?
What policy instruments (e.g. public procurement, labelling schemes, regulation, etc) can support markets for agroecology?
How can public policy support agroecological markets across different scales (e.g. local level, rural-urban nexus at the national level, or global supply/value chains)?
Speakers:
Minister

Edward Centeno

, Minister of Agriculture and Husbandry of the Republic of Nicaragua

​Cesar Carrillo

, Director of Supply at the Secretary of Economic Development, Mayor's Office of Bogota, Colombia

Patrick Honauer

co-founder Food Networks, social entrepreneur
Representative from ROPPA (Network of Farmers' and Agricultural Producers' Organisations of West Africa)
Moderator:

Celine Termote

(Alliance Bioversity International-CIAT)
Panelists from all over the world will discuss how to achieve food systems transformation through innovative inclusive multi-stakeholder collaboration!
The overall aim of this side-event is to initiate a regional multi-stakeholder dialogue on SFS in the Mediterranean as a contribution to the preparatory process of the 2021 UN Food Systems Summit, and to boost collaborative actions on the ground to accelerate the 2030 Agenda for Sustainable Development in the region. The side event will also be an opportunity to present the multi-stakeholder initiative for Sustainable Food Systems in the Mediterranean (SFS-MED Platform), an affiliated project of the UN One Planet Network 10YFP SFS Programme jointly supported by FAO, CIHEAM and UfMS, with a view to strengthen broader partnerships inclusive of all interested parties, consolidating the collaboration with the SFS Programme partners.
Introduction by Jamie Morrison, Director, ESF, FAO;
Máximo Torero (Chief Economist, FAO),
Plácido Plaza (Secretary General, CIHEAM),
Isidro González (Deputy Secretary General, UfM);
Sandro Dernini, Coordination Desk's Coordinator;
José Valls Bedeau, Focal point, FAO;
Roberto Capone, Focal point, CIHEAM;
Alessandra Sensi / Giuseppe Provenzano, Focal Points, UfMS
03/12
13:00-15:00 PM
The role of food systems in achieving the 2030 Agenda: with the Chairs of the Food Systems Summit Action Tracks
:
Chair

Christian Hofer,

Director-General, Federal Office for Agriculture, Switzerland

Lawrence Haddad

, GAIN

Ajay Vir Jakhar

, Bharat Krishak Samaj

Joao Campari

, WWF

Michelle Nunn,

CARE USA

Saleemul Huq

, ICCCD
03/12 Our commitment for a sustainable food future : Report from previous sessions
Action Track 1: Ensure access to safe and nutritious food for all
October 2020: Discussion Starter Paper Action Track 1
xx December 2020. Action Track 1 Public Forum
Chair: Lawrence Haddad, Executive Director, GAIN
Vice-chairs: Godfrey Bahiigwa, Director of Rural Economy and Agriculture, African Union Commission, Sheryl Hendricks (University of Pretoria. South Africa)
UN anchoring agency: Food and Agriculture Organization (FAO) of the United Nations
Action Track 2 Shift to sustainable consumption patterns
October 2020: Discussion Starter Paper Action Track 2

9 December 2020.
Action Track 2 Public Forum
Chair: Gunhild Stordalen, Founder and Executive Chair, EAT Foundation

Vice-chairs: Ajay Vir Jakhar, Chairman, Bharat Krishak Samaj, Lana Weidgenant, Real Food Systems, Deputy Director at Zero Hour International
UN anchoring agency: World Health Organization (WHO)
Action Track 3: Boost nature-positive production
Chair: Joao Campari, Global Leader Food Practice, WWF International
"Trade off must be considered as well as synergies"
Vice-chair: Lavetanalagi Seru, Alliance of Future Generations
UN anchoring agency: United Nations Convention to Combat Desertification (UNCCD)
Action Track 4: Advance equitable livelihoods
Chair: Michelle Nunn, President and CEO, CARE USA
Vice-chairs:

Shakuntala Thilsted,

Research Program Leader for Value Chains and Nutrition, World Fish
Mai Thin Yu Mon, UN Global Indigenous Youth Caucus – Program Director for the Indigenous Peoples Development Program of Chin Human Rights Organization
UN anchoring agency: International Fund for Agricultural Development (IFAD)
Action Track 5: Build resilience to vulnerabilities, shocks and stress
Chair: Saleemul Huq, Director of the International Centre for Climate Change & Development
Vice-chairs: Sandrine Dixson-Declève, Co-President of the Club of Rome
Mike Khunga, SUN Global Youth Leader for Nutrition, SUN CSN, and Project Officer, Civil Society Organisations Nutrition Alliance
UN anchoring agency: World Food Programme (WFP)