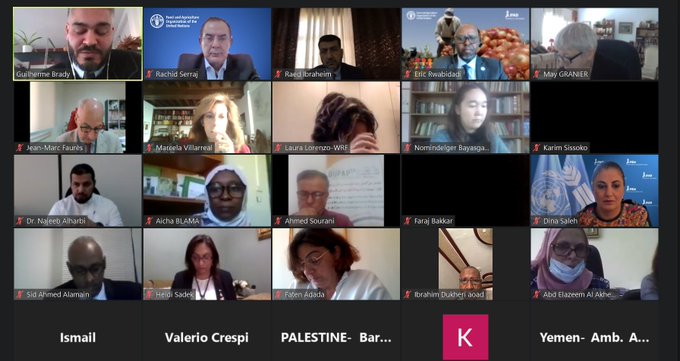 24 November 2020
. The United Nations Decade of Family Farming 2019 - 2028.
Regional E-Launch in the Near East and North Africa Region
The UN Decade of Family Farming (UNDFF) Global Action Plan developed by FAO and IFAD recommends a series of interconnected actions from the local to the global level. In the NENA region, FAO is regionalizing the UNDFF Action Plan with its extensive experience of supporting small-scale family agriculture and its implementation of the FAO Regional Initiative on Small-Scale Family Farming (RI-SSFF).
The event brought together all relevant stakeholders (including: ministries, farmers' organizations, civil society, research institutions, regional bodies, and relevant international organizations among others) for the development and support of family farming in the region.
Familiarize key relevant stakeholders with the objectives of the UNDFF and the Global Action Plan (GAP), taking into consideration the COVID-19 and its impact as an emerging challenge.

Provide a platform for stakeholders and partners to exchange on priorities to implement the UNDFF in NENA at the regional and country levels in the period up to 2028.

Gather perspectives on the draft Regional Action Plan (RAP) for the UNDFF in the NENA Region that will support the finalization of the UNDFF RAP for dissemination and implementation by FAO, IFAD, WRF, key partners and relevant stakeholders.
For more information, please check the concept note and the tentative agenda from
HERE
.
Please find a draft for the UNDFF Regional Action Plan
HERE
& the Background Document
HERE
.
Introduction:
Serge Nakouzi

, Deputy Regional Representative for the Near East and North Africa & Officer-in-Charge of the FAO Regional Office for the Near East and North Africa – Food and Agriculture Organization of the United Nations (FAO RNE)
Panel Discussion 1 (UNDFF Stakeholders)
Moderated by:

Eric Rwabidadi,

Country Director Somalia Portfolio – IFAD

Fatma Ben Rejeb

, Chief Executive Officer – PanAfrican Farmers Organization (PAFO)

Kate Newton

, Deputy Regional Director - WFP, Regional Bureau for the Middle East, North Africa, Central Asia and Eastern Europe.

Sylvie Fontaine

, Program Manager "Environment, Water and Agriculture", for Regional projects in Neighbourhood South Region – EC DG NEAR.

Hubertus Gay

, Senior Agricultural Policy Analyst – Organization for Economic Co-operation and Development (OECD).
Panel Discussion 2 (Farmer Organizations and Country Representatives) - Implementation at regional and national levels?
Moderated by:

Ibrahim El-Dukheri

, Director General - Arab Organization for Agricultural Development (AOAD)

Ines Ben Saad Nagara

, President – Forum of African Farmers Women, & Assistant of the President – The Tunisian Union of Agriculture and Fisheries (UTAP).

Heidi Sadek

, Road for Development – Egypt

Ahmed Sourani

, General Coordinator – Gaza Urban Agriculture Platform (GUPAP), Palestine

Dr. Mahmood Bin Saif Al Mahrooqi,

Vice President – Omani Agricultural Association