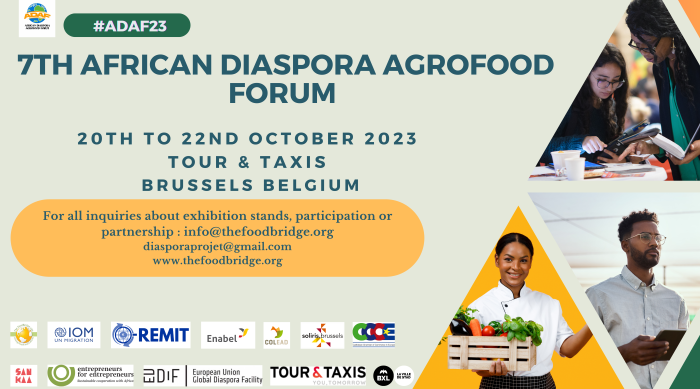 20 - 22 October 2023
. Brussels.
7th African Diaspora Agrofood Forum
The theme of this 7th edition was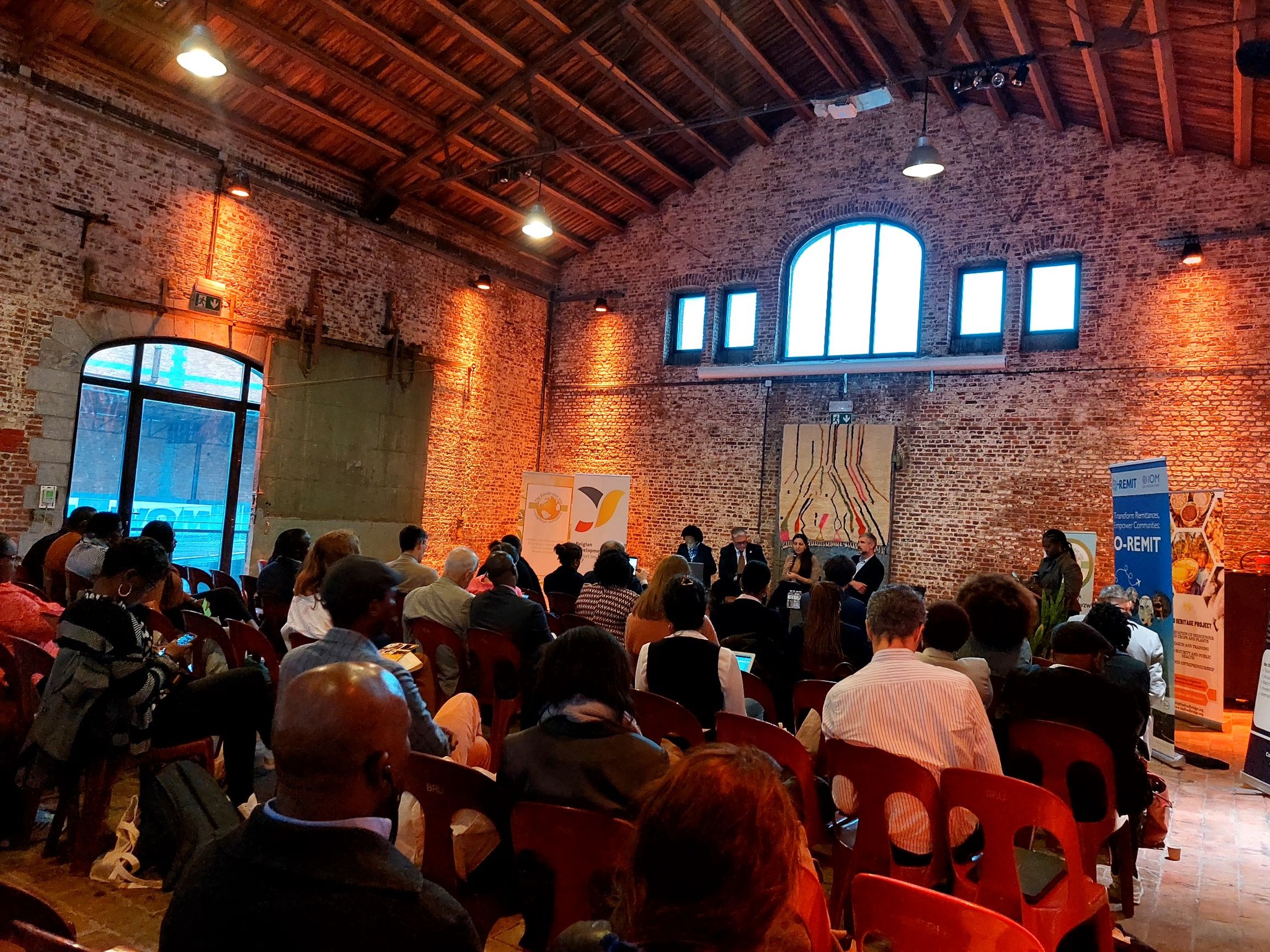 "From local to global; strategizing for growth in agrofood
entrepreneurship".
The African Diaspora Agrofood Forum is an international forum, dedicated to the promotion of agrofood entrepreneurship in Africa and its diaspora. This is a multi-stakeholder event that offers a platform for beneficial discussions and networking between entrepreneurs, policymakers, industry experts, NGOs, investors and government officials
Participants at the forum explored
during 3 days
food trends, exciting culinary discoveries and inspirational entrepreneurial experiences.
The discussions held at the forum further reinforced the need for a multistakeholder input in the agrofood sector, thus opening up
opportunities for the African Diaspora entrepreneurs
active in the sector. Moreover investing in the agrofood sector, not only boosts food security but can also help drive economic growth, reduce poverty, and promote inclusive development in different countries. These keypoints were also noted in the contributions of the panelists from
FAO, IOM, ENABEL
and others.
The forum also highlighted the importance of creating an enabling environments for
African diaspora entrepreneurs
, to grant them access to financial support
for their businesses. By having access to funds,more entrepreneurs will be empowered to scale their operations, thereby contributing to the growth of the agricultural sector.
Participants at the ADAF23 also recognized the importance of having access to local, regional, and
international markets for African produce
. Creating these avenues for profitable trade can enormously boost the income of entrepreneurs. if the major challenges creating barriers to market entry are removed, it will pave the way for sustainable growth and economic empowerment.
The insights, commitments, and collaborative spirit showed during the forum, provided a solid
foundation to build future partnerships.
A full report
of the event
will be published soon

20/10 Diaspora engagement in policymaking for for entrepreneurship and development
Moderator :

Ms Bwalya Nwali

, Advisor Diaspora Engagement and Human Development
Representative, Embassy of South Africa to Belgium,

Mr Raschad Al-Khafaji

, Director FAO Liaison Office with the European Union and Belgium,

Ms Marise Habib

, Chief of Mission, International Organization of Migration (IOM) for Belgium and Luxembourg

Mr Sven Huyssen

, Director of Operations ENABEL

Mr Kwaku Boamah

, President Sankaa vzw Belgium and Coliso Ghana
20/10 Presentation of the 2023 Compendium of African Diaspora Agrofood Entrepreneurs

20/10 Harnessing African Diaspora Contributions for Impactful Growth In Agrofood
Entrepreneurship
Moderator:

Ms Cherine Layachi

, Campaigner, Diaspora Projects Soliris Brussels

Mr Alpha Diallo

, Founder Africapaid and Welli Farms Senegal

Ms Agatha Nsimiire

, Founder Econgranja Uganda

Ms Vanessa Ngoga

, Founder Cabou Burundi

Ms Virna Rakotonirina

, Founder Nature Madagascar


Ms Solange Domaye

, CEO Symfonio.bio Netherlands
20/10 African Diaspora Agrofood Entrepreneur of the Year Award
presented by

Mr Bjorn Macauter

, General Manager Entrepreneurs for Entrepreneurs
The Award was reached out to

Mr Alpha Diallo

, Founder Africapaid and Welli Farms Senegal



Africa Paid is an investment consulting and business development company based in Dakar, Senegal. The heart of Africapaid is to present to foreign companies and investors who want to export to emerging markets, the best business opportunities in Africa and mainly in Senegal. Today, it handles numerous project development files for companies, the State and local authorities who often contact us to find financial and technical partners. In Europe, Africa Paid is very well established at all levels of business and is accredited by the European Union as a public affairs firm.
20/10 Breaking Barriers; Re-Evaluating Funding Opportunities And Strategies For African Diaspora Owned Businesses
Ms Stella Opoku-Owusu

, Executive Director, AFFORD UK


Ms Fridah Ntarangwi

, Co-founder and Managing Director ZidiCircle Netherlands

Mr Arturo Biglia

, Intervention Officer- Entrepreneurial mobility ENABEL
The panel and audience discussed following statements:
Statement 1

: It's unfair that most Agri SME funding opportunities for African entrepreneurs are not targeting the diaspora entrepreneurs

Statement 2: CAADP is ending 2025. Post Malabo should mobilise national agricultural budgets for supporting diaspora initiatives



Background Funding Opportunities panel
AFFORD UK
AFFORD is a UK registered charity evolving further into a social enterprise to drive the entrepreneurial agenda and capacity of the African Diaspora. For over 15 years, AFFORD has put the issue of migration and development on the policy agenda. It has developed an unrivaled knowledge and expertise on issues impacting on the African diaspora such as remittances, brain drain, skills transfers, circular migration, etc AFFORD has a proven track record in working with the African diaspora and harnessing the Diaspora's expertise in policy debates, lobbying, field projects, capacity building activities as well as consultancy services

.
The O-REMIT project

Thsi project has been funded by the Belgian Government and implemented by partners; The International Organization for Migration (IOM)- Belgium and Luxembourg, Ondernemers voor Ondernemers vzw (OVO), Nationale Bank van België and ZidiCircle.

This project aimed to offer cost-effective alternatives for remittances and opportunities for investment of savings by tracking diaspora remittance flows from Belgium intoMorocco, Senegal, and the DRC, creating awareness among remit senders and receivers on these corridors on remittance options, and offering opportunities for diaspora in these corridors to convert some of the remittances into investments through the Venture backers programme that trains aspiring diaspora angel investors on angel investing.

Zidicircle trained diaspora from Morocco, Senegal, and the DRC living in Belgium
on how to start functioning as angel investors and connect them to investor-ready SMEs in the three countries. Zidicircle will further connect the trained diaspora angel investors to selected investor ready SME's in Morocco, DRC and Senegal. Through the 8 weeks programme, the diaspora investors receive tools to become confident and start functioning as venture backers who invest collectively thus minimizing the risk.
These projects aim to support entrepreneurial ecosystems in Senegal, Côte d'Ivoire and Belgium by fostering the creation of partnerships that benefit businesses in the three countries. To achieve this, PEM aims to help entrepreneurs of small and medium-sized businesses from Senegal and Côte d'Ivoire during business trips to Belgium and put them in touch with the Belgian economic actors.
The PEM projects are funded by the European Union and ibz, and are implemented by Enabel, the Belgian Development Agency.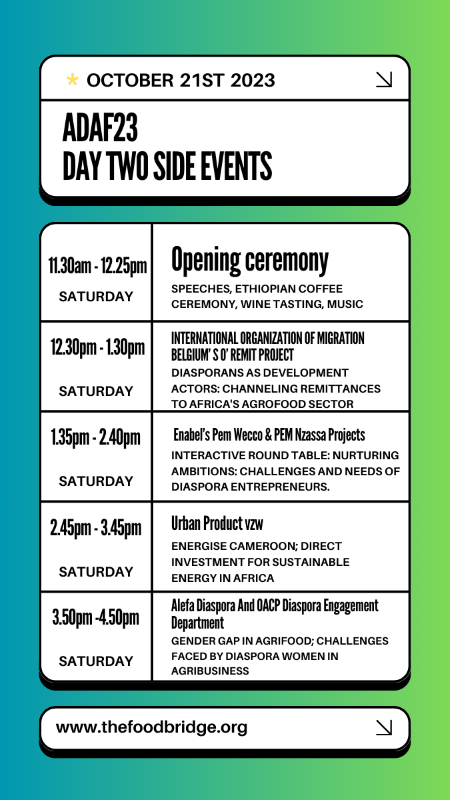 20/10 A Place On The Top Shelf; Marketing African Food Products In Europe
Moderator:

Ms Rhoda Yeboah

, Account Manager & Event Host

Ms Orfirah Hogeman-Helstone

, Founder, Route To Bloom Netherlands

Ms Liesbeth Van Meulder

, Advisor Private Sector, Rikolto Belgium

Mr Koen Van Troos

, Fairtrade Belgium
21/10 Diaspora Agro-food Forum & Exhibition
by

Mr Ralph Genetzke

, Director ICMPD
More than
28 different companies
that representing countries and organizations engaging in agro-food & food processing as well as hundreds of visitors have participated in the event.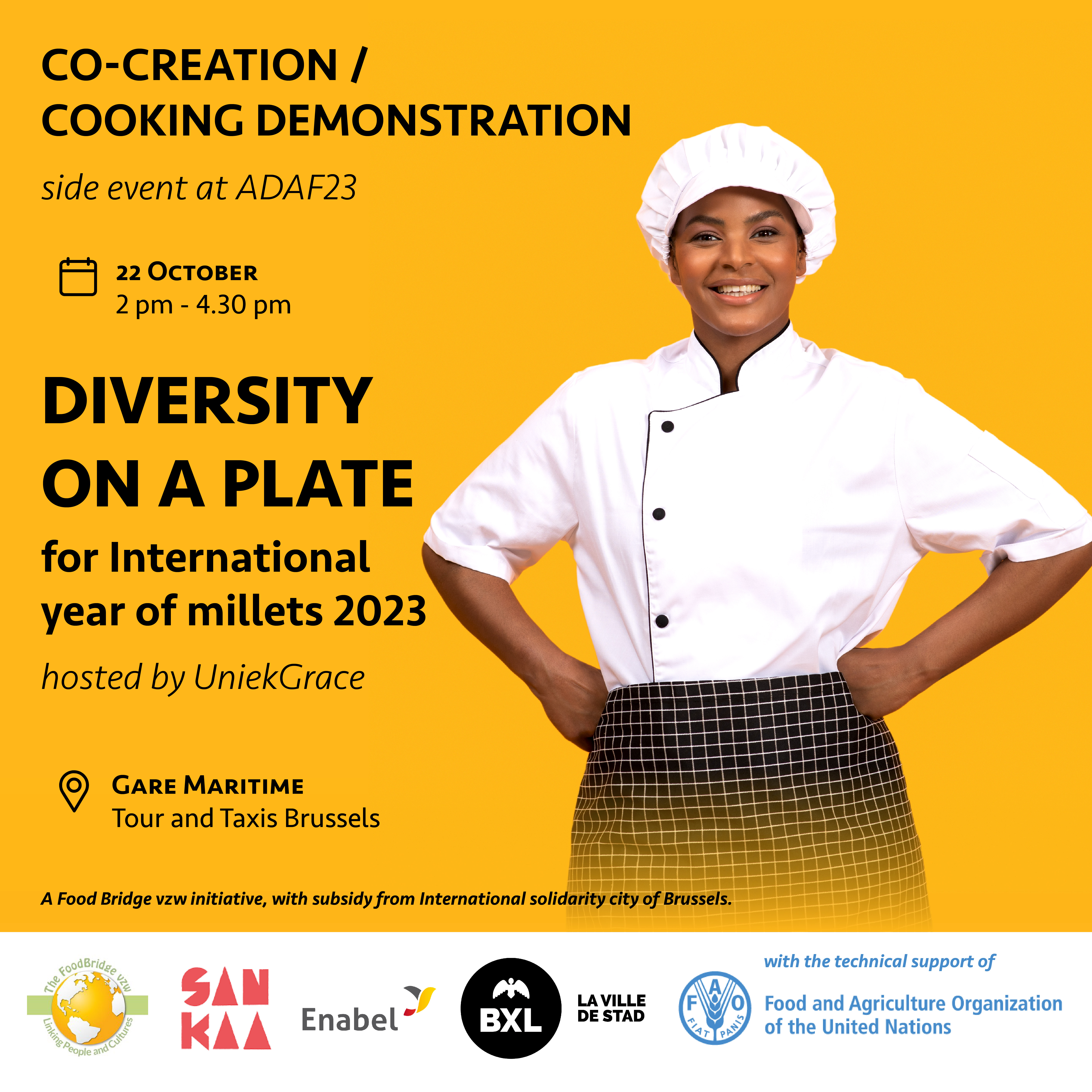 22/10 Diversity on a plate' in celebration of the International Year of Millets
As part of the side activities at the 2023 African Diaspora Agrofood Forum, the Food Bridge vzw in collaboration with FAO Brussels office, Enabel and Sankaa vzw organized a program 'Diversity on a plate' in celebration of the International Year of Millets. This program was funded by the International Solidarity of City of Brussels.
Millet is a healthy, indigenous grain that is a staple in many African countries. During the program there was an information session by FAO and then a co-creation of recipes by
Chefs and cooks of different origins
Related:

Often the continent of Africa conjures images of starvation, when in reality the African diet is perhaps the most balanced diet in the world, packed with nutrient-dense foods like cassava, fonio, leafy greens, and vibrant vegetables. So why is there such a disparity between reputation and reality? Colonization has pushed African cuisine and crops into the shadows. For too long, African food has been undervalued. These chefs, farmers, and entrepreneurs are combining new technology with traditional farming methods to increase yields in the face of climate change, enhance global awareness about the history and value of African food and ultimately create jobs and wealth.