20 May 2016.
Five Integrated Projects have been awarded grants within the third Call of the
Food and Business Global Challenges Programme
(GCP). The theme of the NWO-WOTRO Call, selected and developed by the Food & Business Knowledge Platform (F and BKP), is
"Transformation of food systems with a focus on sustainability and urbanization."
Please find below a list of this month's awarded Integrated Projects, linking to their own Research Projects page on this website.
Sustaining food supplies and improving health: Integration of small farmers into modern value chains with food safety standards in Kenya
Contamination with fungal toxins is a prominent food safety concern in tropical regions. Aflatoxin, a fungal toxin common in maize and groundnut, affects much of African produce. Besides exacting a significant health toll, it impedes farmers' access to global food markets and high-value domestic markets.
This project will develop and test business models to support the scale-up of a biocontrol product - Aflasafe,

to combat aflatoxin among smallholder maize farmers in
Kenya
.
Scaling-up nutrition-sensitive agricultural initiatives in poor mountainous areas in Vietnam and Lao PDR
Food insecurity and malnutrition remain persistent challenges among upland populations in Asia. Interventions are often fragmented and address immediate rather than underlying causes. Nutrition-Sensitive Agriculture (NSA) is a relatively new inter-sectoral, multi-level food system approach aiming to maximise agriculture's contribution to improved food security and nutrition. Building upon existing interventions in
Vietnam and Lao PDR
, this project generates evidence on the effectiveness of, and best way to scale-up, NSA amongst ethnic minorities in mountainous areas.
Horticultural food systems based on ecologically intensive production and socio-economically sustainable value chains in the transition economies Chile and Uruguay (HortEco)
While consumption of vegetables in emerging economies falls well short of dietary recommendations, vegetable production contributes to environmental pollution and health risks. This project will engage with small farmers and organizations involved in low-or-no-pesticide production methods in
Chile and Uruguay
to develop more effective production, knowledge sharing methods and collaborative value chains.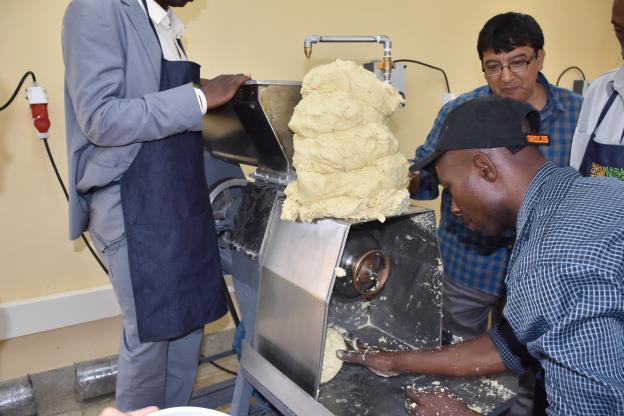 A milling machine for preparing nixtamalized maize dough
was presented to KALRO by the Mexican embassy
in Nairobi, Kenya. CIMMYT/Brenda Wawa
Related:
6 May 2016
. KALRO will support
raising awareness of the nixtamalization or lime-cooking
technology among small- and medium-sized companies, increasing their investment opportunities. KALRO is the custodian of the equipment donated by the Mexican government that is being used for training. CIMMYT will support this work by providing technical and capacity building expertise.
The process includes cooking and steeping dried maize grain in water and food-grade lime (calcium hydroxide), rinsing the maize to remove the outer kernel cover (pericarp) and milling it to produce dough that can be consumed in different ways.
If adapted, modern nixtamalization technology could increase maize uses and offer Kenyans invaluable benefits. Food-grade lime is rich in calcium, providing nutritional and health benefits. Nixtamalized food products such as tortillas (small circular-shaped flatbreads) are said to have same nutritional value as milk. By removing the pericarp, the technology contributes to reduce aflatoxin fungal contamination levels in maize kernels by 30 to 60 percent.
The benefits of nixtamalization will soon become a reality for Kenyans following the official presentation of nixtamalized maize mills to the Cabinet Secretary of Kenya's Ministry of Agriculture, Livestock and Fisheries by Mexico's ambassador to Kenya, Erasmo Martínez, which took place on 4 April 2016 in Nairobi. This event marked the official launch of a new project titled
"Expanding maize utilization as food and enhancing nutrition improved health and development in Kenya through processing technologies from Mexico,"
which will contribute to disseminating new technology across the country. The three-year project will be led by the
Kenya Agricultural Livestock and Research Organisation
(KALRO).