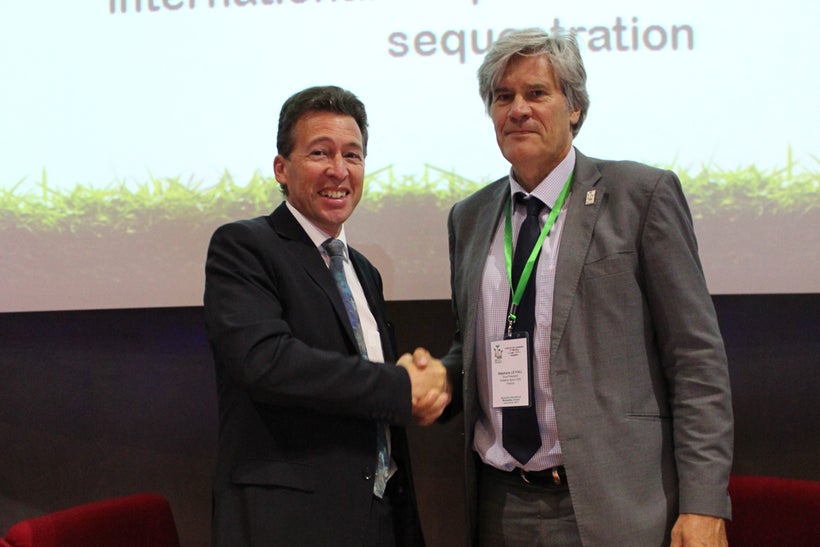 Alain Vidal, CGIAR System Organization & Stéphane Le Foll,
former French Minister of Agriculture, Agribusiness and Forestry
and Vice-President of 4p1000 initiative,
sign the agreement between 4p1000 and CGIAR
at Agropolis International in Montpellier, France.
29 June 2017
. Montpellier. Launched during COP21 under the leadership of the French Government, the global
4p1000 initiative
is currently rallying effort to sustainably manage soil for carbon sequestration.
The 4p1000 secretariat is now hosted by the
CGIAR
System Organization. The initiative provides a multi-stakeholder platform to facilitate partnerships, bringing together more than 250 contributors in both the public and private sectors under the framework of the
Lima-Paris Action Agenda (LPAA)
of the UNFCCC. The initiative will promote research-based solutions along four pillars:
a multi-stakeholder platform to facilitate partnerships
a tool to assess projects based on a set of references and indicators
an international research program exploring the potential of soil carbon sequestration, innovative soil practices, the required enabling environment, and the monitoring, reporting and verification of solutions
a digital resources center on carbon in soils
23/08/2017
.
CGIAR gets serious about soil carbon as home of 4p1000 initiative