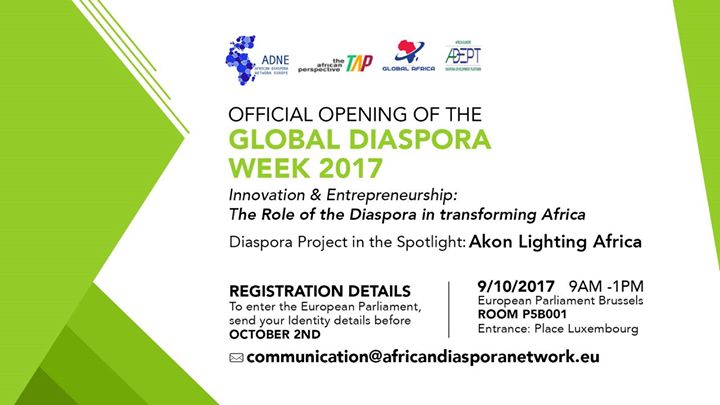 9 October 2017
. European Parliament, Brussels, Brussels, Belgium.
The Global Diaspora Week (GDW)
was a week dedicated to diaspora communities and their contributions to global development.
GDW created awareness, enable collaboration and enhance learning among those working with diaspora communities in different locations around the world.
This year edition
organized in partnership with African Perspective Magazine (TAP), Global Africa and Africa-Europe Diaspora Development Platform (ADEPT) was graced by eminent personalities and officials from different African and European institutions and African embassies accredited to the European Union. See also twitter: #GDW2017.
Among the personalities were:
H.E Marie-Louise Coleiro Preca

, President of Malta, Patron of Global Africa,

Dr. Denis Mukwege

, Laureate of the Sakharov Prize and Founder of Panzi Hospital,

H.E Louis Michel

, Minister of State, Member of the European Parliament, Co-President of the ACP-EU Joint Parliamentary Assembly,

H.E Amadou Diop

, Ambassador of Senegal to Belgium and the EU and Chairman of the ACP Committee of Ambassadors ,

H.E. Mr Lembit Uibo

, Ambassador, Estonian Permanent Representative to the PSC; Ambassador to Belgium,

Madam Cécile Kyenge Kashetu

, Member of the European Parliament and

Mr. Luc Tanoh

, COO of the Akon Lighting Africa.
Created by Aliou Badara Thiam (AKON), Thione Niang and Samba Bathily, Diaspora members from Senegal and Mali, Akon Lighting Africa aims at widening the access to electricity in Africa by using by solar energy. With a starting budget of $ 1 billion, Akon Lighting Africa is already present in 15 countries and 480 localities. The project tackles a key challenge at the root of the underdevelopment in Africa. almost 600 million inhabitants live without electricity, particularly in rural areas.
The Opening Ceremony was preceded by a workshop under the Topic of "Innovation & Entrepreneurship: the Role of Diaspora in transforming Africa."
During the debate Panellists exchanged about different challenges and opportunities for innovative projects from diaspora that can take for meaningful impact in shaping the future of Africa. The panel showcased the work of different institutions and organization including ADNE, UNIDO, ADEPT,
Netherlands-African Business Counci
l, European Commission... and highlighted successful diaspora projects such as Akon Lighting Africa and Ewala.
H.E Marie-Louise Coleiro Preca, President of Malta, Patron of Global Africa contributrd in a video message to the Official Opening of the Global Diaspora Week 2017
Highlight:
AKSANTIMED
AksantiMed, a collaboration between the Université Libre de Bruxelles (ULB), the University of Liège, the University of Kinshasa and SOS Médecins de Nuit, has engaged in a battle against counterfeit medicines. Yearly almost 120 000 Africans die because of the use of counterfeit medicines. AksantiMed is a mobile application that allows patients to check the pharmaceutical product.
Patients can verify the unique 12-digit code printed on the medication via text message or through the AksantiMed application. When validating the code, the patient also immediately receives the information linked to the product (type, commercial name, expiration date, product recall or health warnings). Both patients, pharmacists and telecom providers are enthused with the first test results of AksantiMed.
Le Dr Hélène Mavar, maître d'enseignement à la Faculté de Pharmacie de l'ULB a reçu, avec l'équipe AksantiMed, un projet qui vise à lutter contre la contrefaçon de médicaments, le prix "Digital for Development" (D4D) dans la catégorie iStartUp. Ce prix récompense des projets qui utilisent la digitalisation comme levier pour le développement.
Le projet AksantiMed consiste, en l'authentification des médicaments par l'envoi d'un code à 12 chiffres, via un gsm, un SmartPhone, une tablette ou un ordinateur et la réception d'une réponse contenant entre autres le nom du médicament concerné. Ce projet intervient dans le cadre de la lutte contre les faux médicaments.
Ce prix organisé par le Secretariat général à la Coopération au développement et le Musée de Tervuren a été remis au Palais des Colonies le 30 novembre 2016 par le Secrétaire d'État Alexander De Croo.
Announcement:
Saturday
21 October 2017
at 02:00 pm
Damstraat 10, Elsene Brussel- Wijkhuis Malibran Malibran, Ixelles, Belgium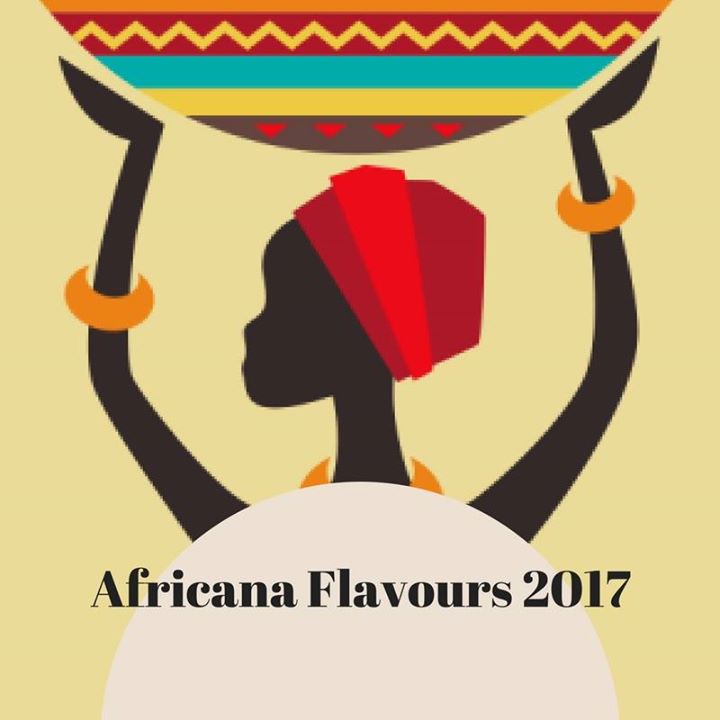 The Food Bridge vzw organises
the 4th edition of Africana Flavours, with the theme 'African street food'.
African streets are lively, colourful, diverse and boisterous and street food is a very important part of the African cuisine.
This wonderful event celebrating Africa's food culture, will have much more to offer, as we showcase Africa's great culinary heritage. Many Africans now call Europe home and have brought along their cuisine to further enrich the foodscape in Belgium. Many in the African Diaspora are also working hard to contribute to the development of their communities in Europe and Africa. Despite their positive impacts many still struggle to find funds for their projects.
Thus this year, The Food Bridge vzw is giving stands to
African organizations to enable them raise funds for their projects.
Visitors to this years event will have information about all the organizations, what they do and the food they will sell. So people can buy food at affordable prices, from the stands of the organizations to support their projects
This event will use food as a tool for not just promoting more cultural awareness, which can help break down some of the barriers between Africans and other communities in Belgium , but also as a means of supporting worthy causes.
The Food Bridge vzw invites the world to come have an authentic taste of Africa. African cuisine draws from old traditions and centuries old influences from Arab traders, European colonizers and Asians migrants. This has led to the emergence of a colourful and delicious cuisine.Visitors will sample the diverse tastes of Africa – spicy, savoury or sweet.
Entrance is 2.50 euros for adults, 1 euro for children