18 - 21 September 2016
.Vienna, Austria. Organised by the University of Natural Resources and Life Sciences (BOKU Vienna), this year's theme
Tropentag
is 'Solidarity in a competing world - fair use of resources' and the call for papers addresses prospective procedures for solidarity and the fair use of increasingly scarce natural and non‐renewable resources around the world.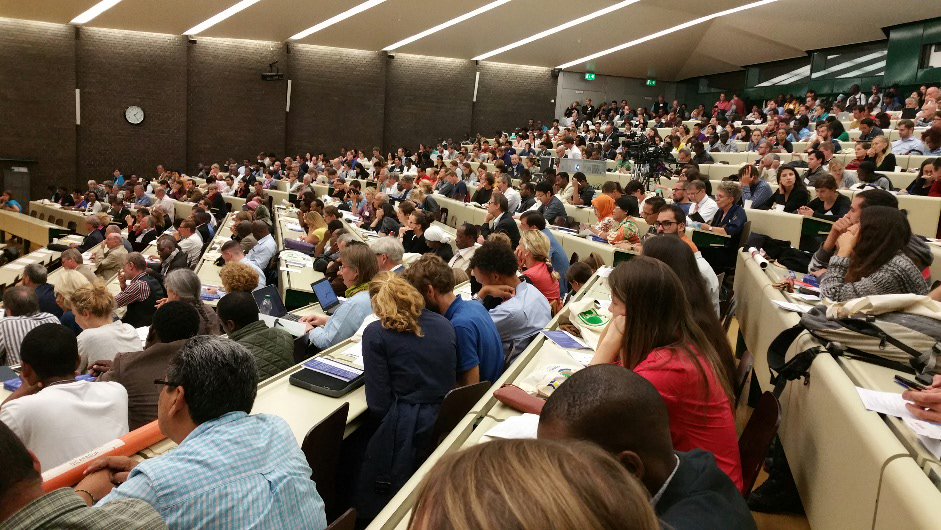 Focus iss given to the rising demand for food, fiber, feed and fuel to cover the needs of a growing world population and to innovative sustainable
practices, e.g. organic farming, and new economies and policies.
Extract of the programme
16 pre-conference workshops were organised
Workshop 5: Empowering smallholders through
multi-stakeholder platforms
and value chains
Organisers: Peter Ballantyne, Michael Peters, Tom Randolph, Barbara Rischkowsky, CGIAR
Livestock and Fish Program
"More meat, milk and fish for and by the poor ", during this interactive workshop CGIAR presented the results of their five-year research in developing countries, encouraging to ask critical and challenging questions in order to improve their model.
Background of the experiment is the increasing demand of livestock in developing countries, where smallholders currently provide about 70% of livestock produce. While the production of livestock thus offers great business opportunities, smallholders are often not part of this transition. CGIAR, in this "very expensive experiment", tried to develop models, strategies and technologies to empower smallholders and women, ensure food security and improve health and environmental issues, amongst others.
Agricultural Cooperatives as Innovation Brokers: The Case

of Climate Smart Agriculture in Uganda
Abstract (ID 992 ): Web-Version (html) — Print Version (pdf) — poster (pdf)
Building Trust and Collaboration through Co-Learning - Multi-Stakeholder Platforms for Sustainable Intensification of Smallholder Farming in Tanzania
Abstract (ID 1135 ): Web-Version (html) — Print Version (pdf) — poster (pdf)
Trust as Integral to Multi-Stakeholder Processes for Dairy Value Chain Improvement
Abstract (ID 1053 ): Web-Version (html) — Print Version (pdf) — poster (pdf)
The Formation of Organisational Networks in Emerging Economy: the Case of Agribusiness Incubators
Abstract (ID 544 ): Web-Version (html) — Print Version (pdf) — poster (pdf)
Plant Residue-Derived Organic Carbon Input into Soil in African Indigenous Vegetable Production Systems
Abstract (ID 834 ): Web-Version (html) — Print Version (pdf)
Strategies of African Indigenous Vegetables to Cope with Phosphorus Deficient Soils


Abstract (ID 831 ): Web-Version (html) — Print Version (pdf) — poster (pdf)
Do Unique Farmer Trader Relations Enhance Resilience: Case of Greengram Markets in Mbeere County, Kenya
Abstract (ID 554 ): Web-Version (html) — Print Version (pdf) — poster (pdf)
Association of On-Farm Animal Feeds Handling Practices with Growth of Mycotoxin Producing Molds in Feeds on Smallholder Dairy Farms in Nakuru, Kenya
Abstract (ID 814 ): Web-Version (html) — Print Version (pdf) — poster (pdf)
Dietary Exposure to Mycotoxins and Risk Assessment for Adult Consumers of Locally Processed Rice from Nigeria
Abstract (ID 1152 ): Web-Version (html) — Print Version (pdf)