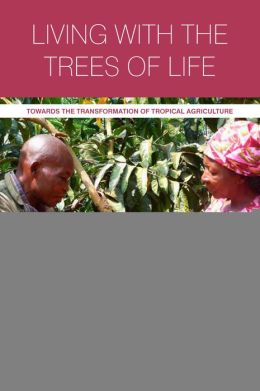 Copyright 2014 by Annual Reviews.
"This is the best justification for agroforestry that I have seen."
Olivier de Schutter United Nations Special Rapporteur on the Right to Food (2008-2014)
The future of agriculture is the focus of much international debate. The main area of consensus is that it needs to be more sustainable and more productive, and that business as usual is not an option . The problems are numerous and complex, especially in the tropics and subtropics, where interactions between both biophysical and socioeconomic issues are affecting agricultural productivity, mainly through a combination of land degradation driven by population growth and a declining resource of productive land for agriculture. This has led to farmers becoming sedentary smallholders without the financial resources to replenish soil fertility.
Ecological restoration (step 1) builds on more than 25 years of research experience, led by the World Agroforestry Center (ICRAF), in the use of a number of leguminous nitrogen-fixing trees and shrubs in improved fallows, relay cropping, and, more recently, evergreen agriculture.
Tree domestication (step 2), by selecting and vegetatively propagating elite trees for planting as superior cultivars to produce culturally and traditionally important and nutritious foods has, over the past 20 years, made great progress in assisting poor rural communities.
Product commercialization (step 3) creates business and employment opportunities in cottage industries engaged in processing, value adding, and marketing of the products of these agroforestry trees.
By combining agroecological restoration with income generation within a participatory integrated rural development program that provides community training and education in a wide range of relevant skills, agroforestry becomes a powerful new tool to address the cycle of land degradation and social deprivation. The income-generating component adds critical value to agroecology and may even be an important incentive for farmers to diversify their farming systems.
Related PAEPARD blog posts
Joint ARCH AKIS Workshop
26 - 27 May 2014.
Brussels.
Roundtable on Sustainable African Agriculture and CAADP 2014 review
28 November 2013.
Brussels.
Related:
A series of narrated
slide presentations on the topic of tree domestication
in agroforestry as developed by Prof. Roger Leakey in support of his lectures on the subject. They can be used by research scientists, technicians, development specialists, students and others active or interested in this area to enhance their knowledge and skills in agroforestry tree domestication and the development of clonal cultivars producing Agroforestry Tree Products (AFTPs).
Put together, they can support a short course that should allow learners to develop a tree domestication programme within the framework of multi-functional agriculture, based on the most appropriate strategy and package of techniques. Where possible, these theoretical presentations should be accompanied by practical work and demonstrations to develop the skills mentioned.
The narrated slide presentations are chronologically organized as Modules (M), Units (U), Case Studies (CS) and Topics (T) and cover the following:
INTRODUCTION
MODULE 1 –
THE ROLE OF TREE DOMESTICATION
Unit 1 –
Setting tree domestication in context
Unit 2 –
What is tree domestication?
MODULE 2 –
TECHNIQUES AND STRATEGIES OF TREE DOMESTICATION
Unit 1 –
Indigenous trees producing fruits and nuts
Case Study 1 -
Safou (Dacryodes edulis) and Bush mango (Irvingia gabonensis) in Humid West Africa
Case Sudy 2 –
Marula (Sclerocarya birrea) in South Africa and Namibia
Case Study 3 –
Indigenous nuts in the Pacific (Cutnut
- Barringtonia procera, Tahitian chestnut - Inocarpus fagifer, and Galip nut - Canarium indicum)
Case Study 4 –
Bush tucker in Australia
Unit 2 –
Indigenous trees producing wood and timber
Case Study 1 –
Sandalwood for essential oils in Vanuatu
Case study 2 –
Obeche (Triplochiton scleroxylon) – export timber from Humid West Africa
Unit 3 –
Annex: Other species under domestication
(slides only)
MODULE 3 –
VEGETATIVE PROPAGATION
Unit 1 –
Introduction to vegetative propagation
Unit 2 –
Factors affecting rooting of cuttings
Topic 1 –
The propagation environment
Topic 2 –
Post severance treatments
Topic 3 –
Stockplants
Topic 4 –
Stockplant environment
Topic 5 –
Issues to be addressed
Unit 3 –
Phase change and ageing in reproductively mature trees
Unit 4 –
Do's and don'ts of rooting cuttings
Topic 1 –
Making the best use of the techniques
Topic 2 –
Key methodological points to remember
Topic 3 –
Trouble-shooting
Topic 4 –
Capturing the mature phase
Unit 5 –
Nursery management
Unit 6 –
Experimentation in vegetative propagation
MODULE 4 –
ADOPTION AND IMPACT OF TREE DOMESTICATION IN AGROFORESTRY
Unit 1 –
Towards economic, social and environmental impacts
Unit 2 –
Tree domestication and multi-functional agriculture in action
Topic 1 –
Rural Resource Centres in West/North West Cameroun
Topic 2 –
Network for Sustainable and Diversified Agriculture in Far North Queensland
MODULE 5 –
MULTI-FUNCTIONAL AGRICULTURE IN PRACTICE – WHAT IS THE FUTURE?