June 2015.
Brussels. All signed
Horizon 2020 projects
have now been published. You can view all project details, such as total cost, who is the coordinator and who are the participants, on the CORDIS website. Select "Programmes" in the left navigation and then choose "Horizon 2020". You can filter by Horizon 2020 sections or by country.
Among the first Horizon 2020 projects funded, there are now
38 projects involving 80 participants from 20 African countries
, including some international organisations based in Africa (AUC, ILRI, UN agencies, etc), who will receive a total EU contribution of €12.2m (i.e. € 153,000 per participant).
These projects include Research and Innovation actions, Coordination and Support Actions and other measures in a wide range of areas, including health, agriculture and food production, environment, energy, transport, space, peace and security, disaster resilience, and science and society issues.
EU-Africa Cooperation through Horizon 2020 – focusing on
Agriculture and food production
Examples from the agriculture and food production area
can now be found in the Cordis database.
PROIntensAfrica
-
Towards a long-term Africa-EU partnership to raise sustainable food and nutrition security in Africa
Ref.: 652671 Start date: 2015-04-01, End date:
2017-04-01 (African partners: Senegal, Botswana, Ghana, South Africa, Uganda, Burkina Faso)
PROIntensAfrica intends to develop a proposal for a long term research and innovation partnership between Europe and Africa, focusing on the improvement of the food and nutrition security and the livelihoods of African farmers
PROTEIN2FOOD
-
Development of high quality food protein through sustainable production and processing
Ref.: 635727 Start date: 2015-03-01, End date:
2020-03-01
(African partner: Uganda)
PROTEIN2FOOD's aim is to develop innovative, cost-effective and resource-efficient plant proteins –rich food sources with positive impact on human health, the environment and biodiversity.
Other relevant Horizon 2020 projects for Africa
MycoQuest
-
Rapid on-site detection of Mycotoxin in wheat
Ref.: 684135 Start date: 2015-07-01, End date:
2015-10-01
The business of our company is agricultural trading. We realized that our sector lacks a reliable, fast, on-site detection method of Mycotoxins, in particular of deoxynivalenol (DON) in wheat grains, which is one of the major threats to the food and feed sector.
TRICHO T-18
-
Environmental friendly fungicide based on new endophytic Biological Control Agent Trichoderma asperellum strain T18
Ref.: 684567 Start date: 2015-07-01, End date:
2016-01-01
Biocontrol has been the fastest growing segment of the global plant protection business over the last few years. Its market is estimated at about 2,3 billion $, and within biologicals, the microbial products have been the fastest growing product type segment of biocontrol
OK-Net Arable
-
Organic Knowledge Network Arable
Ref.: 652654 Start date: 2015-03-01, End date:
2018-03-01
The overall aim of the thematic network 'OK-Net Arable' is to improve the exchange of innovative and traditional knowledge among farmers, farm advisers and scientists to increase productivity and quality in organic arable cropping all over Europe
Pathogens detection
-
Antibiotics reduction with early mastitis pathogens detection for @ point of animal care usages
Ref.: 663649 Start date: 2015-03-01, End date:
2015-09-01
Blue4Green will develop a portable sample handling/sensing system for DNA and/or RNA fragments. The input to such a system is a raw sample of milk, containing the bacteria to be analysed that causes mastitis.

2020-03-01
The Joint Programming Initiative on Agriculture, Food Security and Climate Change (FACCE-JPI), launched in October 2010 by the European Council, brings together 21 countries committed to "building an integrated European Research Area addressing the challenges of agriculture
FACCE SURPLUS
-
SUstainable and Resilient agriculture for food and non-food systems
Ref.: 652615 Start date: 2015-03-01, End date: 2020-03-01
The objective of FACCE SURPLUS is to strengthen the European Research Area in support of different integrated food and non-food biomass production and transformation systems, especially by organising, implementing and cofunding with the EU a joint call for transnational research
Ref.: 652637 Start date: 2015-03-01, End date: 2019-03-01
The overall idea of the BioHorizon proposal is to establish innovative and mutually learning pan-European platform for transnational activities of NCPs involved in the SC2 and KET-B. The aim is also to create a network of NCPs.
EU-Africa Cooperation through Horizon 2020 – focusing on health research
TBVAC2020
–
Advancing novel and promising TB vaccine candidates from discovery to preclinical and early clinical development
. Led by TBVI (The Netherlands), with 40 partners, including 3 from Africa: Stellenbosch University (SA) KwaZulu Natal Research Institute for TB & HIV (K-RITH) (SA) and University of Cape Town (SA).
EMI-TB
–
Eliciting Mucosal Immunity to Tuberculosis
. Led by St George's Hospital Medical School (UK), with 14 partners, including 1 from Africa: Instituto Nacional de Saúde (Mozambique).
SMART2D
–
Self-Management and Reciprocal learning for prevention & management of Type-2-Diabetes
. Led by Karolinska Intitute (Sweden), with 6 partners, including 2 from Africa: Makerere University (Uganda) and University of the Western Cape (South Africa).
VIROGENESIS
–
Virus discovery and epidemic tracing from high throughput metagenomic sequencing
. Led by Catholic University of Leuven (Belgium), with 8 partners, including 1 from Africa: University of KwaZulu Natal (South Africa).
B3Africa
–
Bridging Biobanking and Biomedical Research across Europe and Africa.
Led by Swedish University of Agricultural Sciences, with 11 partners, including 5 from Africa: ILRI (Kenya), Institute of Virology (Nigeria), Makerere University (Uganda), University of the Western Cape and Stellenbosch University (South Africa).
Related:
28-29 May 2015.
Accra. Horizon 2020 Regional training workshop for African National Contact Points.
A training workshop for National Contact Points (NCPs) from Central and West Africa
brought together NCPs from a dozen countries to learn more about the EU's Horizon 2020 programme and the role of NCPs in facilitating participation of researchers from their countries, thereby boosting preparations for the second set of Horizon 2020 calls for proposals to be published later this year.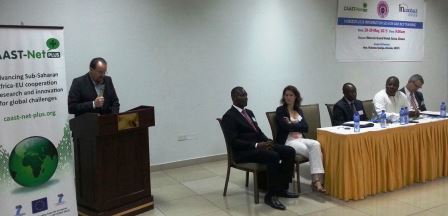 In a brief statement, the Head of Infrastructure
and Sustainable Development at the EU in Ghana,
Mr. Bart Missinne, said the EU research programmes,
although intending to promote EU's competitiveness,
strive to address global challenges.
Many African countries have no NCPs or only one person to cover the broad range of Horizon 2020 themes and opportunities, which puts their researchers at a relative disadvantage when trying to access EU funding. African researchers can identify NCPs for their countries on the Participant Portal. See the
Participant Portal
For more information
consult the agenda

[503 KB]