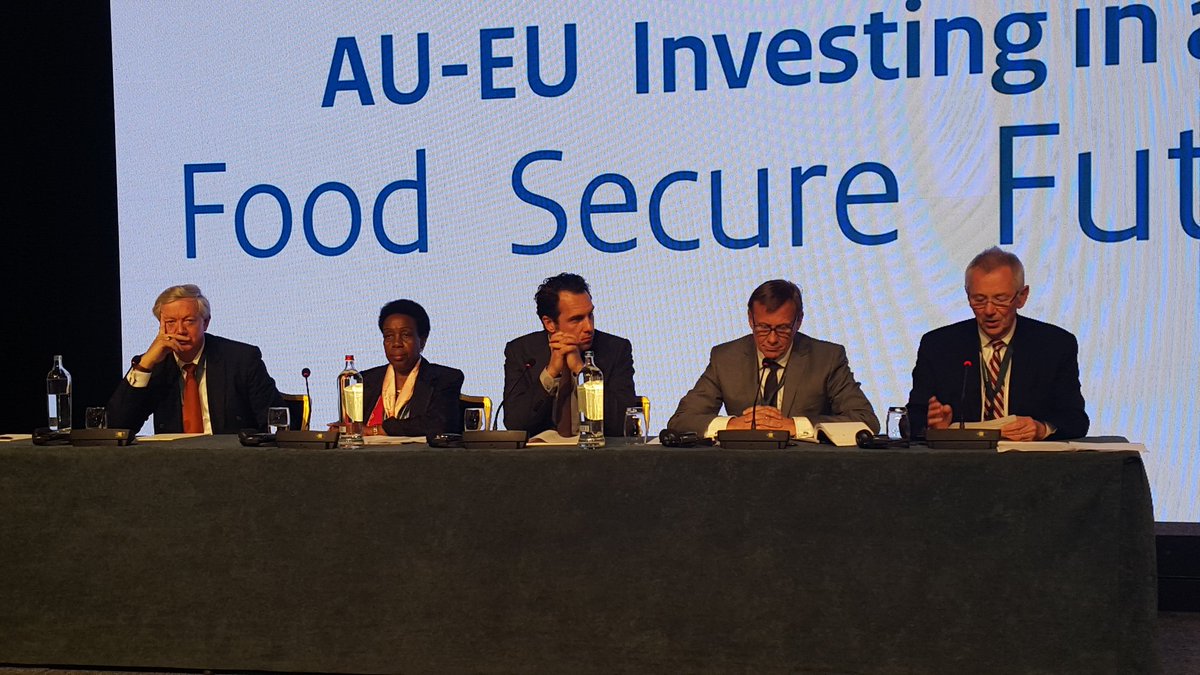 Closing panel
6 July 2016.
High Level Ministerial segment.
The Government of the Netherlands, in its role as EU Presidency 2016, has taken the initiative to advance AU - EU cooperation in the field of agriculture, and place special emphasis on the role of agricultural policy cooperation in food security and nutrition improvement.
This agricultural policy cooperation seeks to support governments, farmers, private sector, scientists, businesses, and civil society, as well as regional blocs and international organizations, in adjusting agricultural, forestry and fisheries practices, food systems and social and economic policies in order to reach these goals.
The Conference was built around a two-day Experts' segment followed by a High Level Ministerial segment on the third day, giving political orientations to improve AU-EU agricultural cooperation and build on previous international efforts and existing structures.
Following Ministers participated in the High Level Ministerial meeting:
H.E. Deo-Guige RUREMA, Minister of Agriculture and Livestock of BURUNDI
H.E. Henry Eyebe Ayissi, Minister of Agriculture and Rural Development of CAMEROON

H.E.

Henri DJOMBO, Ministre de l'Agriculture, de l'elevage et de la Pêche, Republique de CONGO
H.E. Mboumba NzienguiI Mathieu, Ministre de l'Agriculture GABON
H.E. Jacqueline Marthe Sultan, Ministre de l'Agriculture GUINEA
H.E. Lisemelo 'Mapalesa MOTHOKHO, Minister of Agriculture and Food Security LESOTHO
H.E. Audu I. Ogbeh OFR, Minister of Agriculture and Rural Development NIGERIA
H.E. Gerardine Mukeshimana, Minister of Agriculture and Animal Resources RWANDA
H.E. Lam Akol Ajawin Agongdit, Minister of Agriculture and Food Security SOUTH SUDAN
H.E. Ibrahim Adem Ahmed Eldekerei, Minister of Agriculture & Irrigation SUDAN
H.E. Vincent Ssempijja, Minister of Agriculture, Animal Industry and Fishery UGANDA
The Conference put forward partnerships on the main themes of AU-EU cooperation, in order to accelerate the implementation of relevant agreements and actions as well as to strengthen the cooperation with privates sector, especially through public private partnerships. This will be a rolling agenda for the AU-EU cooperation the coming years.
The Netherlands, as co-organizer of the AU-EU Investing in a Food Secure Future Conference,

committed to funding two to four Agri-business incubators for Africa, and invited to further exploring this approach with other partners.
The European Commission committed to deepen their work in the five thematic areas, especially via EC Funds, mainly EDF, ENI for North Africa, the Global Public Goods Fund, Agrifi, and Funds of the European Investment Bank.
The Dutch Topsector Agri-food and Horticulture will support the set up of a AU-EU Business Forum involving Government, private sector, farmers organizations, and financial institutions;
UNECA offered a platform for accelerating technology transfer on thematic issues, including

on Food Loss and Waste.
And as a next step facilitate the continued dialogue called for by the Conference, by bringing a biennial Ministerial AU-EU 'Roundtable' focused on implementation to life, aimed at a strong and lasting partnership of AU and EU around the five main themes of cooperation.
Creation of two new research-industry-public partnership incubators.
Set up a Africa-EU multistakeholder agricultural business platform focused on market access
This proposal involves establishing two new incubator programs in each of the 54 countries.
A science-driven approach is the only way to transform agricultural markets quickly enough. In order to achieve this transformation, there needs to be a new paradigm for commercializing science to address critical questions asked of scientists.
Innovation systems require bringing relevant actors together to achieve the kind of big impact Africa is looking for. While a number of models have already been tested, only one of those models is implementing innovation platforms.
Furthermore, there is a need to engage the private sector, research universities, and policymakers in most effectively designing incubation programs.
Currently, there are a number of incubators around a variety of value chains, including coffee, banana, livestock, vegetables, and agroforestry products.
These incubators are creating direct jobs, supporting SMEs, and are often the basis for devleoping agribusiness curricula.
ColeACP announced at the Ministerial meeting the approval by the EC/DG-DevCo (Directorate General Development Cooperation) of the ColeACP programme on "Competitiveness through sustainable business" (European Development Fund/EDF).
"In our new programme, the economic dimension of the business is fundamental. So far, we have devoted ourselves to its technical dimension by supporting businesses in the field of food safety, traceability and the implementation of international standards. With the new programme, we also want to help them integrate all the economic data into their management and decisionmaking. The objective is competitiveness. In other words, ensure that the technical skills acquired by businesses are used to improve their economic performance and, in addition, to help unlock the potential of agro-industrial production in developing countries.
The support of COLEACP will therefore extend to entrepreneurial development as a whole, including dimensions such as market analysis, marketing, the cold chain, logistics, invoicing and administration. This diversification is designed to set up a virtuous circle to resolve the main problem of SMEs in Southern countries - access to credit. By working to consolidate their economic pillar, COLEACP will help improve their bankability, to facilitate the raising of funds from financial institutions, and thus leverage their development. The aim, in fact, is to prepare ACP businesses so that they are in a position to take advantage of opportunities that will inevitably arise for them in the coming decades."

Guy Stinglhamber, General Delegate of COLEACP