Resources
The World Bank report, WB (2020)
The African Continental Free Trade Area: Economic and Distributional Effects
, (163 pp) is designed to guide policymakers in implementing policies that can maximize the agreement's potential gains while minimizing risks. Creating a continent-wide market will require a determined effort to reduce all trade costs. Governments will also need to design policies to increase the readiness of their workforces to take advantage of new opportunities.
Achieving the gains from AfCFTA is especially important due to the COVID-19 pandemic, which is expected to cause up to $79 billion in output losses in Africa in 2020 alone.
COVID-19 has caused major disruptions to trade across the continent, including in critical goods such as medical supplies and food.
By increasing regional trade, lowering trade costs and streamlining border procedures, full implementation of AfCFTA would help African countries increase their resiliency in the face of future economic shocks and help usher in the kinds of deep reforms that are necessary to enhance long-term growth.
AfCFTA offers big opportunities for development in Africa, but implementation will be a significant challenge. This analysis identifies key priorities for African policy makers. Lowering and eliminating tariffs will be the relatively easy part—even if it comes, in some cases, with the challenge of how to replace tariff revenues. The hard part will be enacting the nontariff and trade facilitation measures, which is where the Overview 9 analysis predicts the largest potential economic gains. Such measures will require substantial policy reforms at the national level, indicating a long road ahead. Achieving AfCFTA's full potential depends on agreeing to ambitious liberalization and implementing it in full. Partial reforms would lead to smaller effects. (page 9)
UNECA (2020)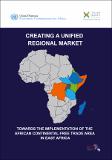 Creating a unified regional market : towards the implementation of the African, continental free trade area in East Africa
. Addis Ababa. © UNECA - United Nations. Economic Commission for Africa
140 pp.
This East Africa report is fruit of a partnership between TradeMark East Africa and ECA's sub-regional office for Eastern Africa – two organisations that share a pan-African vocation and the conviction that greater intra-regional trade and investment is the way forward.
A particular challenge for agriculture is the persistence of non-tariff barriers (NTBs). NTBs that commonly impact on agricultural trade, such as sanitary and phytosanitary measures (SPS), have become progressively more important than tariffs, and tend to be higher than in non-agricultural sectors (UNCTAD, 2016b and Kee et al., 2009). SPS measures alone have been estimated to raise domestic prices of foodstuffs by about 13 percent in sub-Saharan Africa. (page 73)
The perishable nature of many agricultural food products means that their trade could be particularly responsive to improvements in customs clearance times and logistics, which are expected from AfCFTA implementation (ECA, AUC and AfDB, 2017). Moreover, East Africa's agricultural sector is characterized by an inadequate use of yield-enhancing practices and technologies. With the AfCFTA in place, access to agricultural inputs and intermediates (e.g. improved seed varieties and machinery) should improve, thereby raising yields and enhancing food productivity. (page 74)
Agro-processing generates a high rate of profitability in the region. However, as it currently stands, African agribusinesses have to compete with large international conglomerate firms (that tend to be based in developed countries) under unfavourable terms in the global agricultural markets. These firms set the 'rules of the game' – mostly due to their ability to create powerful brand names and enforce standards – and relegate the African farmers and SMEs to the position of "standard takers" who are excluded from important value-creating processes. (page 74)