15 April, 2013 - 16 April, 2013.
Dublin, Ireland. The
Dublin Conference on Hunger, Nutrition and Climate Justice
has been coorganised by CCAFS,
Irish Aid
, the
Mary Robinson Foundation - Climate Justice
, and the
World Food Programme
. It brought together key policy makers and global thought leaders with local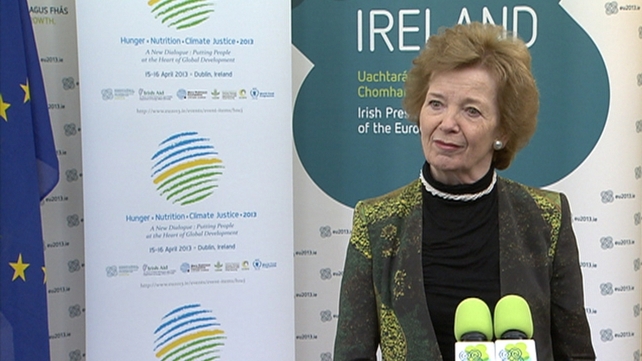 Mrs. Mary Robinson, former President of Ireland,
President,Mary Robinson Foundation - Climate Justice
people and practitioners facing the realities of rising food prices, failed crops, under nutrition and voicelessness.
The objective was to facilitate a dialogue and learn from practical experience and robust evidence to inform a new approach to addressing hunger, nutrition and climate justice, in the context of the new international development agenda.
The aim was not simply be to adopt an outcome document, but to inspire new ways of thinking about global development challenges and to invigorate and broaden the debate, at all levels, listening to and learning from the experiences of local people, and rooting future thematic policy approaches in their lives and their efforts to cope.
15.04.2013
Joyce Banda speech
President of Malawi
See video
Conference Documents
HNCJ Conference Provisional Agenda
(PDF)
HNCJ Conference Papers, including full case studies
(PDF)
Case studies:
For a full list of case studies click here