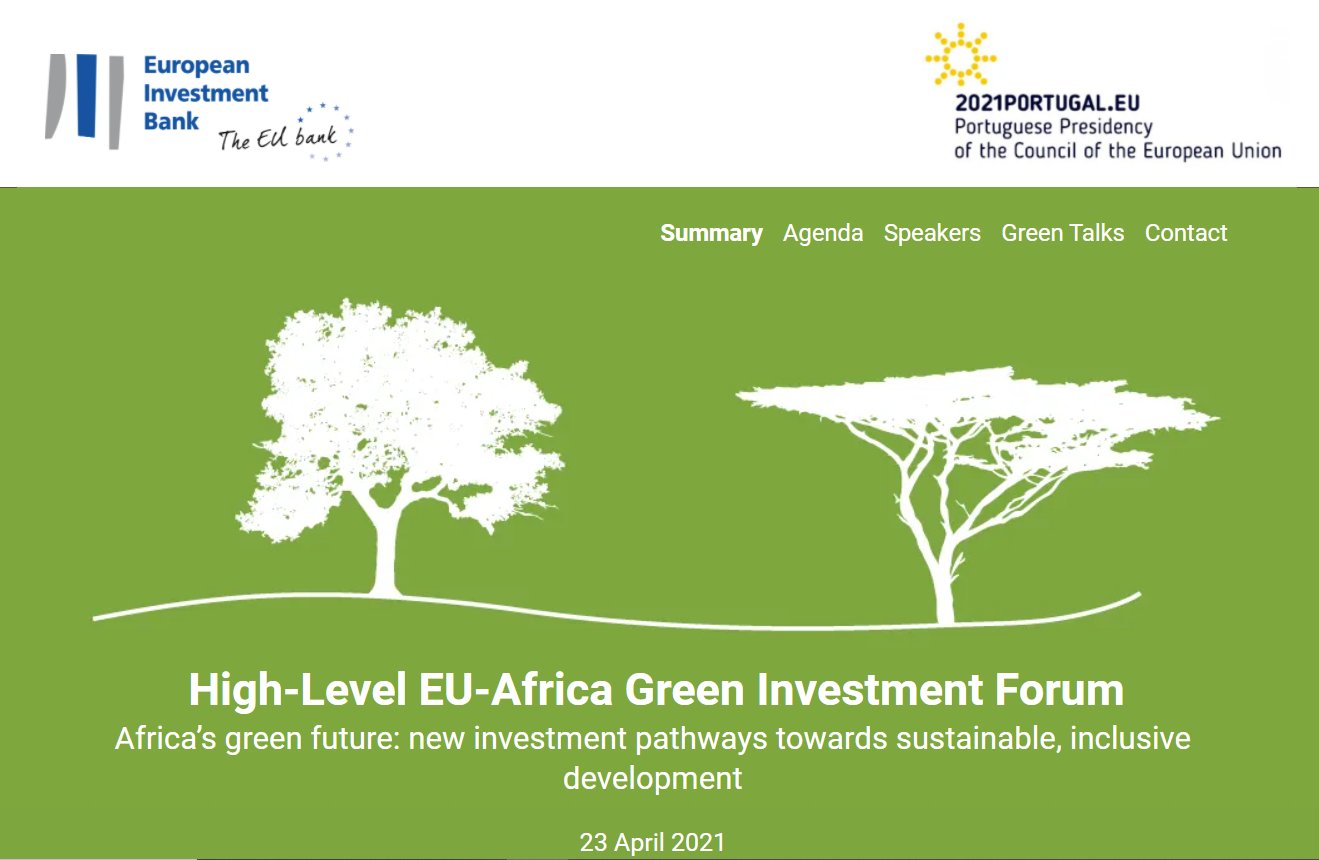 23 April 2021
. the
High-Level Green Investment Forum EU-Africa
: new investment pathways towards sustainable, inclusive development for Africa's green future. This is a joint event of the Portuguese Presidency of the Council of the EU and the European Investment Bank (EIB).
This high-level forum will bring leading government and business figures, international and development financial institutions, and academia together, and get the perspectives of both the public and private sectors on sustainable development and green investment in Africa. We will share experiences, innovative approaches and opportunities to mobilise private and public capital towards the Green Transition in Africa, as well as showcasing how green and sustainable business models are profitable, create jobs and generate wealth while contributing to achieving the world's climate objectives.
Topics covered will include:
the role of the EU and its Member States in curbing climate change across the world, with a focus on Africa
how international financial institutions are responding to this challenge through targeted, innovative instruments and enhanced outreach
how private sector models are changing to become greener and more sustainable.
Agenda: extracts:
Opening keynote: Akinwumi A. Adesina President African Development Bank
Panel 1 : Boosting green and sustainable investment in Africa
The EU is committed to reaching the ambitious goals of the Paris Agreement, and supporting others in meeting their targets, through financing, partnerships and the sharing of expertise. International financial institutions and European and African development players will play a vital role for investment in new projects in Africa. In this session, we examine how they and other public actors can maximise the impact of their investments and help to promote a stable business climate. We will also look at the new financial instruments that will be essential in ensuring great initiatives happen, and innovative approaches to boost green investment everywhere.
Ricardo Alexandre Journalist TSF
Francisco André Secretary of State for Foreigns Affairs and Cooperation Portuguese Government
Ambroise Fayolle Vice President European Investment Bank
Amadou Hott Minister Economy, Planning and Cooperation, Senegal
Mo Ibrahim Founder and Chair of the Mo Ibrahim Foundation Co-Founder of the Africa Europe Foundation
Betty Maina Cabinet Secretary Ministry of Industrialisation, Trade and Entreprise Development, Kenya
Jutta Urpilainen Commissioner for International Partnerships European Commission
Panel 2 : Developing profitable, green and sustainable business models
The Green Transition has to have a wide scope and must go beyond standard financing and investment. The private sector has a key role to play in the ongoing paradigm shift towards developing green and sustainable business models while being profitable, creating jobs and generating wealth. Local and regional banks and other financial intermediaries are also pivotal in this transition but need extra capital and expertise to meet demand: intelligent and disruptive ideas are often risky. In this session, we will explore how to make profit with a purpose and keep businesses competitive. We will also look at how the financial system can help businesses in Africa to succeed, and how to catalyse private investment and funding.
Panel 3 : New platforms for impact – how digitalisation can foster a green economy in Africa
Africa is digitalising quickly, and people are coming to rely on mobile phones and digital platforms for both business opportunities and access to essential services such as healthcare, education and energy. The COVID-19 pandemic reinforced the point that Africa cannot become more resilient without significant investment in its telecommunications infrastructure. In this session, we assess how access to the internet is vital to bring rural communities together, how digitalisation can reduce inequalities, and the role it can play in promoting long-term, sustainable economic growth and development.
Break-out session : Small scale, off-grid renewable energy
Off-grid solutions have proven to have overall significant positive environmental and social impact by providing clean energy to households that are currently un-served or under-served by the grid and mostly reliant on polluting and dangerous energy sources. This panel aims to discuss different approaches of providing access to energy solutions to households and micro-entrepreneurs in Africa and its climate action and economic resilience benefits.
Aly-Khan Jamal Partner Kanishka Bhattacharya, Associate Partner, Dalberg Consultancy
Rui Marques CTO Solar Works and Board member representative of EDPR
Jagjeet Sareen Assistant Director General International Solar Alliance
Hadley Taylor Associate Energy Access Specialist Sustainable Energy for all
Marie Testard Responsible for Investment and Advisory Mini-Grid ENGIE Energy Access
Radhika Thahkar President of the Board of Directors Gogla
Grégoire Verhaeghe Founder Innovent
Related:
Green Talks

Initiatives
Events
Regional workshops to discuss sustainable investment
14 April EU-AU Partnership in Action: implementing Africa's Blue Economy Strategy – Addis Ababa, Ethiopia Find out more
14 April Water in the development of a circular economy – Tunis, Tunisia Find out more
14 April Private Equity and Capital for Sustainable Development Goals – Nairobi, Kenya Find out more
14 April Water and Green Economy: Developing Sustainable and Efficient Services – Maputo, Mozambique Find out more
14 April Water security and Climate Resilient Development – Budapest, Hungary Find out more
15 April Electric Mobility in Cape Verde, a reference in Africa towards a sustainable future – Cidade da Praia, Cape Verde Find out more
15 April The Green transition and EU-Africa Relations – Berlin, Germany
15 April Social housing and Energy Efficiency – Rabat, Morocco Find out more
16 April Accelerating the EU-Africa Partnership for Green Energy Transition in Africa – Online
EU-Africa Partnership for Green Energy Transition in Africa
16 April 2021. EU Africa Business Forum: High Level Green Talk on Accelerating the EU-Africa Partnership for Green Energy Transition in Africa.
The High-Level Green Talk is embedded in the series of the Green Talks organised by the Portuguese Presidency of the European Council. It consisted of a roundtable discussion between high-level representatives from the EU and AU Commissions, ministerial level representatives from Africa and the EU Member States, as well as EU and African Business representatives and CEOs.
Mr Frans Timmermans, European Commission Executive Vice-President for the European Green Deal, European Commission
Dr Amani Abou-Zeid, Commissioner for Infrastructure and Energy, African Union Commission
Achieving greater private sector participation for a faster sustainable energy transformation in Africa. Roundtable
chaired and moderated by Kandeh Yumkella, former United Nations Under Secretary-General and co-chair of the Strategy Group on Energy (AEF)
Mr Francesco La Camera, Director General, International Renewable Energy Agency (IRENA) -
Mr Koen Doens, Director General for International Partnership, European Commission
Mr. Atef Marzourk, Acting Director for Infrastructure and Energy, African Union Commission -
Hon. Tarik Hamane, Executive Director and Head of Development, Agency for Solar Energy (MASEN)
Mr Ambroyse Fayolle, Vice-President, European Investment Bank
Mr. Kevin Kanina Kariuki, Vice-President, Power, Energy, Climate and Green Growth, African Development Bank
Mr Salvatore Bernabei, CEO of Enel Green Power and Head of Global Power Generation and Head of Africa, Asia and Oceania of ENEL Group
Dr Linda Davis, CEO, Giraffe Bioenergy - Dr. Hela Cheikhrouhou, CEO Nithio Holdings
Mr David Lecoque, CEO Alliance for Rural Electrification
Virtual Marketplace
21-22 April 2021.
A two day virtual Marketplace on green energy transition was organised on 20th and 21st April.
organised by
the EU-Africa Business Forum (EABF)
The vision of the future EU-Africa relations is outlined in the EU proposal "Towards a Comprehensive Strategy with Africa" calls for working together on five key global trends with a partnership for Green Transition and Energy Access being one of them. Under this new partnership framework, the EU intends to support Africa's economic development to maximise the benefit of the green transition in full compliance with the Paris Agreement.
This digitalmarketplace created a venue for African and European companies, institutions and business organisations involved and/or interested in green energy to meet, network exchange and share ideas, technology and encourage the building of potential partnership and match-making deals in the green energy sector.
The platform showcased Green energy projects as well for networking through Business to Business (B2B) or Business to Government (B2G) or Government to Government (G2G) meetings. The marketplace brought together participants and exhibitors from the following categories
African and EU companies, associations or consortias showcasing specific sustainable energy projects and/or the application of green technologies in their processes or looking to secure financing, technology transfer or expertise in sustainable energy;
Private sector organisations (e.g. BusinessEurope, African Business Council…), showcasing green energy projects, new technology and initiatives;
EU and Member States projects (e.g. GetInvest, ElectriFI, blending and Guarantees under EFSD); - African Initiatives involved in sustainable energy projects (e.g. Africa Renewable Energy Initiative, RCREEE, ECREEE)
European and African institutional actors (e.g. EIB, AfDB, developments agencies and other development banks) involved in green energy projects in Africa as well as private financial institutions (banks, venture capital) interested to support / invest in sustainable energy projects in Africa;
Consulting firms (lawyers, consultancies, etc.), with specific expertise on sustainable energy and the energy transition; - Civil Society/Think Tanks dealing with policy dialogue on sustainable energy.
Related:
20 April 2021
.
Power for All
, The Global Alliance for Climate-Smart Agriculture (GACSA), The Malabo Montpellier Panel, and The Rockefeller Foundation hosted a virtual discussion on the most innovative approaches to unlock the
potential of Renewable Energy to transform Food Systems in Africa and Asia
.
Renewable energy has the potential to transform food systems in Africa and developing Asia, build a more climate-resilient future for smallholder farmers, and drive economic growth. Not just using solar irrigation, which has already seen significant momentum in the past 5 years, but for agro-processing, cold storage and much more.