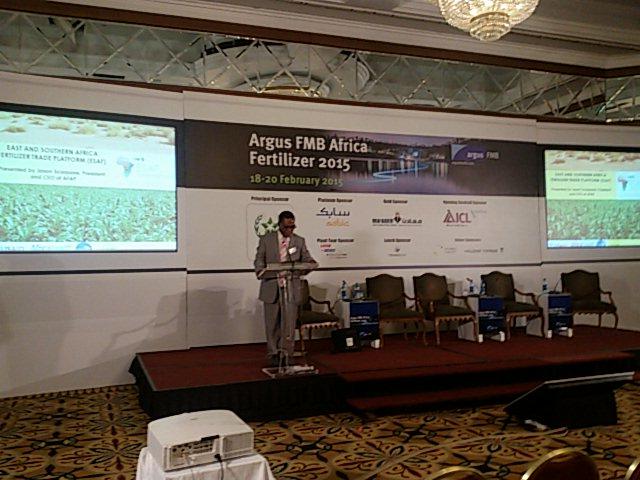 Prof. Mkandawire on the East and Southern Africa platform
that is planned for October 2015 in Lusaka, Zambia.
18-20 February 2015
. Addis Ababa, Ethiopia.
Africa Fertilizer 2015 conference.
Over 350 delegates from
55 countries attended the conference. The conference received the highest ever number of attending delegates from Africa - including 10 delegates from Ghana, 20 from Ethiopia and 25 from Kenya.
Key speakers at the 2015 conference included:
H.E. Tefera Derbew, the Minister of Agriculture for Ethiopia updated the audience on the development strategies for 2015
Khalid Bomba, CEO at the Agricultural Transformation Agency discussed the need for transforming agriculture in Africa
Bashir Jama, the Soil Health Programme Director at AGRA covered the importance of complete fertilization of smallholder Agriculture in Africa
E.M. Muriuki the Managing Director of MEA Fertilizers provided an update on blended fertilizer production in Kenya
Jean Bakole the Regional Director of Ethiopia from the United Nations Industrial Development Organization discussed available mineral resources in Africa
Télécharger la brochure de présentation de la conférence
Download the 2015 conference brochure
During the conference the AfricaFertilizer.org's newly designed and expanded website was launched
www.AfricaFertilizer.org
, addressing sector's need for fertilizer market information and data in Africa:
The expanded site features new content and media including company profiles, product catalogues and business directories.
The revamped website equips fertilizer actors with rich resources and market information on fertilizer products, supply and operators, filling a longstanding knowledge gap that has traditionally inhibited Africa's food security and agricultural development.
Mounir Halim
the Business Development Manager at Argus FMB gives an overview of fertilizer development within Africa.