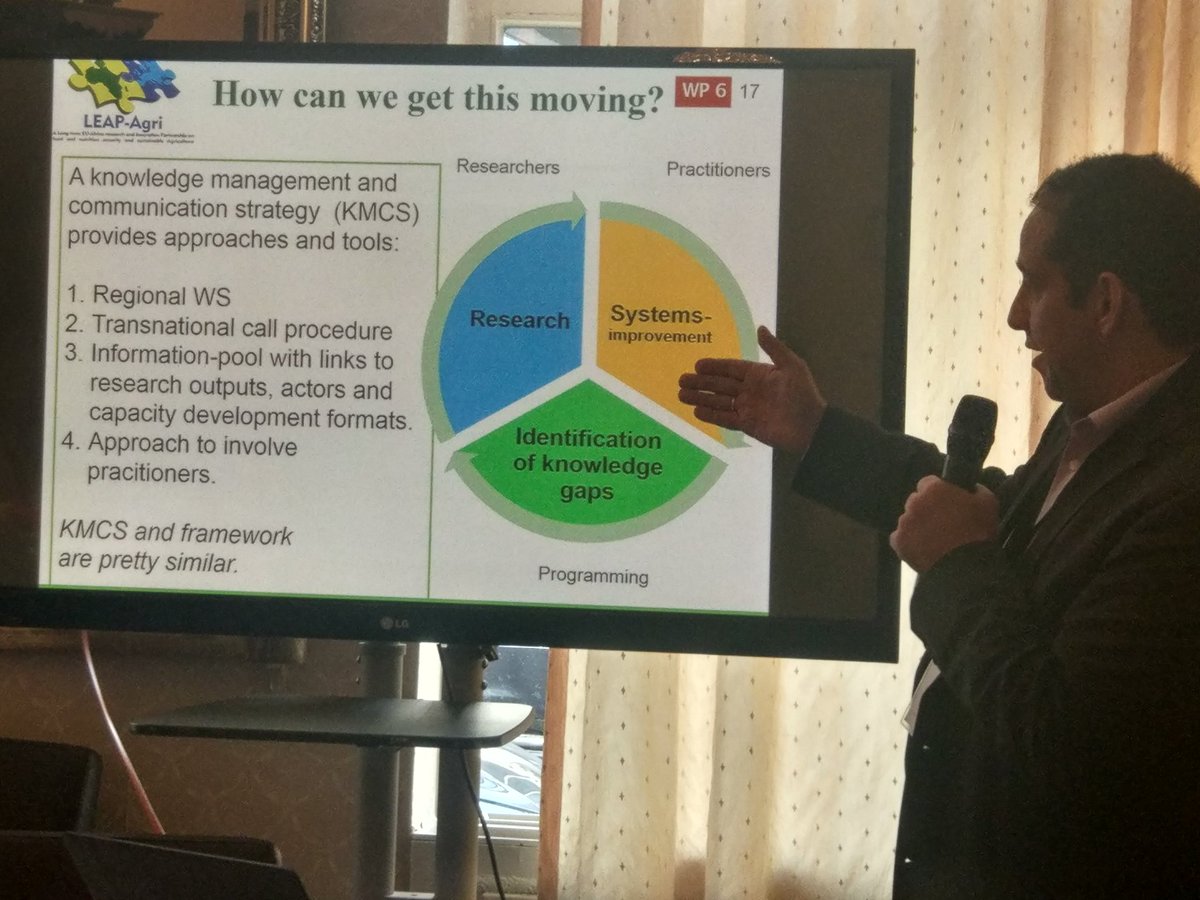 Henning Knipschild shows how we have a closed circle
of Research->Systems improvement->Knowledge gap
19 October 2017
. Brussels.
Stakeholder event in the context of the EU-Africa High Level Policy Dialogue on Science, Technology and Innovation
Recording
Video: Interviews and impressions of the HLPD stakeholder event
The stakeholder meeting was held back-to-back with the two-day plenary session of the EU-Africa High Level Policy Dialogue (HLPD) on Science, Technology and Innovation, and will broadly address the topics currently discussed in the HLPD:
Implementing the EU-Africa Research and Innovation Partnership on Food and Nutrition Security and Sustainable Agriculture (FNSSA);
Developing the EU-Africa Research and Innovation Partnership on Climate Change and Sustainable Energy;

Maurice Heral
coordinator @LEAP_Agri
towards future FSSN

Exploring horizontal policies of cooperation, such as 'Research Fairness'and 'Open Science' and their potential added value to the two aforementioned EU-Africa R and I Partnerships.
The goal of the stakeholder meeting was to facilitate inclusive participation, cooperation and integration among all interested parties from Europe and Africa -from the public sector, private sector, foundations, funding agencies, research-performing organisations, academia and NGOs etc.- to discuss interactively on the topics described above and advance the Research and Innovation Partnerships together.
Download:
Draft programme
(pdf, 357 KB)
FNSSA Strategy implementation
by LEAP-Agri
The HLPD FNSSA strategy, brief reminder

Philippe PetitHuguenin

(Cirad) The PROIntensAfrica project, main outcomes and stakeholder involvement

Pieter Windmeijer

(WUR) LEAP-Agri, project concept and preliminary results

Bernard Mallet (ANR) and Prudence Makhura (NRF)

LEAP-Agri, Impact pathway strategy and stakeholder involvement

Cora Govers

(NWO) Enlarging the partnership in relation to the FNSSA roadmap implementation

Henning Knipschild

(BLE) and Hamidou Tamboura (Fonrid); Maurice Héral (ANR)
Africa-EU Joint Programme Initiative on Sustainable Energy
by EC/RTD.G and RINEA
Fadila Boughanemi

, Deputy Head of Unit, International Cooperation Africa-EU High Level Policy Dialogue, Priority 2: Climate Change and Sustainable Energy

Mr. David Otieno,

Africa-EU Energy Partnership The Africa-EU Energy Partnership: Activities and Priorities

Irene Bonvissuto, DG RTD Philippe Schild, DG RTD

Support action in preparation of a Joint Programming activity

Irene Bonvissuto, DG RTD Philippe Schild, DG RTD

Joint Programming with EU and African partners for a R&I action in the area of renewable energy

Philippe Petithugenin CIRAD/Agrinatura

Roadmaps for science and innovation without a barrier:

multi-actor approach MAP needed

Niehoff Joerg

, Head of Sector, Joint Programming, Open Science and ERA Policy EC Tools for Supporting Collaboration
Etienne COYETTE

, DG Development and Cooperation, European Commission. Bridging the gap between climate data and decision-making: development cooperation perspectives.

Manuel CARMONA YEBRA

, DG Climate Action, European Commission. Climate Action and the EU-Africa STI Partnership.

Miguel A. MARTÍNEZ-BOTÍ and Jacopo BORDIGNON

, DG Research and Innovation, European Commission. Climate Services for Africa in Horizon 2020's Work Programme 2018-2020

Petra MANDERSCHEID

, Executive Director of the JPI Climate Central Secretariat, Internationalisation of the Joint Programming Initiative "Connecting Climate Knowledge for Europe" (JPI Climate): Flagship Action for Africa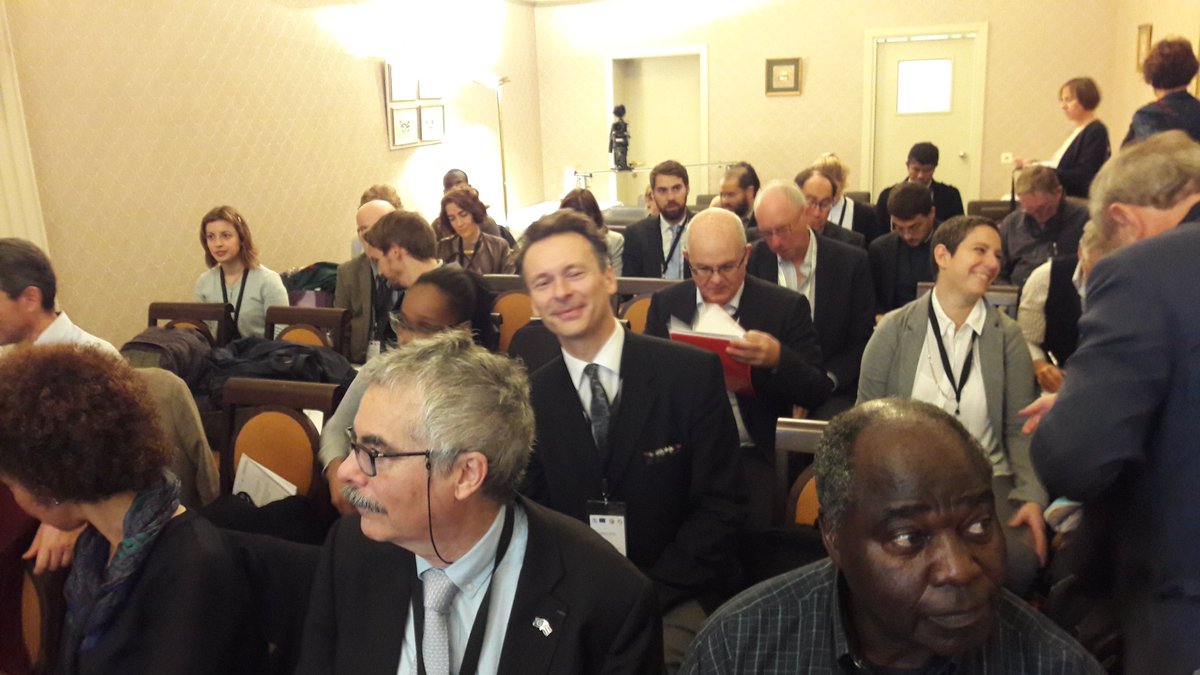 Overcoming barriers, advancing innovation: EU-AU efforts to support regulatory harmonization for science, technology and innovation
by DSW
Regulatory barriers for innovators in Africa: presenting the "Mother's Delivery Kit".

Adepeju Opeyemi Jaiyeoba.

African innovator from Nigeria. Africa-EU efforts on policy and regulatory coordination on STI
On Food and Nutrition Security and Sustainable Agriculture.

Irene Annor Frempong

. Director of Research and Innovation from the Forum for Agricultural research in Africa.
On Climate Change and Sustainable Energy.

Stephan Singer.

Senior Advisor on Global Energy Policy. CAN International.
On Global Health Research and Development.

Claire Wingfield.

Senior Product Development, Policy Officer, Advocacy and Public Policy. PATH. Opportunities and challenges for STI regulatory harmonization in Africa
Africa's initiatives on STI harmonization: the African Medicines Agency.

Markieu Janneh Kaira.

Executive Director of the Medicines Control Agency of Gambia.

On EU research programmes:

Fadila Boughanemi.

Deputy Head of Unit of European Neighbourhood, Africa and the Gulf. DG Research and Innovation.
On EU development programmes:

Christer Hermansson

. Senior Expert on Panafrican Organizations and Initiatives. EU-Africa, African Peace Facility Unit. DG International Cooperation and Development
IRD-WASCAL Partnership on Climate Change in West Africa : towards the Abidjan Summit,

Jerome TONDOH

, WASCAL Competence Center Director
Concrete illustration of Climate Research and its impacts in West Africa,

Jean-Emmanuel PATUREL

, IRD Researcher
Presentation of the Master Program in Climate Change and Energy,

Adamou RABANI

, WASCAL Director of the Graduate School in Niger
Key messages from the EU on Climate change in Africa,

Etienne COYETTE

, Head of Climate change Sector in DG DEVCO, European Commission
AFRICA-EU JOINT PROGRAMME INITIATIVE ON SUSTAINABLE ENERGY
THE RESEARCH FAIRNESS INITIATIVE
ENERGY EFFICIENCY OF PRODUCTS: EU AND AFRICA EXCHANGE EXPERIENCES ON ENERGY LABELLING AND ECO-DESIGN
CLIMATE ACTION
CLIMATE SERVICES IN WEST AFRICA: FROM RESEARCH TO SOLUTION
The ERAfrica project, funded by the European Union's Seventh Framework Programme, was the first to bring together research funders from Africa and Europe to jointly design and launch instruments, regulations, and procedures for funding collaborative, bi-regional research projects. With a total of 8.29 million euros granted, ERAfrica funded 17 bi-regional projects with 65 institutions (31 Africa, 34 European) from 18 countries (8 African, 10 European).
RINEA has published a booklet
highlighting the projects funded from ERAfrica. Although not all of the projects have finished their work, each has been conducted in the spirit of the EU-Africa partnership in science, technology, and innovation and shows the commitment of African and European countries to contribute to finding solutions to challenges that affect both regions.
Download brochure Cooperation Across Continents
(pdf, 3,3 MB)