28 to 30 October.
Nanjing, PR China.
GCHERA World Conference 2017 Global Food Security and Food Safety: The Role of Universities
The 9th GCHERA World Conference
was held at Nanjing Agricultural University. The conference explored the role and
contribution of agricultural and life science universities in research, education, outreach and engagement in policymaking
to address the challenge of Global Food Security and Food Safety.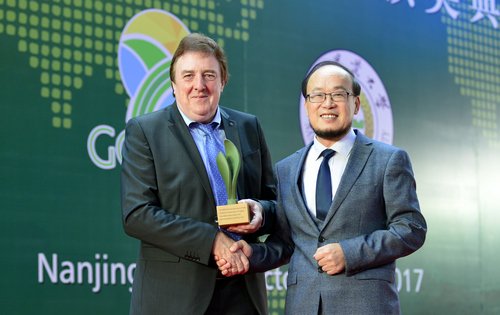 Professor Dirk Inze was awarded the
2017 GCHERA World Agriculture Prize.
The target audience for the conference was senior university management who are concerned with the strategic development of their university or faculty relating to the agricultural and life sciences.
Extract of the programme:
Session 1: The Challenge for Global Food Security and Food Safety Keynote speakers:
Zhu Jing
(see picture)
,
Nanjing Agricultural University, China (Dr. Zhu is a specialist in food security policy. She serves on advisory groups to the World Bank and FAO, and is a member of the Board of Trustees of the International Livestock Research Institute-ILRI)
Global Food Security and Safety Challenges -- Go beyond Productivity
Session 2: Education
Rob Dyball
(see picture)
, Australian National University, Australia (Dr. Dyball is President of the International
Research led education into food systems: examples from the Australian National University
Society for Human Ecology and editor of Human Ecology Review.)
Jose Zaglul
(see picture)
, EARTH University, Costa Rica (Dr. Zaglul was president of EARTH university, an international, private, nonprofit institution in Costa Rica, dedicated to preparing leaders with ethical values to contribute to the sustainable development of the
The role of education in meeting global challenges
tropics and to construct a prosperous and just society)
Session 3: Research
John Ingram (see picture)
, Oxford University, UK (Dr. Ingram has designed and led regional food system research
The Need for"Food Systems Thinking"
projects in Europe, south Asia, southern Africa and the Caribbean and leads the multi-university Innovative Food Systems Teaching and Learning programme - IFSTAL).
Aldo Stroebel
(see picture)
,
National Research Foundation, South Africa (Dr. Stroebel is Executive Director Strategic Partnerships at the National Research Foundation (NRF) of South Africa, and Visiting Fellow at the Institute for African Development (IAD) at Cornell University, USA).
Tiny van Boekel
(see picture)
, Wageningen University and Research, Netherlands
Value creation and the role of the universities: potential for global food security and food safety
Xiangping Jia
(see picture)
, Northwest Agriculture and Forestry University, China
About GCHERA
The Global Confederation of Higher Education Associations for Agricultural and Life Sciences (GCHERA) is a
global network of national and regional Higher Education Associations
.
GCHERA's mission is to:
encourage mutual understanding and global co-operation
provide leadership in education, research, innovation and outreach in agricultural and life sciences
a catalyst for the sharing and adoption of best practices
About World Agriculture Prize
WORLD AGRICULTURE PRIZE is an international award of the Global Confederation of Higher Education Associations for the Agricultural and Life Sciences (GCHERA, http://www.gchera.com/). The prize aims to promote the global development of the mission of its member institutions in education, research and innovation in the agricultural and life sciences by recognizing the distinguished contribution of an individual to this mission.
Learn more...