7-11 September 2020.
AGRF Virtual Summit

In light of the COVID-19 pandemic, the Tenth Annual Summit of the African Green Revolution Forum (AGRF), which brings together over thousands of delegates from governments, the civil society, the private sector, research community and development partners is held virtually from 8-11 September 2020 with pre-conferences on 7 September.
It is co-hosted by the Government of Rwanda and the AGRF Partners Group.
Traditional Vegetables: Power on Africa's Plate
Ensuring a healthier Africa demands a smart, sustainable food system to deliver diets rich in nutritious, plant-based foods. Traditional vegetables can contribute to food systems that nourish people, not merely feed them. Africa is home to a large number of plant species with the potential to invigorate the continent's horticultural value chain – yet these traditional vegetables remain untapped and underutilized.
Agro-Innovation: How Can We Solve Old Problems with New Ideas?
This panel discussed the opportunities for collaboration between Israel and African countries in implementing new approaches and technologies to traditional value chains in order to increase productivity and improve sustainability. Israeli agricultural innovators provided insights into the unique problem-solving mindset that enables both food and nutrition security and thriving export markets. This session highlighted the importance and complexity of introducing new solutions and technologies to traditional value chains and agricultural practices, including the required steps from all stakeholders to achieve a value chain approach to problem-solving.
Unlocking Sustainable Financing for Africa's Food Systems through SMEs
The session promoted a shared understanding of the critical role of agri-SMEs in enabling a transition towards inclusive and sustainable food systems in Africa. It considered the impact of the COVID-19 on African agri-SME finance, including needs and opportunities for positive change in terms of access to finance for agri-SMEs by illustrating a number of positive business model options for agri-SMEs and/or for financial service providers and investors that can be scaled or replicated for broader impact on African food systems.
Food Systems Dialogue: Food Governance Strategies at the National and City Level
Building the food system of the future requires dialogue. Views of diverse actors are explored to help establish the key ideas about governance strategies at the national and city level.
The Key Role of SMEs in Serving Urban Food Markets
This panel discussed new opportunities for the agri-food sector and the value chain actors offered by rapid urbanization, population growth, regional integration processes and free trade agreements in the continent.
Private sector companies and Small and Medium Enterprises (SMEs) are the drivers of economic growth in Africa. SMEs source directly from millions of farmers across the continent and operate along the value chain providing multiple services (processing, transport, packaging, transport...). They employ millions of people, including women.
This panel shared various experiences and successes from policy, research, finance and private sector experts.
It focused on the investments and changes needed to strengthen quality and safety in the food reaching urban centers.
It showcased innovative solutions in key areas of the value chain, including finance, technology and knowledge.
Agri-Mechanization Solutions via South-South Triangular Cooperation
The goal of the session is to strengthen South-South Cooperation in transferring and increasing adoption sustainably the mechanization experience and technology from Global South countries to priority African countries, to accelerate farmer-led mechanization, increase productivity and promote agricultural transformation. The joint session showcases the collaboration between IFAD, AGRA and IFPRI; through SSTC, to disseminate solutions and technologies in Africa and Asia that engage the private sector in support of rural and urban development.
Creating Inclusive Food Markets by Linking Certification and Finance

The objective of the event is to stimulate a policy dialogue among actors involved in access to finance for agricultural producers in Africa, especially in Least Developed Countries, to identify financial models for sustainable and resilient agricultural production, as well as its enabling polices and mechanisms. The dialogue among financial service providers, government representatives, producers and standards setting bodies will explore how sustainable agriculture practices through certification can be leveraged as tools to potentially mitigate financial risk and enable producer access to finance.
Connecting Youth Led Innovations to FAO's Programs in Africa

FAO (in partnership with AGRF and CTA) is organizing "a Digital Agri-food systems Matchmaking Event: Connecting youth-led innovations to FAO's programs in Africa". The event will bring together different technical Units of FAO, partners, and young innovators in digital agriculture, for interactions on areas of common interest and, most importantly, for initiating discussions on concrete partnership opportunities, and possibly conclude deals.
The Rice race: making Self-Sufficiency a Reality in West Africa
The Rice Race draws together change-makers from government, agri-inputs, donor partners, trade and production to set out the solutions needed for rice self-sufficiency and meet the ECOWAS target of reducing rice imports to zero by 2025. The session explored how cultivation and agronomy for smallholder farmers, the rice value chain actors, and government and regional policy can be aligned to make a reality of self-sufficiency in West Africa.
African SMEs (the Hidden Middle) are dynamic but how can they generate inclusive, sustainable food systems if most Farmer Organisations (FOs) are not professional or bankable? AMEA argues there are currently insufficient drivers for FOs to reform and create value for their members. However recent investments in new business models and financial facilities creates a window of opportunity to develop a system which incentivizes and supports FO's to become viable businesses.
MIX and SCOPEinsight will leverage the support, guidance, and the network connections of AGRA to develop and test a set of standardized metrics that enable investors and lenders to compare the financial and operational performance of agri-SMEs, leading to informed decision making. (...) The current financial services landscape is exceedingly difficult to navigate for both the SMEs and the financial service providers. By supporting MIX and SCOPEinsight in this effort, AGRA aims to enable these players to more easily navigate the available financial services and, ultimately, better match the supply and demand of agricultural SME finance."
Innovation in sustainable agricultural intensification (SAI) supports the profound changes needed in rural and urban food systems.The panel will answer questions and includes leaders from the new global Commission on Sustainable Agriculture Intensification (CoSAI) which promotes innovation to rapidly transform food and agricultural systems in the Global South.
Bridging the Gap between Investors and Governments
This session, under the Chairmanship of the Rt. Hon. Tony Blair, connects insights from agribusiness and investors with perspectives from government leaders and technicians. The objective is to identify key impediments and explore what is needed to accelerate direct investment in large agriculture and food 'flagship' and 'greenfield' projects, that can generate economic growth, improve local and regional food security and jobs, and provide export opportunities.
Scaling and Food Systems Transformation in the PLUS-COVID-19 era
This session explored how scaling principles and Covid-19 experiences can help inform a pivot from recovery to broader systems change and transformative impact at scale. Public and private sector leaders will discuss the lessons and opportunities presented by Covid-19 for their organizations, announce major action commitments to accelerate scaling up in African agricultural systems, and discuss priorities for research, policies and actions going forward.
Towards A Gender Responsive Agricultural Policy Landscape
This session explores the ways that gender-responsive agricultural policies can and have an enabling effect in building more inclusive agriculture and food systems.
Integrating African Food Systems through the Lens of SME Champions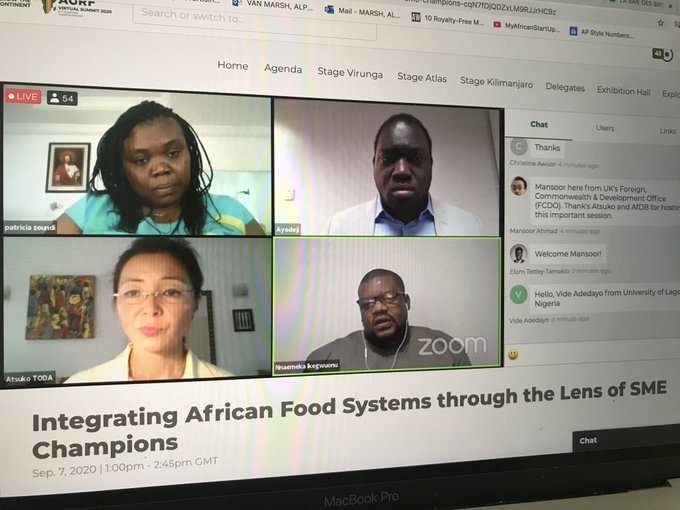 The session had analytics and infographics so that participants are able to visualize the key statistics around the current food system, the step changes and transformed food system in the next 5 years and 10 years.
Demand-Driven Transformation of Food Systems in Africa

Excellence in Agronomy 2030

The session aims to discuss progress with the Excellence in Agronomy (EiA) 2030 initiative to the private and public sector stakeholder community interested in the sustainable intensification of smallholder farming systems.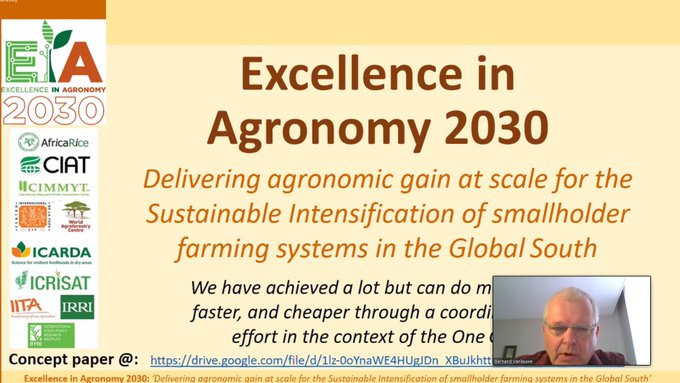 A Soils Initiative for Africa
This session considered the urgency of addressing soil degradation in Africa at scale. It discussed important building blocks for doing so – and identify gaps and challenges to achieving a scaled response.
The session presented the substantial economic consequences of inaction and reviewed some of the ongoing efforts to improve soil health on the Continent, while considering opportunities for concerted action.
Panelists examined the types of strategy, investment, collaboration, and technical support needed for farmers and their partners at every level to raise the health and productivity of Africa's soils to improve the future of rural livelihoods and Continental food security. The session concluded with a Call to Action by the AUC for a Soils Initiative for Africa.