8-11 September 2020.
AGRF Virtual Summit
In light of the COVID-19 pandemic, the Tenth Annual Summit of the African Green Revolution Forum (AGRF), which brings together over thousands of delegates from governments, the civil society, the private sector, research community and development partners will be held virtually from 8-11 September 2020 and will be co-hosted by the Government of Rwanda and the AGRF Partners Group.


8 September 2020. THEME FOR THE DAY: RESILIENCE

Opening Ceremony - Official Ceremony
Dr. Agnes Kalibata

President, AGRA and Special Envoy of the UN Secretary-General for the 2021 Food Systems Summit Bio

Hon. Dr. Gérardine Mukeshimana

Minister of Agriculture and Animal Resources, Rwanda H.E.

Hailemariam Dessalegn

Former Prime Minister of Ethiopia and Chair, AGRF Partners Group Bio

Rt. Hon. Édouard Ngirente

Prime Minister of Rwanda Bio
Moderator:

Mr. Jeff Koinange

(MBS) Journalist/Talk Show Host, Citizen TV
Opening Ceremony - Eminent Leaders in Conversation
(see the recording)
A pace-setting session involving eminent leaders from Africa and around the world discuss the status of food systems in Africa and the urgent need to build resilient systems. The Leaders will discuss feeding cities through the lens of intra-African food trade, international trade, regional and domestic food supply chains in the context of the COVID-19 Pandemic, and discuss how we can bounce back better, and leverage markets as an engine of economic recovery.
Moderator:

Ms. Femi Oke

Hon. Dr. Gérardine Mukeshimana

Minister of Agriculture and Animal Resources, Rwanda

Ms. Carla Montesi

Director, Planet and Prosperity, European Union

Mr. Dirk Schattschneider,

Deputy Director General "Food; Rural development; Natural resources", Commissioner "ONE WORLD – No Hunger" Special Initiative, BMZ, Germany

Hon. Betty Maina

, Cabinet Secretary, Ministry of Industrialization, Trade and Enterprise Development, Kenya Mr. Ted McKinney Under Secretary of Agriculture for Trade and Foreign Agricultural Affairs, USA
Policy Symposium - AASR Report Launch: Feeding Africa's Cities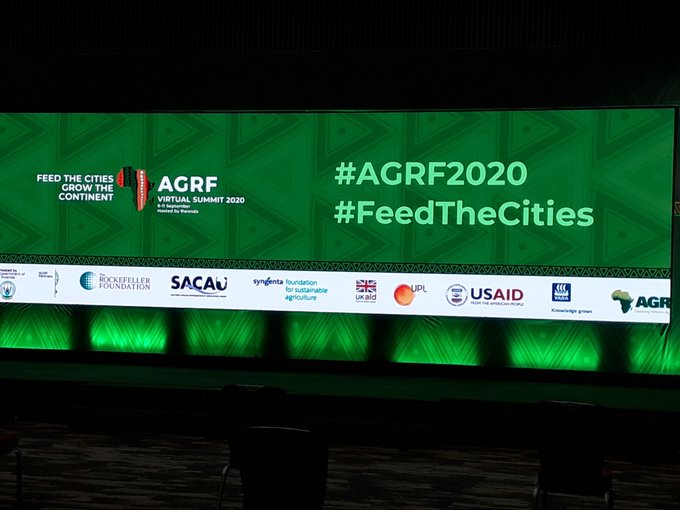 Africa Agriculture Status Report. Feeding Africa's Cities: Opportunities, Challenges, and Policies for Linking African Farmers with Growing Urban Food Markets. Nairobi, Kenya: Alliance for a Green Revolution in Africa (AGRA). 262 pages
This year's AASR focuses on Feeding Africa's Cities. It assesses the opportunities, challenges and policies required to enable African farmers and agribusinesses to serve these rapidly growing urban food markets.
The main goal is to see how smallholder farmers can Feed Africa's Cities, drive food security, rural prosperity, and inclusive economic growth.
This touches on essentially every priority that we work on with our focus countries and partners, so it provides a good opportunity for us to bring together viewpoints and lessons to define the agenda and practical next steps with policies, programs, and investments.
Speakers
Andrew Cox

Chief of Staff and Strategy, AGRA Bio

Dr. Agnes Kalibata

President, AGRA and Special Envoy of the UN Secretary-General for the 2021 Food Systems Summit Bio

Prof. Thomas Jayne

University Foundation Professor, Michigan State University, USA Bio

Prof. Steven Haggblade

Professor International Development, Michigan State University Bio

Ms. Monica Musonda

CEO, Java Foods Bio

Dr. Máximo Torero

Cullen Chief Economist, Food and Agriculture Organization (FAO) Bio

Ms. Trudi Hartzenberg

Executive Director, tralac Bio

Prof. Kangethe Erastus Kiambi

Department of Public Health, University of Nairobi Bio

Dr. Ismahane Elouafi

Director General, ICBA Bio

Hon. James Nyoro

Governor, Kiambu County, Kenya Bio

Prof. Rudy Rabbinge

Professor Emeritus in Sustainable Development and Food Security, Wageningen University Bio
Women in Agriculture: Women-led Resilience Strategies
Women agripreneurs and farmers have faced particular challenges during the pandemic. From increased violence to lack of market access, women have had to create new strategies to cope. Hear about the most innovative solutions from input distribution at farmer level to feeding children in cities.
Ms. Maya Stewart

Managing Director, Lenzie Mills, Malawi

Ms. Cesarie Kantarama

President of Ingabo Syndicate - Rwandan Farmers' Union

Ms. Åslaug Marie Haga

Associate Vice-President, IFAD

Dr. Wanjiru Kamau-Rutenberg

Director, AWARD, Kenya

Ms. Marygoretti Gachagua

Program Officer Partnerships and Special Programs, Kenya EAFF
Building Resilience through Data & Digital Platforms
This resilience symposia will narrow in on the theme of increased adaptation and resilience in sub-Saharan Africa's food systems, by highlighting how innovative agricultural data systems and digital platforms are promoting adaptation and resilience across the food system; especially in the wake of crises such as the COVID-19 pandemic, the locust outbreak, and famine. This symposia session will showcase applications and programs that are starting to have real impact and/or impact at scale.
Ms. Atsuko Toda

Director for Agricultural Finance and Rural Development, AfDB

Ms. Martha Haile

Africa Vice President, WeFarm

Ms. Alesha Miller

Vice-President, Strategy and Partnerships, Digital Green

Mr. Brian King

Leader, Platform for Big Data in Agriculture, CGIAR

Ms. Salah Goss

Senior Vice President, Global Markets, Humanitarian & Development, Mastercard

Dr. Charity Wayua

Senior Research Manager at IBM Research, Kenya

Dr. Caroline Mwongera Mugambi

Theme Leader, Policies and Institutions, Alliance of Biodiversity International, CIAT

Mr. Joseph Anampiu

Commercial Unit Leader, East Africa, Corteva Agriscience

Mr. Ayodeji Balogun

CEO, AFEX Commodities Exchange Limited Bio