22 September 2020
. 0900-1300 GMT.
Rural Livelihoods in the context of covid-19: Impact and Interventions.
The Africa Union' Semi-Arid Food Grains Research and Development (AU-SAFGRAD) and Rural Economy Division (RED) of the Department of Rural Economy and Agriculture (DREA).
This virtual meeting provided the platform to policy makers, planners, stakeholders, commodity value chain actors and experts to share experiences on the types, focus, regime and implementation success factors of interventions put in place by MS to mitigate shocks to rural livelihoods and rural institutions occasioned by covid-19 pandemic and the quarantine measures.
This is the link to the website
to consult the reports of the previous Webinars
.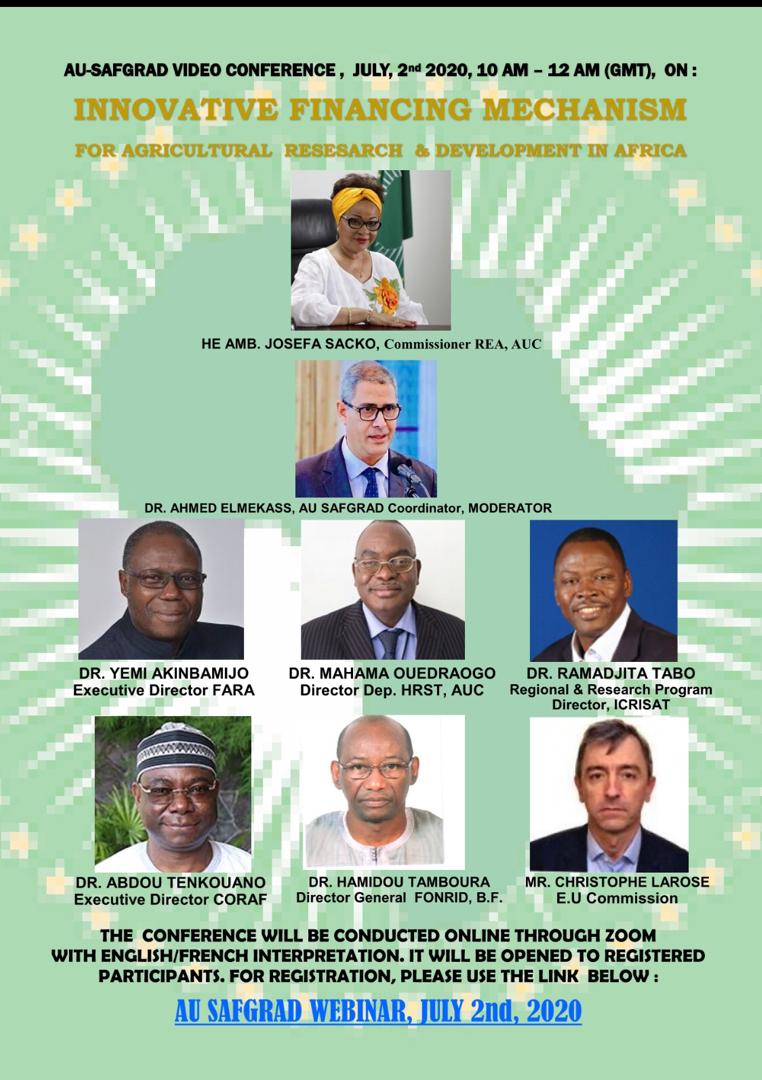 Draft Report (English version)
;
Concept Note
;
Draft Agenda
;
Flyer of the Webinar
Rapport (Version en Francais)
;
Note conceptuelle
;
Agenda (Francais)
Dr. Yemi Akinbamijo,

Executive Director, Forum for Agriculture Research in Africa (FARA) Analysis of trends, challenges, and opportunities for agricultural funding in Africa

Dr. Mahama Ouedraogo

Director, Department of Human Resources, Science and Technology, African Union Commission African Union Policy and Programmatic support to Science and Technology initiatives in Africa

Dr. Ramadjita Tabo

Regional and Research program Director, International Crops Research Institute for the Semi-Arid Tropics (ICRISAT), West and Central Africa Policy formulation to facilitate private-sector participation and encourage technology commercialization

Dr. Abdou Tenkouano

, Executive Director, Conseil Ouest Africain pour la Recherche Agricole Promotion of regional cooperation and Innovation and technology hubs and poles (Centres of Excellence) as tools for raising research and development expenditure

Prof. Hamidou Tamboura

Director, Fond pour la Recherche et l'Innovation pour le Développement (FONRID, Burkina Faso) Establish and/or strengthen national agencies responsible for mobilizing the funding for agricultural research and development, Case of Burkina Faso

Christophe Larose,

Head of Sector : sustainable agriculture, DEVCO C1. DeSIRA program
Recommendations:
1-AUC in collaboration with SROs, CGIAR and development partners to strengthen the linkages among national, regional and international institutions so as to encourage a multi institution/ country agricultural research programmes.
2- MS, RECs, AUC, SROs and development partners to encourage and strengthen agricultural science- policy interface in terms of facilitating decision makers to allocate more budget in agricultural research and development.
3-MS are urged to encourage and strengthen the role of PPP in agricultural research for development
4-The research centers should establish and/or strengthen their consultancy units to respond to the private sector research needs
5-The research centers should strengthen their linkage with producers' organizations along the agricultural value chain to provide paid services base on research need.
6-Encourging the research institutions to develop a dynamic and innovative financing plan to respond to emerging agricultural research challenges.
7- Encourage MS to gradually diminish import bills as a means of freeing up or redirecting financial resources to support endogenous production led by increased use of the technologies and innovations generated in the continent
Three specific sets of immediate measures are currently needed to mitigate the impact of COVID19 on pastoralism. These include measures to protect pastoralism and its market, measures to maintain processing and retail operations and financial measures.