8-11 September 2020. AGRF Virtual Summit
In light of the COVID-19 pandemic, the Tenth Annual Summit of the African Green Revolution Forum (AGRF), which brings together over thousands of delegates from governments, the civil society, the private sector, research community and development partners will be held virtually from 8-11 September 2020 and will be co-hosted by the Government of Rwanda and the AGRF Partners Group.



11 September 2020.

(selection)

THEME OF THE DAY: Food Systems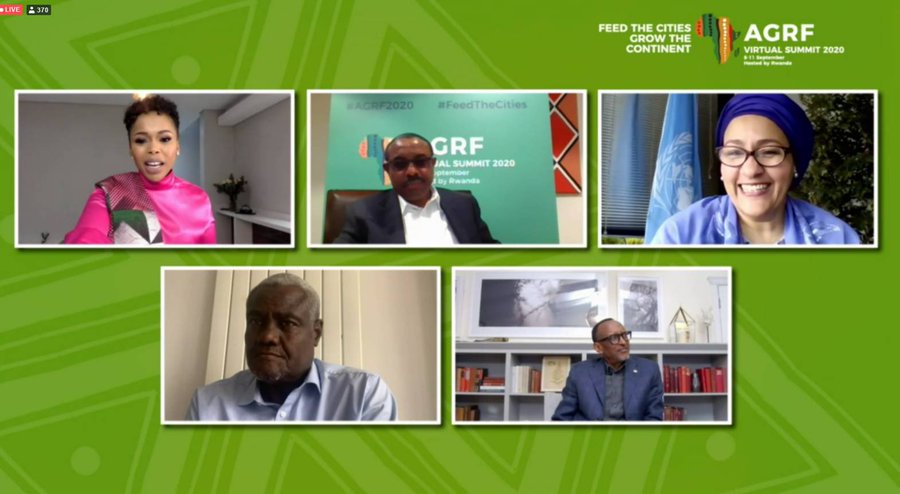 Building back better and Defining the food systems Africa wants and being part of a multi-stakeholder vison for Africa and the world on the future of food.
This session focused on preparing farmers, input suppliers, agro-dealers, and the broader productivity ecosystems to come back to growth and profitability. Focus was on financing arrangements and mechanisms to reduce external dependencies to meet the compelling urban market.
Hon. Bård Vegar Solhjell

Director General, NORAD

Prof. Joachim von Braun

Director, Center for Development Research (ZEF)

Mr. Jai Shroff

Global CEO, UPL Ltd

Mr. Feike Sijbesma

Honorary Chairman, Royal DSM

Ms. Amandla Ooko-Ombaka

Associate Partner, McKinsey

Dr. Fadel Ndiame

Deputy President, AGRA Bio
The Future of our Food Systems
This session framed Africa's vision of an ideal food system for the future; one that offers fair livelihoods, healthy diets, and sustainable consumption and production. Looking at the role for national food plans and furthering the food systems dialogues the session crafted a path for Africa's voice in the Future of Food Systems.
Ms. Barbara Stinson

President, World Food Prize Foundation

Ms. Petra Hans

Head of Agricultural Livelihoods, IKEA Foundation

Dr. Roy Steiner

Senior Vice President, The Rockefeller Foundation

Prof. Njuguna Ndung'u

Executive Director, AERC

Mr. Lionel Zinsou

Founder and Managing Partner, South Bridge

Hon. Musa Humma

DPS, Ministry of Agriculture, The Gambia

Ms. Ruramiso Mashumba

Director, Mnandi Africa

Dr. Martin Frick

Deputy of the UN Secretary-General's Special Envoy for the Food System Summit 2021
Defining Food Systems for the Africa We Want
This plenary session discussed the opportunities and challenges, and place of food systems in reviving African economies and the opportunity to feed Africa's growing urban population. It is now more urgent than ever that food systems are transformed to reduce poverty, improve food and nutrition security, and improve the quality of natural resources and ecosystem services by investing in enterprises and innovations to build a more sustainable and inclusive future.
Ms. Nozipho Tshabalala

Conversation Strategist and Global Moderator
H.E. Amb.

Josefa Leonel Sacko

Commissioner for Rural Economy and Agriculture, African Union

Ms. Gerda Verburg

UN Assistant Secretary-General and SUN Movement Coordinator
Honourable

Karina Gould

Minister of International Development, Canada
H.E.

Graça Machel

Chairperson, Graça Machel Trust
Rt. Hon.

Tony Blair

Executive Chairman, Tony Blair Institute for Global Change and Former Prime Minister, United Kingdom
Closing Ceremony - High-Level Presidential Panel Discussion
Based on the discussions of the four-day summit, the Heads of State (HoS) and Government highlighted strategies to strengthen food security on the continent, post- COVID-19, and in view of the upcoming 2021 United Nations Food Systems Summit and to put this in context the HoS and Government were joined by the Deputy Secretary General of the United Nations, H.E. Amina Mohammed. The Prime Minister of Israel, H.E. Benjamin Netanyahu, and the former Prime Minister of the United Kingdom, Rt. Hon. Tony Blair, joined as honorary guests in attendance.
Ms. Nozipho Tshabalala

Conversation Strategist and Global Moderator
H.E.

Paul Kagame

President of Rwanda
H.E.

Abiy Ahmed

Prime Minister, Ethiopia
H.E.

Amina Jane Mohammed

Deputy Secretary-General, United Nations & Chair of the United Nations Sustainable Development Group
H.E.

Hailemariam Dessalegn

Former Prime Minister of Ethiopia and Chair, AGRF Partners Group
H.E.

Benjamin Netanyahu

Prime Minister of Israel
H.E.

Moussa Faki

Chairperson, AU Commission
H.E Prime Minister of Israel @IsraeliPM @netanyahu participated as a Guest of Honor at the High-Level Presidential Panel Discussion of @TheAGRF @AGRf2000 with a message of partnership to strengthen food security of Africa #AGRF2020 @PaulKagame @RwandaAgri @Israelmfa @RwandaMFA pic.twitter.com/DvpcM2iiZX

— Ron Adam (@AmbRonAdam) September 11, 2020