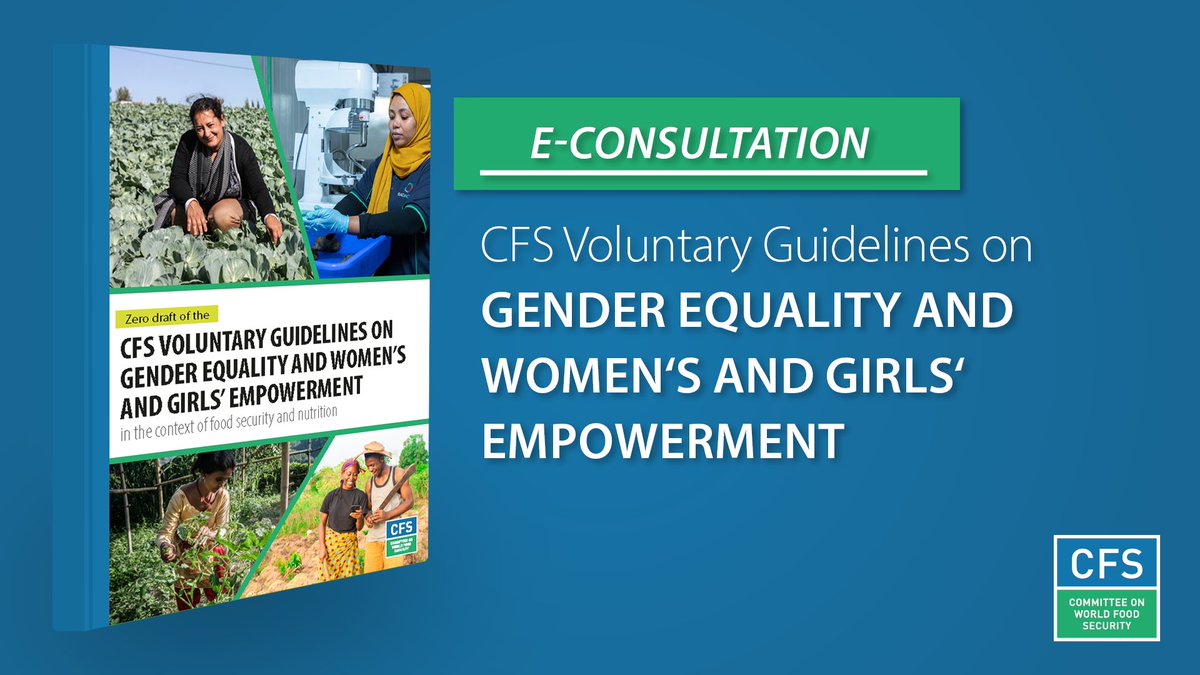 Consultation for the development of the CFS Voluntary Guidelines on Gender Equality and Women's and Girls' Empowerment in the Context of Food Security and Nutrition
An online consultation was open until
23 November 2021.
Following the endorsement of the
Terms of Reference for the Guidelines
by the Committee in February 2021, a
Zero Draft of the Guidelines
has been prepared as a basis for a consultative process, which includes
six regional consultations
(Latin America and the Caribbean, Europe and Central Asia, Near East, Africa, Asia and Pacific and North America) and this electronic consultation.
CFS invited all actors involved in addressing food insecurity and malnutrition
1
to provide feedback on the Zero Draft of the Guidelines, which is made up of four parts:
The first part provides the background and rationale of the Guidelines, their objectives and information on their nature as well as their intended users.
The second part presents the core principles that underpin the Guidelines, taking into account the CFS Vision of ending hunger and ensuring food security and nutrition for all, and for the progressive realization of the right to adequate food in the context of national food security.
The third part is organized into nine sections/themes. Each section presents a problem statement, a narrative and related policy areas for discussion. This part is intended to frame the discussions in the consultations and inform the preparation of the upcoming versions of the document. It presents initial ideas regarding the issues and topics to be considered and discussed by CFS stakeholders.
The fourth part includes provisions regarding the implementation of the future Guidelines and the monitoring of their use and application.