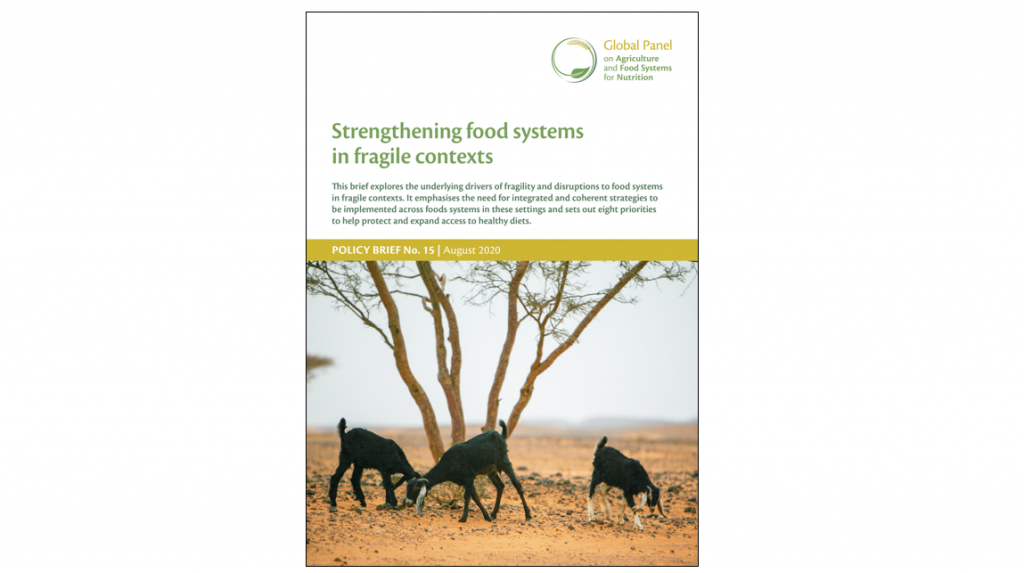 3 August 2020
.
The Global Panel on Agriculture and Food Systems for Nutrition
launched its
latest policy brief, Strengthening food systems in fragile contexts. 
(15 pages)
This policy brief seeks to stimulate international development organisations, governments, and other stakeholders, to realign policies within fragile contexts to ensure that diet and nutrition are improved, whilst also building more sustainable, resilient food systems.
Currently, 1.8 billion people live in fragile regions with high societal, economic, environmental, political and security risks. By 2030, according to OECD, this is projected to reach 2.3 billion, and will include 80% of the global poor. In 2020 fragile states were disproportionately affected by food crises. 
Global food systems and nutrition experts who will discuss policy priorities for strengthening food
systems in humanitarian crises.
Follow the conversation on Twitter using #Food Systems in #FragileContexts during the webinar.
750 persons attended this webinar.
More info and agenda available
here
Prof Sandy Thomas

– Global Panel Director

Sir John Beddington

– Global Panel Co-Chair and former Chief Scientific Adviser to the UK Government.
"The latest foresight report of the Global Panel will be published end of August"

Ute Klamert

– Assistant Executive Director (Partnerships and Governance) at WFP

Prof Patrick Webb

– Global Panel Technical Adviser on: 'Strengthening food systems in fragile contexts'

Sir Mark Lowcock

– UN Under-Secretary-General for Humanitarian Affairs on: 'The need for a cross-sectoral response'

Coumba Sow

– Subregional Coordinator for Resilience, West Africa and the Sahel, FAO

Dr Mohamed Abdi Farah

– SUN Focal Point, Government of Somalia

Michael Dunford

– WFP Regional Director, East Africa