8-9 July 2021
. In preparation of the UNFSS and drawing on the
Action Tracks
and various
dialogues
, the Scientific Group organised the
"Science Days for the UN Food Systems Summit 2021"
, facilitated and hosted by FAO.
Resources:
In September 2021, the UN Secretary-General will convene a UN Food Systems Summit (UNFSS) as part of the Decade of Action to achieve the Sustainable Development Goals (SDGs) by 2030. Harnessing science, technology and innovation is key to meeting the aspiration of sustainable, inclusive and resilient food systems. Thus, in support of a science- and evidence-based Summit, the UN established a Scientific Group for the UN Food Systems Summit to ensure the robustness, breadth and independence of the science that underpins the Summit and its outcomes.
The Science Days was organized as two half-day virtual events, in combination with side events. Plenary and parallel sessions covered key topics such as:
Plenary 1 (08/07): Unlocking the potential of science and innovation for transformation of food systems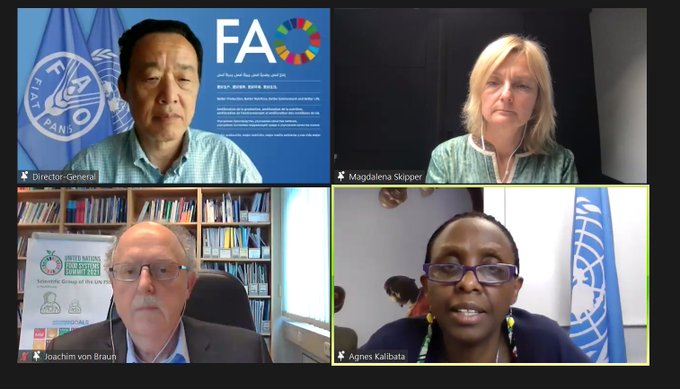 This session set the stage for Science Days, and will focus on the role of STI in transforming foodsystems, on the evolving state of the art of STI, on how to unlock the potential of STI, and on setting the agenda for science to accelerate the transformation of food systems to contribute to achieving the SDGs, especially SDG2.
–
Recording of the session
Moderator:

Magdalena Skipper,

Editor in chief, NATURE
QU Dongyu, Director-General, United Nations Food and Agriculture Organization (FAO)

Amina J. Mohammed,

UN Deputy Secretary-General and Moderator of the Summit Advisory Committee

Agnes Kalibata

, UN SG's Special Envoy for the 2021 Food Systems Summit
Joachim von Braun, Chair, Scientific Group of the UN Food Systems Summit 2021 – Introducing a strategic paper from the Scientific Group
Parallel Sessions 08/07: SCIENCE AS ACTION: SCIENCE-BASED OPTIONS TO ACHIEVE more healthy diets and more inclusive, SUSTAINABLE, AND resilient food systems
Achieving more healthy diets in food systems – STI for affordable and accessible nutritious foods for healthy diets
Achieving more inclusive food systems – STI for eliminating hunger and poverty and for advancing equitable livelihoods
Achieving more sustainable and resilient food systems – STI for making sustainable use of natural resources and managing and preventing risks and crises, incl. climate change and COVID-19
Parallel Sessions 08/07: PUTTING SCIENCE TO WORK: SCIENCE, PEOPLE AND POLICY
Strengthening the science-policy interface across disciplines and policy areas incl. economics, and health-, nutrition-, climate-, ecological-sciences
Investing in institutional and human capacity for science and innovation
Capitalizing on models, data, and communications revolutions, and new methods
Plenary 2 (08/07): Getting to grips with contentious issues related to science, technology and innovations for food systems
This session explored causes of important lingering and emerging food systems related science controversies, as well as missed opportunities in STI for food systems transformation, and discuss the role of research to address such controversies and move beyond polarization.
–
Recording of the session
Moderator:

Anne Mullen,

Chief Editor, Nature Food

Ertharin Cousin,

Founder and CEO, Food Systems for the Future

Urs Niggli,

Honorary professor, Kassel University

Shakuntala Thilsted,

Global Lead, Nutrition and Public Health, WorldFish, and 2021 World Food Prize Laureate

David Zilberman

, Professor, Department of Agricultural and Resource Economics, University of California at Berkeley
Plenary 3 (09/07): Opportunities, trade-offs and synergies.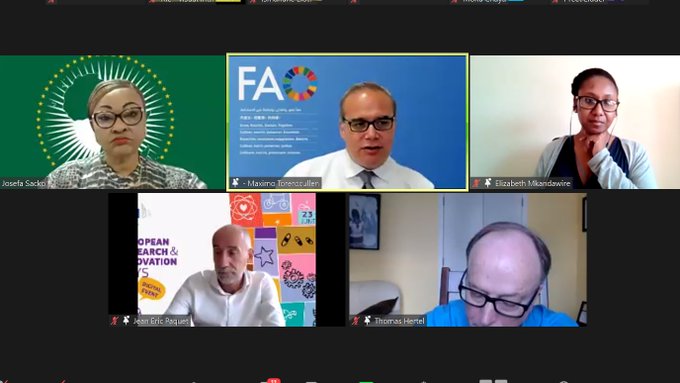 This session drew upon global foresight models and scenario exercises, looked ahead to the world in 2030 – what will it take to achieve the SDGs especially SGD2 and how much will it cost; what do different scenarios offer under differing conditions/ assumption; what are the key trade-offs and synergies to look out for; what are the key opportunities to tap.
Recording of the session
Moderator:

Maximo Torero

, Chief Economist, FAO

Thomas Hertel

, Professor of Agricultural Economics, Purdue University

Elizabeth Mkandawire

, FSNet-Africa Network and Research Manager, University of Pretoria

Josefa Sacko,

Commissioner for Rural Economy and Agriculture

Jean Eric Paquet

, Director-General, DG Research and Innovation, European Commission
As a tangible contribution to the UNFSS, the European Commission has established a High Level Expert Group that will work over an 18-month period to explore the needs, gaps and options to strengthen the international Science Policy Interface(s) for improved food systems governance.
Three additional Food 2030 factsheets, are available on the
Food 2030 website
: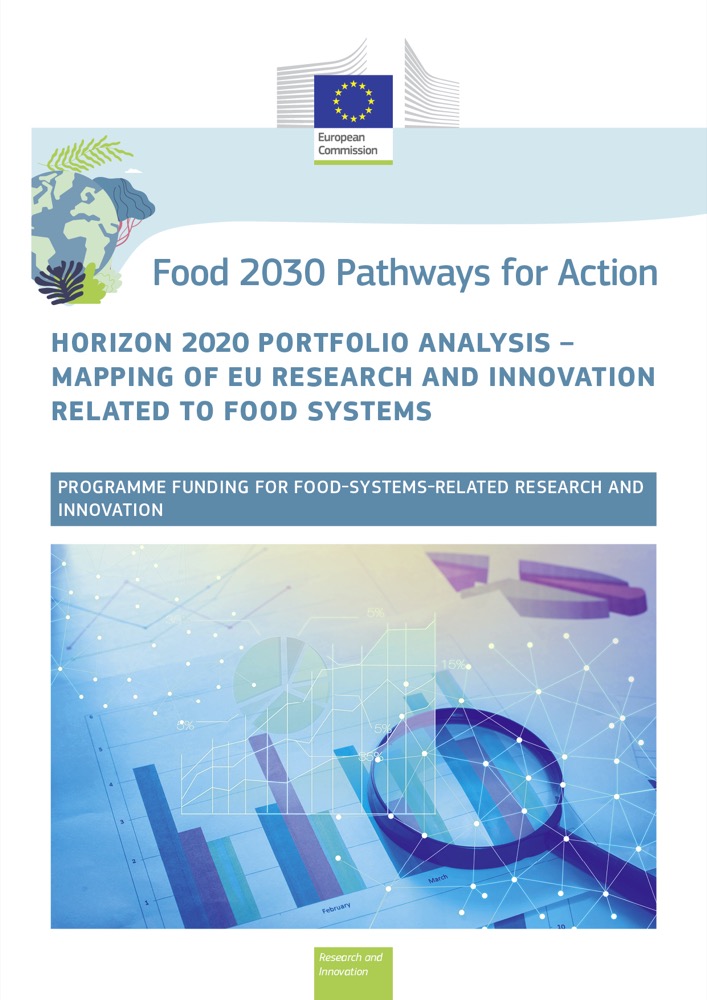 Opinion: The EC High Level Expert Group recommendations are somewhat misleading because they don't acknowledge the existence of the HLPE, which already fulfills almost all of the needed functions. The recommendation to "urgently establish enhanced SPI mechanisms post-Summit" is likely to fragment scientific input to policy. It seems clear that strengthening the HLPE is the best option for moving forward. (

Molly Anderson

IPES)
Parallel Sessions 09/07: EMPOWERING AND ENGAGING KEY PLAYERS IN FOOD SYSTEM INNOVATION
Empowering and engaging the youth as key players in food systems innovation

Empowering and engaging traditional and indigenous knowledge holders as key players in food systems innovation
Science in and by food industry and start-ups for food systems innovation
Empowering and engaging women as key players in food systems innovation
Parallel Sessions 09/07: PUSHING THE FRONTIERS OF SCIENCE FOR FOOD SYSTEMS
Pushing the frontiers of science for food systems: Digital innovations
Pushing the frontiers of science for food systems: Policy and institutional innovations
Plenary 4 (09/07): LOOKING AHEAD: STRATEGIC FOOD SYSTEMS SCIENCE BEYOND 2030
This session closed the Science Days with reflections on the long-term (beyond 2030) issues,opportunities, and challenges for science, technology and innovation, with special consideration given to ethical issues, nutritional issues, equity issues, rights and justice issues, culture issues, demographics, risk management issues, and international scientific cooperation.
Louise Fresco,

President of the Executive Board, Wageningen University & Research
"The big challenge [regarding sustainability] is to improve the use of ressources in FoodSystems. (...) Resource-use-efficiency is not very known in the public, but it will be very important."

Peter Bakker,

President & CEO, World Business Council for Sustainable Development (WBCSD) and Member of the Advisory Committee to the UN Food Systems Summit 2021
"Science is crucial for the success of the food systems summit. Therefore, we need a clear scientific framework".
"Sustainability means to


Johan Swinnen,

Director General, IFPRI
"A number of agricultural subsidies should be repurposed to research"

Ismahane Elouafi

, Chief Scientist, FAO

Joachim von Braun

Closing remarks and way forward
The HLPE fully supports the need to enhance science-policy interface, and will continue to play this role and would welcome a more ambitious roadmap.
The Devex Op-ed by Thanawat Tiensin (CFS Chair), Martin Cole (Chairperson of the HLPE Steering Committee), and Jennifer Clapp (HLPE Steering Committee member):
The open letter by the HLPE Steering Committee on why the UN Food Systems Summit should build on the already existing science-policy interface for food security and nutrition, the CFS-HLPE