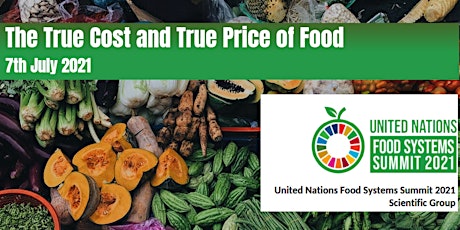 7 July 2021
.
Side event to the Science Days for the UN Food Systems Summit.
True Cost and True Price of Food event.
This session elaborated on the true costs of the global food system, how true pricing can address those costs and the scientific challenges involved in doing so.
how science can help governments and businesses in a True Pricing Science Network.
how the value of food can be redefined and how in the long run true pricing mechanisms can ensure that affordable and healthy food is accessible to all while conserving the environment.
The session was based on the eponymous paper
The
true cost and true price
of food
(
42 pp.
A paper from the Scientific Group of the UN Food Systems Summit Draft 1 June 2021) which estimated the global true costs of food to be 30 trillion USD, and proposed TCA and true pricing as solutions to address those.
Members of the True Cost and True Price of Food working group of the Scientific Group are hosting this session and took the initiative to convene a True Pricing Science Network (as part of a partnership on the true price of food). This will further the basic and
applied science progress needed to apply true pricing
at scale by policy makers, businesses and consumers.
Opening remarks –

Joachim von Braun

The true costs and true price of food –

Sheryl Hendriks, Adrian de Groot Ruiz

Quantifying and valuing externalities: state of the art and key challenges –

Mario Herrero, Pietro Galgani

Food-based poverty lines and safety nets for affordability of healthy diets –

Elena Martinez

True Pricing policy mechanisms -

Adrian de Groot Ruiz

Towards a True Pricing Science Network –

Sheryl Hendriks
Resource:
The
true cost and true price
of food
(
42 pp.
A paper from the Scientific Group of the UN Food Systems
Summit Draft 1 June 2021
The first step to correct for these 'hidden costs' is to redefine the value of food through True Cost Accounting (TCA) to address externalities and other market failures. TCA reveals the true value of food by making the benefits of affordable and healthy food visible and revealing the costs of damage to the environment and human health. The second corrective step is true pricing: incorporating externalities in prices to align market incentives with social values. Appropriate safety nets to boost consumer purchasing power and the enforcement of rights and regulations should also be part of true pricing to ensure that affordable and healthy food is accessible to all. Such actions will conserve the environment and simultaneously meet fundamental universal human rights and accelerate progress towards achieving development goals
========================================================
This event addressed the economics of food system transformation. The focus was prices and markets, and how food supply interacts with demand under the influence of policies and programs, environmental change, and technological innovation. It linked economists in universities, governments, and civil society with practitioners in other disciplines and institutions to drive food system change.
Dr. Uma Lele

, President of the International Association of Agricultural Economists

Dr. Guy Blaise Nkamleu,

President of the African Association of Agricultural Economists

Dr. J.V. Meenakshi,

Professor, Delhi School of Economics, University of Delhi, India

Dr. Anna Herforth

, Co-Principal Investigator, Food Prices for Nutrition project at Tufts University

Dr. Will Masters

, Professor, Tufts University and Principal Investigator, Food Prices for Nutrition project, USA
The Food Prices for Nutrition (FPN) project
is a four-year, $3 million effort (Oct. 2020 – Sept. 2024) to equip governments and development agencies with accurate, updated metrics of diet costs and affordability around the world. This work is funded by the Bill & Melinda Gates Foundation and UKAid from the Foreign, Commonwealth and Development Office (FCDO) as INV-016158.
Uma Lele, Manmohan Agarwal, Brian C. Baldwin, and Sambuddha Goswami (2021)
Food for All. International Organizations and the Transformation of Agriculture
1,024 pp.
It is an open access book --free for all and discusses impacts of conflict on food insecurity-Book being released in

August/September

This volume provides an analysis of the structure, coordination, and management of the Food and Agriculture Organization of the United Nations (FAO), the International Fund for Agricultural Development (IFAD), and the World Food Programme (WFP).
It also looks at the World Bank, the largest international funder of policy advice and investment projects, and CGIAR, a leading funder of international agricultural research.
It provides a fresh perspective and innovative ideas on one of the most significant challenges faced by humanity in a time of climate and health emergencies
It presents a comprehensive analysis of the main global food and agricultural international organizations
It assesses the current state of food security in the context of trends over the last 50 years
Related:
17-31 August 2021
. The Board of IAAE moved the
August
2021 International Conference of Agricultural Economists (ICAE)
to a fully-online format. This extended period is to accommodate delegates from diverse time zones. Further announcements on the conference format will follow.
Example of poor accessing nutritious food
"We've also built a model that is completely run by Liberian small businesses. In exchange for a licensing fee, JUST provides technical advice to the network of local entrepreneurs that participate in these production systems – but that's
where JUST's role ends."
Liberian businesses buy the ingredients, source the equipment, and manage the day-to-day operations of the value chain, working with one another to set price points, create new flavors of Power Gari, and manage other elements of the production and sales processes. Good quality crops are sourced from female smallholder farmers across Liberia, and then mixed by JUST's primary small business partner, Kawadah Farms, at their production facility in northern Liberia.
One of the hand-cranked mixing machines – which are designed by JUST, but built and sold by Liberian machinists – can produce 30 metric tons of Power Gari a month, enough for 600,000 meals. Additional production lines could be built in different parts of Liberia within a few weeks and with a couple thousand dollars of renovations.
And the cost of one of the mixing machines that Kawadah uses? Not $200,000 but $850. This equipment is made by Liberian machinists using locally available steel 45 minutes down the road from Kawadah's production facility.