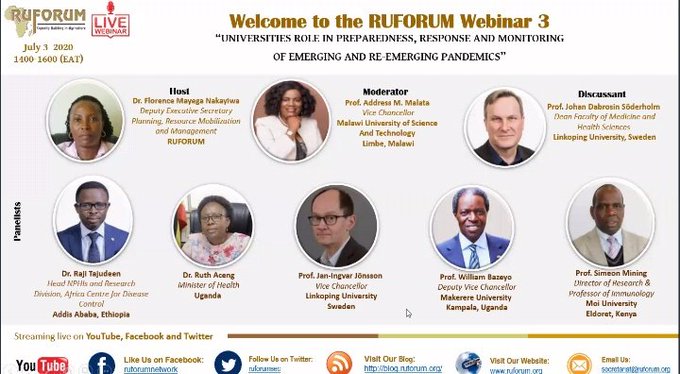 3 July 2020.
This webinar
Universities' role in preparedness,response and monitoring of emerging and re-emerging pandemics
discussed:
Universities innovations in response to COVID-19 situation;
Innovations for technical and policy response to public health emergencies;
Capacity building needs for Africa's excellence in the new normal (diagnostics-laboratory infrastructure, molecular, clinical management, therapeutics, vaccines); and
Africa's collaboration and financing for health innovations in the new normal.
Panelists
Dr. Raiji Tajudeen

, Head NPHIs and Research Division, Africa Centre for Disease Control Addis Ababa-Ethiopia

Dr. Ruth Aceng

, Minister of Health, Government of Uganda, Kampala-Uganda

Prof. Jan-Ingvar Jönsson

, Vice Chancellor, Linkoping University-Sweden

Prof. Willian Bazeyo

, Deputy Vice Chancellor, Makerere University, Kampala-Uganda

Prof. Simeon Mining

, Director of Research & Professor of Immunology, Moi University Eldoret-Kenya
Discussant:

Prof. Johan Dabrosin Söderholm,

Dean Faculty of Medicine and Health Sciences, Linkoping University-Sweden
Moderator:

Prof. Address Mauakowa Malata

, Vice Chancellor, Malawi University of Science and Technology, Lumbe-Malawi
Forthcoming: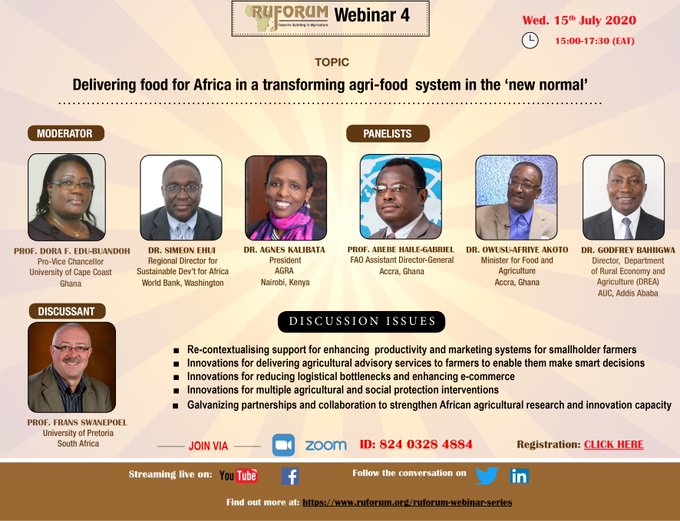 15 July 2020
. 15.00-17.00 East African Standard Time Webinar
'Delivering food for Africa in a transforming agri-food system in the 'new normal'
. Organised by RUFORUM
This webinar on delivering food for Africa in a transforming agri-food system in the 'new normal' seeks to deliberate on the need to:
Re-contextualising support for enhancing productivity and marketing systems for smallholder farmers;
Innovations for delivering agricultural advisory services to farmers to enable them make smart decisions;
Innovations for reducing logistical bottlenecks and enhancing ecommerce;
Innovations for multiple agricultural and social protection interventions; and
Galvanizing partnerships and collaboration to strengthen African agricultural research and innovation capacity.
Panelists
Dr. Simeon Ehui

, Regional Director for Sustainable Development for Africa, World Bank, Washington

Dr. Agnes Kalibata,

President, AGRA, Nairobi-Kenya

Prof. Abebe Haile-Gabriel

, FAO Assistant Director-General and Regional Representative for Africa, Accra –Ghana

Dr Owusu-Afriye Akoto

, Minister for Food and Agriculture, Accra-Ghana

Dr Godfrey Bahiigwa

, Director, Department of Rural Economy and Agriculture (DREA), AUC-Addis Ababa
Discussant:

Prof. Frans Swanepoel

, University of Pretoria, South Africa
Moderator:

Prof. Dora F. Edu-Buandoh

, Pro-Vice Chancellor, University of Cape Coast, Ghana