Transforming Development Aid to support agroecology
Policy Briefing by CIDSE and the Centre for Agroecology, Water and Resilience (CAWR) of Coventry University. April 2021
In this policy briefing, launched during a webinar on 19 April 2021, wthis policy brief synthesizes the findings from a research commissioned by CIDSE to Agroecology Now! on how to 'make money move for agroecology'. It makes the case for reforming the way agricultural and food systems development is financed to achieve the transformations that are needed. Agroecology is presented as the best approach to guide this transformation.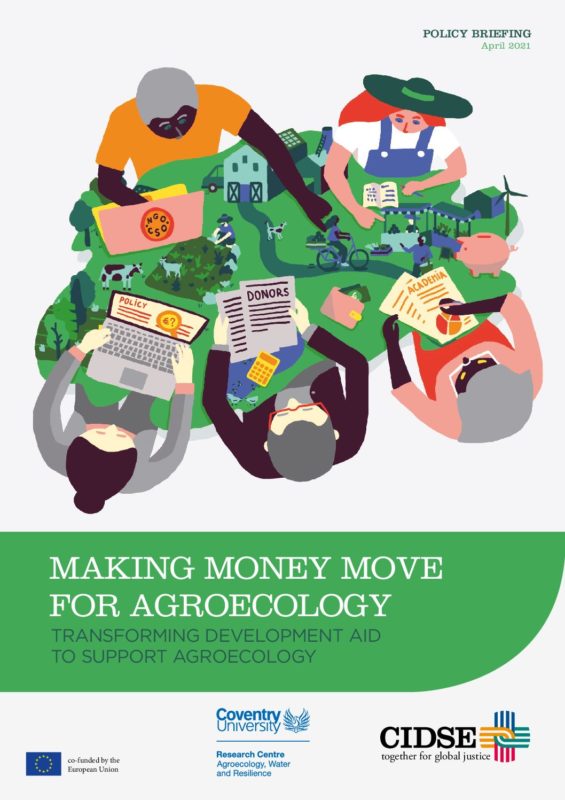 Drawing on the collective intelligence of leading agroecologists and donors, the policy brief identifies twelve different areas through which donors can focus their methods and approach to financing to support more just and sustainable food systems.
These are organised through five sets of recommendations:
Engage in iterative reflection and examination of donor practices;
Transform relationships between funders and recipients;
Change funding modalities, methodologies and foci for delivering funding;
Create and adopt more appropriate measurement and evaluation tools;
Address the big picture issues that undermine a more just and sustainable food system, including especially shifting funding away from detrimental forms of agriculture.
This policy briefing follows on the first publication "Finance for agroecology: more just than a dream? An assessment of European and international institutions' contributions to food system transformation" that focused on the quantity of European and international institutions' contributions to food system transformation.
The policy briefing is available for download in English, French and Spanish.
This publication is co-funded by the European Union.
Related:
19 April 2021
.
During this webinar
, the new CIDSE and Centre for Agroecology, Water and Resilience (CAWR) Policy Briefing: "Making money move for agroecology – transforming development aid to support agroecology" was officially launched.
"Donors have a huge role to play in accelerating the transition to agroecology. This briefing note makes compelling and concrete suggestions for unlocking finance for agroecology."

Olivier de Schutter

, Co-chair of IPES-Food, UN Special Rapporteur on extreme poverty and human rights.
Speakers:
Michel Pimbert

, Professor and Director of the Centre for Agroecology, Water and Resilience, Coventry University - Introduction

Colin Anderson

(Coventry University) and

Suzy Serneels

(Broederlijk Delen) - Presentation of the results and policy recommendations of the new CIDSE-CAWG research and policy briefing on how we can "make money move for agroecology"

Alberta Guerra

, Senior Policy Analyst, ActionAid International

Victor Suárez

, Undersecretary for Food and Competitiveness of the Ministry of Agriculture of Mexico

Leonard Mizzi,

Head of Unit – DG INTPA, European Commission

Ricardo Navarro

, Friend of the Earth El Salvador

Nina Moeller

(Coventry University) - moderator

Gisele Henriques

, Sustainable Technical Lead, CAFOD - Conclusion