13 - 17 September 2021
.
The Third All Africa Post Harvest Congress and Exhibition
The theme for the 3rd AAPHCE is Postharvest Loss Reduction for Sustainable Food Systems. This theme is aligned with the 2021 call to action towards sustainable food systems. It is evident that food loss and waste reduction is critical in ending hunger in sustainable food systems. When 1.3 billion metric tons of food is lost/wasted annually in a world where 820 million people continue to go hungry every day, it is time to change how we produce and consume our food.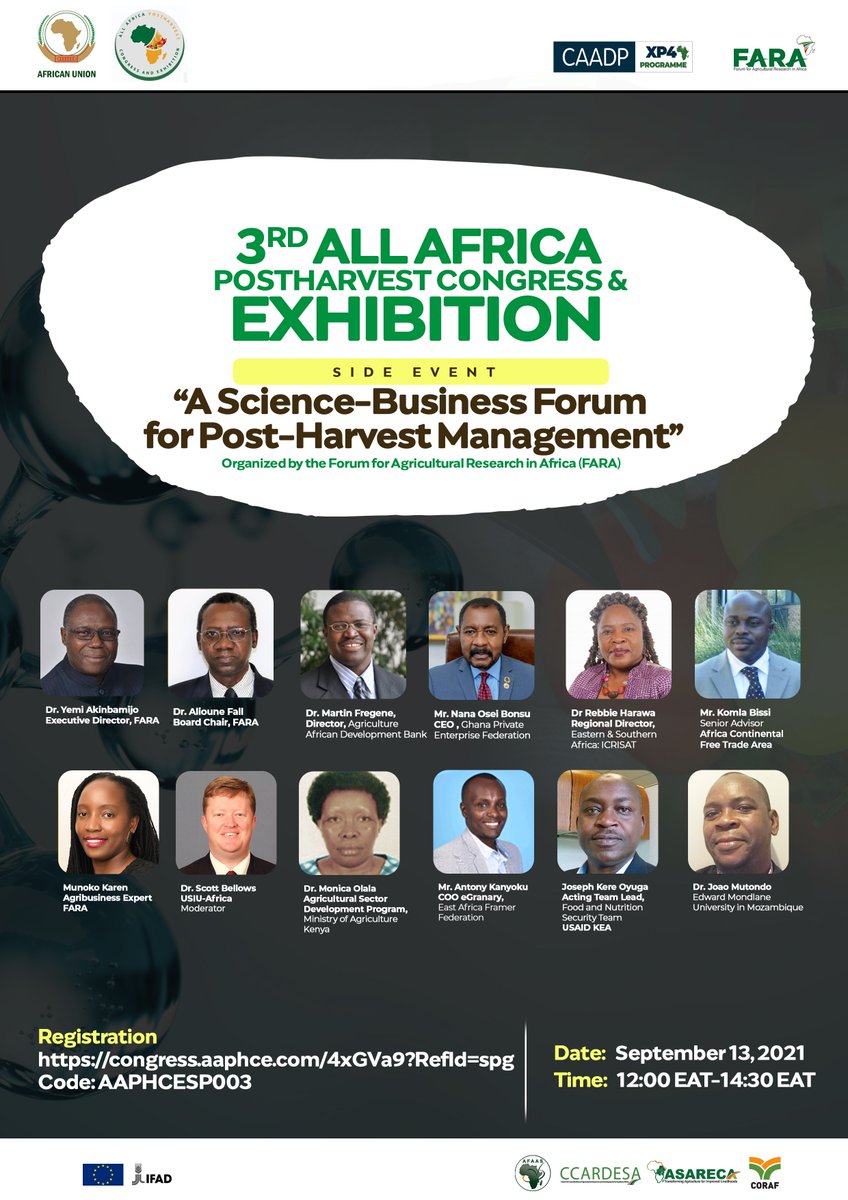 Since its inception in 2017, the AAPHCE has evolved into an important Pan-African convening to create awareness about food loss and waste and showcase sustainable solutions in the African context. The AAPHCE also provides a platform to network and establish partnerships for research, outreach and investment initiatives towards food loss and waste reduction.
Pre-events
The side event engaged participants in innovative learning, practice, and reflection. The programme included short presentations on the features and functions of APHLIS; the role that APHLIS can play to help countries measure postharvest losses and meet their Malabo reporting requirements; and efforts to provide early warning information on climate-based risks of mycotoxin contamination. Interactive breakout group activities explored how APHLIS can be used to calculate postharvest losses and the nutritional and financial dimensions of such losses.
Quantifying postharvest losses and a demonstration of the APHLIS functions and features -

Tanya Stathers

(Natural Resources Institute, UK) and

Brighton Mvumi

(University of Zimbabwe)
Role and alignment of APHLIS to Malabo PHL reporting -

Cephas Taruvinga

Post harvest Solutions Specialist, ex African Union Advisor
Plenary discussion: Country Experiences of Fostering Postharvest Loss (PHL) Management Actions
PHL Strategy Development and PHL Measurement experiences - Prof

Brighton Mvumi

(University of Zimbabwe) and

Mrs Mary Mdachi

(Tanzania)
Agro-climatic mycotoxin risk early warning system, and mycotoxin news -

Dr Felix Rembold

(EC - Joint Research Centre (JRC)
Sustaining PHL monitoring and metrics -

Dr Gideon Onumah

(Natural Resources Institute, UK)
13/09.
Training the Next Generation of Food System Leaders and Researchers
by the Consortium for Innovation in Post-Harvest Loss and Food Waste Reduction
The Consortium is composed of leading institutions in the Americas (Iowa State University, University of Maryland, Zamorano Pan-American Agricultural School, University of São Paulo), Europe (Wageningen University and Research), Middle East (Volcani Center), and Africa (University of Nairobi, Kwame Nkrumah University of Science and Technology, Stellenbosch University). Undergraduate and graduate students from these institutions are conducting innovative research that improves storage and distribution, develops tracking and monitoring, minimizes spoilage through pre-and post-harvest innovation, and changes behavior to reduce post-harvest loss and food waste reduction (PHL-FW). Speakers presented their research findings and share how they are positively impacting the sustainable reduction of PHL-FW and improving livelihoods throughout the world.

Main events
14/09. Framing Presentation on PHL Issues in African Context
Prof. Umezuruike Linus Opara, Stellenbosch University, South Africa
Mr. Máximo Torero Cullen – Chief Economist, FAO
Dr. Hans Hoogeveen - FAO Independent Chairperson of the Council
14/09. Cost effective priority actions for FLW measurement within Africa
Dr. Bruno Tran – International Institute of Tropical Agriculture (IITA)
Dr. Carola Fabi – FAO Panelists
Prof. Brighton Mvumi - University of Zimbabwe
Prof. Sheila Okoth - University of Nairobi, Kenya
Dr Miezah Kodwo - Kwame Nkurumah University of Science & Technology, Ghana
14/09. Saving Africa's harvest during and post COVID-19 Pandemic – lessons learnt, opportunities to strategize for future natural disasters and pandemics
Dr. Mel Oluoch – Sasakawa Africa Association
Mr Munhamo Chisvo - Jimat Development Consultants
15/09. Scaling out of innovative postharvest technologies in sub-Saharan Africa: lessons and progress
Damian Ihedioha - AFDB
Dr. Deirdre Holcroft - Holcroft Postharvest Consulting
Lisa Kitinoja – Postharvest Education Foundation
Mr. Andrew Gatheca – Global Development Incubator, Kenya
Mr. Gerald Masila – Eastern Africa Grain Council (EAGC)
Mr. Nnaemeka Ikegwuonu - ColdHubs Ltd, Nigeria
15/09. Innovative Financing Mechanisms for Upscaling Postharvest Interventions
Mr. Benjamin Kusi – Self-Help Africa
Prof. Enock Stanley Ugulumu – Micro Finance Institute, Iringa, Tanzania
Edward Agaba – Alliance for a Green Revolution in Africa (AGRA)
Dr. Geeta Sethi – World Bank Group
Mr. Michael Obanubi, Director, Finance and Economics, Wellspring Development Capital, Bristol, United Kingdom
16/09. Enabling policies, effective national/regional strategies, experience sharing, Collaborating, Learning and Adapting
Dr. Divine Njie - United Nations Food and Agriculture Organization (FAO)
Dr. Honest Kessy – Director of Food Security Department, Ministry of Agriculture Tanzania
Mr. Mohammed Mousa – Director of the Agriculture and Environment Division, IGAD
Ms. Dorcas Tawonashe – Deputy Director Strategic Policy Planning, Ministry of Agriculture Zimbabwe
Mr. Esayas Lemma – Director, Directorate of Crops, Ministry of Agriculture, Addis Ababa, Ethiopia
16/09. The Roadmap to Realization of Malabo 2014 and SDG 12.3 Targets
Prof. Dirk Maier – Consortium for Innovations in Postharvest Loss and Food Waste Reduction
Mr. Cephas Taruvinga – Postharvest Policy Consultant
Dr. Rosa Rolle – FAO
Dr. Craig Hansen – World Resources Institute, Champion 12.3
Prof. Umezuruike Linus Opara – Stellenbosch University, South Africa