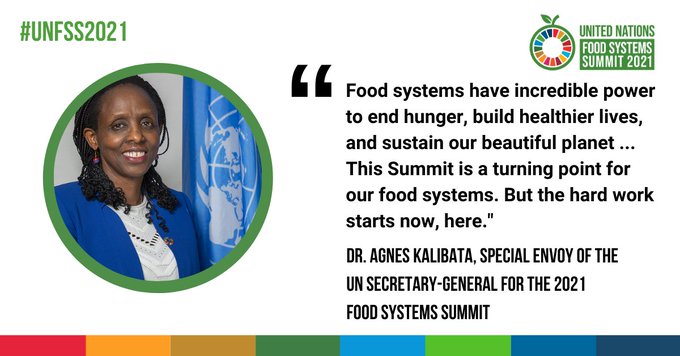 23 September 2021.
The UN Food Systems Summit was a completely virtual event
during the UN General Assembly High-level Week.
See the recordings on vimeo
The UN Food Systems Summit serves as a historic opportunity to empower all people to leverage the power of food systems to drive our recovery from the COVID-19 pandemic and get us back on track to achieve all 17
Sustainable Development Goals
(SDGs) by 2030.
Over the past 18 months, the Summit has brought together all UN Member States andconstituencies around the world – including thousands of youth, food producers, Indigenous Peoples, civil society, researchers, private sector, and the UN system – to bring about tangible, positive changes to the world's food systems.
The Summit offered a catalytic moment for public mobilization and actionable commitments by heads of state and government and other constituency leaders to take this agenda forward.
Through this people's summit, the UN reaffirmed its commitment to promote human rights for all and ensure everyone, everywhere has the opportunity to participate. The event was open to all through its virtual programme and platform.
After 600 Member State Dialogues involving more than 45,000 people, some 80 countries have already submitted their national pathways ahead
The first plenary session
provided a platform for Heads of State and Government and constituency leaders that engaged deeply in the process to feature an initial set of the types of country and multi-stakeholder commitments to action emerging to take forward this agenda throughout the Decade of Action.
Scientific Group:

Prof. Joachim von Braun

, Chair, Food Systems Summit Scientific Group
Food Systems Summit Dialogues:

Dr. David Nabarro

, Senior Advisor, Food Systems Summit Dialogues
Action Tracks o Ms. Christine Campeau, Action Track on Advancing Equitable Livelihoods and Senior Advisor for the Food Systems Summit, CARE USA
Champions Network and Constituency Groups o Ms. Jessica Vega Ortega, Vice-Chair, Food Systems Summit Champions Network and Co-Chair, Global Indigenous Youth Caucus
Carrying Forward the Vision and Momentum for 2030
Keynote Remarks – Our Next Steps in Keeping the Promise -
H.E. Amina J. Mohammed,
Deputy Secretary-General, United Nation
Self-Organizing Constituency Commitments
Youth:

Sophie Healy-Thow

a youth activist who promotes Food Security and Gender Equality. She is a Lead Group Member of the Scaling Up Nutrition Movement (SUN)
See the video recording Act4Food Act4Change 22/09 morning and 22/09 afternoon session
Producers:

Theo De Jager

president of the World Farmers' Organisation and former president of the Southern African Confederation of Agricultural Unions
Indigenous Peoples:

Ms. Hindou Oumarou Ibrahim

an expert in indigenous peoples' adaptation to climate change, traditional ecological knowledge, and climate change mitigation strategies. She is an indigenous woman from Mbororo pastoralist community of Chad; She is a Coordinator of the Peul Indigenous Women and Peoples Association of Chad (AFPAT) "Association des Femmes Peules et peuples Autochtones du Tchad.
Private Sector:

Peter Bakker

, a Dutch businessman who currently serves as president of the World Business Council for Sustainable Development. Gender and Women's Empowerment: Jemimah Njuki, working on gender equality and the empowerment of women.in IFPRI
Committee on World Food Security (CFS) commitment
H.E. Thanawat Tiensin

, Chairperson, Committee on World Food Security (CFS)
UN Task Force Members Commitment
Dr. Inger Andersen

, Chair, UN Task Force and Executive Director, United Nations Environment Programme (UNEP) (TBC)

Mr. Achim Steiner,

Administrator, United Nations Development Programme (UNDP) (TBC)

Ms. Henrietta Fore

, Executive Director, United Nations Children's Fund (UNICEF)

Dr. Tedros Adhanom Ghebreyesus

, Director General, World Health Organization (WHO)
Rome Based Agencies Principals Remarks
Mr. David Beasley,

Executive Director, World Food Programme (WFP)

Mr. Gilbert Houngbo

, President, International Fund for Agricultural Development (IFAD)

Mr. Qu Dongyu

, Director-General, Food and Agricultural Organization of the United Nations (FAO)
H.E. Frans Timmermans, Executive Vice President of the European Commission, European Union
H.E. Paul Kagame, President, The Republic of Rwanda
H.E. Nana Addo Dankwa Akufo-Addo, President of Ghana
CIAT/Bean Atlas, 2nd Edition, Rachel Muthoni-Andriatsitohain/Andy Farrow
Agroecology for Sustainable Food Systems/FAO
Burkina Faso, Niger: Regreening The Sahel/IFAD
KENYA: All the ingredients for a successful banana processing factory/IFAD
When COVID-19 locked down their factory in Nyeri, Kenya, the G-Star team used their social media savvy to find new customers online. The result is a business that remained resilient during the pandemic and is now going from strength to strength.
Unsung heroes: Cocoa farmers of Ghana (Sankofa)/International Trade Centre
Sweet Potatoes in Kenya: Good Nutrition and Resilience - WFP
Senegal's Farmers Reap Rewards of Climate-Smart Agriculture - World Bank
The International Center for Agricultural Research in the Dry Areas (ICARDA), part of the CGIAR network