23 - 24 November 2022
. Nairobi, Kenya and online.
AU-EU Innovation Agenda Stakeholder Event
Nairobi
by the The European Commission and the African Union Commission.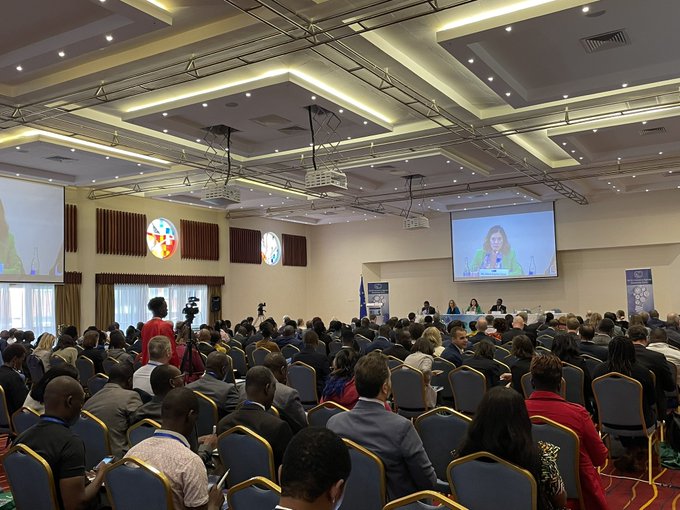 This represents the culmination of a stakeholder dialogue process started in February 2022, aiming to seek feedback and input from citizens and organisations on the draft version of the AU-EU Innovation Agenda.
The joint AU-EU Innovation Agenda is an unprecedented initiative aiming to accelerate the translation of Research and Innovation into tangible positive impact on the ground, so to
generate products, services, businesses and jobs
, in Africa and Europe.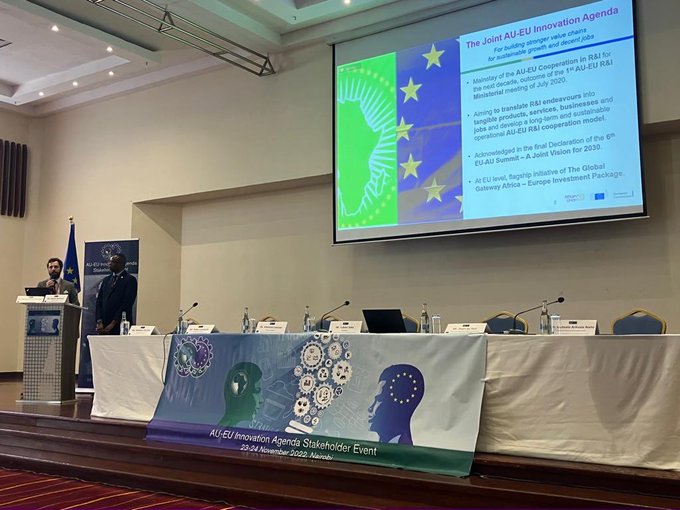 It proposes four objectives, articulated into short-term, medium-term and long-term actions, for each of the
four priority areas
of the AU-EU cooperation in Science, Technology and Innovation:
Public Health,

Green Transition,
Capacities for Science and
Innovation and Technology
Cross-cutting issues.
Presentations held at the event are available for download on the event website
EC (2022) Report on Feedback and Input from the Public Consultation on the Working Document of the Joint "African Union (AU) – European Union (EU) Innovation Agenda" Prepared by the Task Force of the Ad-hoc Innovation Agenda Working Group of the Bureau of the High-Level Policy Dialogue (HLPD) on Science, Technology and Innovation (STI) # 48 p.
The AU-EU Innovation Agenda Working document Version of 14 February 2022 # 38 p.
The programme of the Stakeholder Event. # 24 p.
Presentation on the AU-EU Innovation Agenda and the outcome of the online public consultation, given by
Mr Lukovi Seke and Dr Vincenzo Lorusso
during the event's opening plenary, on Day 1, November 23rd.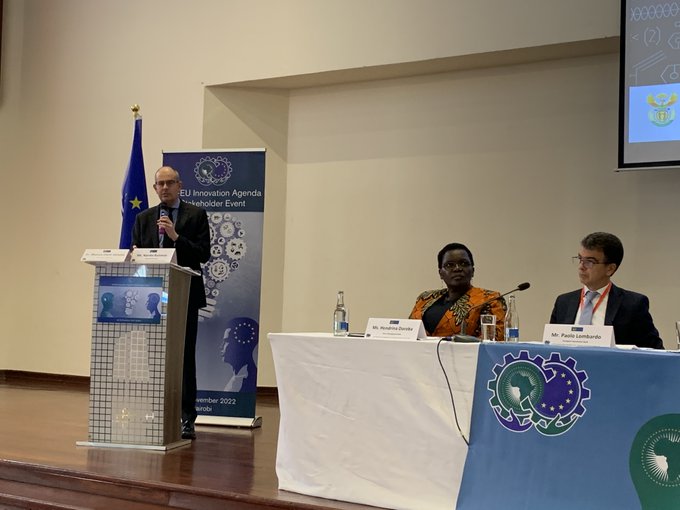 Objectives of the Event
This Stakeholder Event aims to provide a forum to:Present and discuss on the findings of the online public consultation on the AU-EU Innovation Agenda (which took place between February and June 2022);
Discuss on specific stakeholder demands and ideas, and possible implementation routes for the Agenda, so to co-create its implementation plan;


Showcase the AU and EU vibrant innovation ecosystems, in the form of a matchmaking session entitled "AU-EU Innovation Fair – meet the innovators", to catalyse partnerships and foster collaborations and entrepreneurship;
Provide strategic training and information sessions focused on topics of particular relevance to the implementation of the AU-EU Innovation Agenda.
Selection of the programme
23/11 Opening Addresses

Moderators:

Ms Nienke Buisman

(European Commission) & Dr

Monica Ebele Idinoba

(African Union Commission)

Ms Maria Cristina Russo

, Director for Global Approach and International Cooperation in R&I, European Commission

Prof Chomora Mikek

a, HLPD Vice Co-chair, Republic of Malawi

Simon Nabukesi

, Principal Secretary, State Department for University Education and Research, Ministry of Education. Kenya

Ms Irene Giribaldi

, Head of Cooperation, EU Delegation to Kenya
Commissioner

Mohammed Belhocine,

African Union Commission

Mr Hans Stausboll,

Acting Director Africa, DG International Partnerships, European Commission
23/11 Overview of the AU-EU Innovation Agenda & Results of the Public Consultation
Mr Lukovi Seke

(AUDA-NEPAD) &

Dr Vincenzo Lorusso

(European Commission)
23/11 National innovation policies and link to the Innovation Agenda
Mr Gonzalo Arévalo

Nieto, Director General of Research Planning, General Secretariat for
Research, Ministry of Science and Innovation of Spain

Mr Daan du Toit

, Deputy Director-General: International Cooperation and Resources at South African Department of Science and Innovation
Ms Hendrina Doroba, Division Manager-Education and Skills Development, Africa Development Bank

23/11 Thematic Workshop 1 Public Health Needs and Technologies for Healthy Societies with Responsive & Resilient Health Systems
23/11 Thematic Workshop 2 Green Transition Food and Nutrition Security and Sustainable Agriculture (FNSSA)
Moderator:

Dr Bernard Rey

, Senior Expert, Science, Technology, Innovation and Digitalisation, DG International Partnerships, European Commission
Rapporteur:

Dr Pamela Paparu

, Senior Scientist Plant Pathology, National Agricultural Research Organization (NARO), Uganda

Dr Judy Omumbo

(Senior Programme Manager, Science for Africa Foundation)

Mr Hamis Said Hincha

(Project Officer, Food Security for Peace and Nutrition-Africa)

Dr Irene Annor-Frempong

(LEAP4FNSSA Coordinator, FARA)

Dr Jonas Mugabe

(AGriDI Project Manager, ICIPE) and Dr Fathiya Khamis (Senior Scientist, ICIPE)

Ms Margherita Trestini

(Marketing Director, Prototipi)

Mr Gibson Gisore

(Chief of Staff, Adanian Labs) and Mr Kenneth Agina (Business Development Manager, Adanian Labs)

Mr Robert Kubai

(Monitoring, Evaluation and Resource Mobilization Officer, Eastern Africa Farmers Federation)

Dr Carlo Fadda

(Research Director, Biodiversity for food and agriculture, Alliance Bioversity CIAT) Dr Johnson Ouma (Executive Director, R&D, GALVmed)

Mr Lindokuhle Mdletshe

(Founder and CEO, INNOBIZ Group (Pty) Ltd)
23/11 Thematic Workshop 3 Green Transition Climate Change and Sustainable Energy (CCSE)

23/11 Thematic Workshop 4 Innovation & Technology Investing in Innovation in Africa
23/11 Thematic Workshop 5 Innovation & Technology Innovation Ecosystems in Africa
Prof Nelson Ojijo

(Associated Professor, Jomo Kenyatta University of Agriculture and Technology)
23/11 Thematic Workshop 6 Capacities for Science Skills Development and Mobility
23/11 Thematic Workshop 7 Capacities for Science Higher Education Institutions and the AU-EU Innovation Agenda
Ms Mary Mukuhi

(Regional Universities Forum for Capacity Building in Agriculture, RUFORUM)
23/11 Thematic Workshop 8 Cross-cutting issues Monitoring & Evaluation of Objectives and Actions of the AU-EU Innovation Agenda
24/11 Training Session 1 Intellectual Property Rights (IPRs): from discovery to patent & beyond
24/11 Training Session 2 – Preparing proposals for Horizon Europe and other funding programmes (e.g. Erasmus+): a multi-step training
Mr Antonio Márquez Camacho
Testimonials from representatives of Horizon Europe National Contact Points
Dr Armela Dino

(Science Policy Analyst, Unit of Internationalisation of Science and Innovation, Spanish Ministry of Science and Innovation)

Prof Mike Faborode

(NCP HE Nigeria), Professor of Agricultural Engineering, Former Vice
Chancellor, Obafemi Awolowo University, Ile-Ife
24/11 Training Session 3 – Open Science and Data Science (e.g. Africa Knowledge Platform)
24/11 Information Session 1 – Africa Initiative in Horizon Europe: update on projects from Work Programme I, 2021-2022
24/11 Information Session 2 – EURAXESS Africa
24/11 Information Session 3 – Erasmus+ in Africa
24/11 Information Session 4 – Fostering R&I Policy Frameworks in the OACPS Member States
24/11 Information Session 5 – Clustering/Partnership management
Dr Joanes Atela

Senior Research Fellow in at the African Centre for Technology Studies (ACTS), Kenya.
13 and 14 December 2022
Info days for Horizon Europe Cluster 6 will take place virtually
Research & Innovation funding opportunities in the area of Food, Bioeconomy, Natural resources, Agriculture and Environment?
The Horizon Europe (HE) Cluster 6 Info days
about the Work Programme 2023 and calls. This Work Programme includes 100 topics proposing over 880 Millions of EU funding to support the best actions.
The overall
programme
includes:
An insight on the policy context
Pitches for each of the 100 topics from the Work programme 2023
A 'key-to-success' session focused on guidance and tips for quality proposals
Networking and matchmaking opportunities in a dedicated brokerage for prospective applicants to support the building of consortia
Download the agenda
Related:
23 November 2022
Brokerage event on calls for collaboration with African researchers under the Horizon Europe programme clusters 5 & 6.
The event was organised by Brussels liaison offices from
UniLiON
, an
informal network of 52 Brussels-based liaison offices
that represent over 157 universities across Europe, as well as in UK and Japan.
The aim of the event was to build a platform for everyone, share ideas and find suitable partners for future consortia under the
EU-African calls in Cluster 5-6.
This online matchmaking event was focused on the research and innovation community of excellent universities based in Europe and Africa.
Keynote presentation: Strengthening the EU-Africa partnership in food and farming
EC DG Agriculture and Rural
Mr. Rui COSTA, Head of Sector for Science, Technology and Innovation DG International Partnerships (INTPA)
University of Helsinki and/or the Cabinet of Jutta Urpilainen
The Regional Universities Forum for Capacity Building in Agriculture
Florence Mayega Nakayiwa

, Deputy Executive Secretary Ruforum
Universities in Africa
Lizel Seneka,

manager for multi-national funding, University of Stellenbosch
African Universities Research Alliances
Pitch presentations
17 November 2022. Info session on Horizon Results Booster – steering research towards a strong societal impact

Related:

AU-EU Innovation Agenda (February 2022)