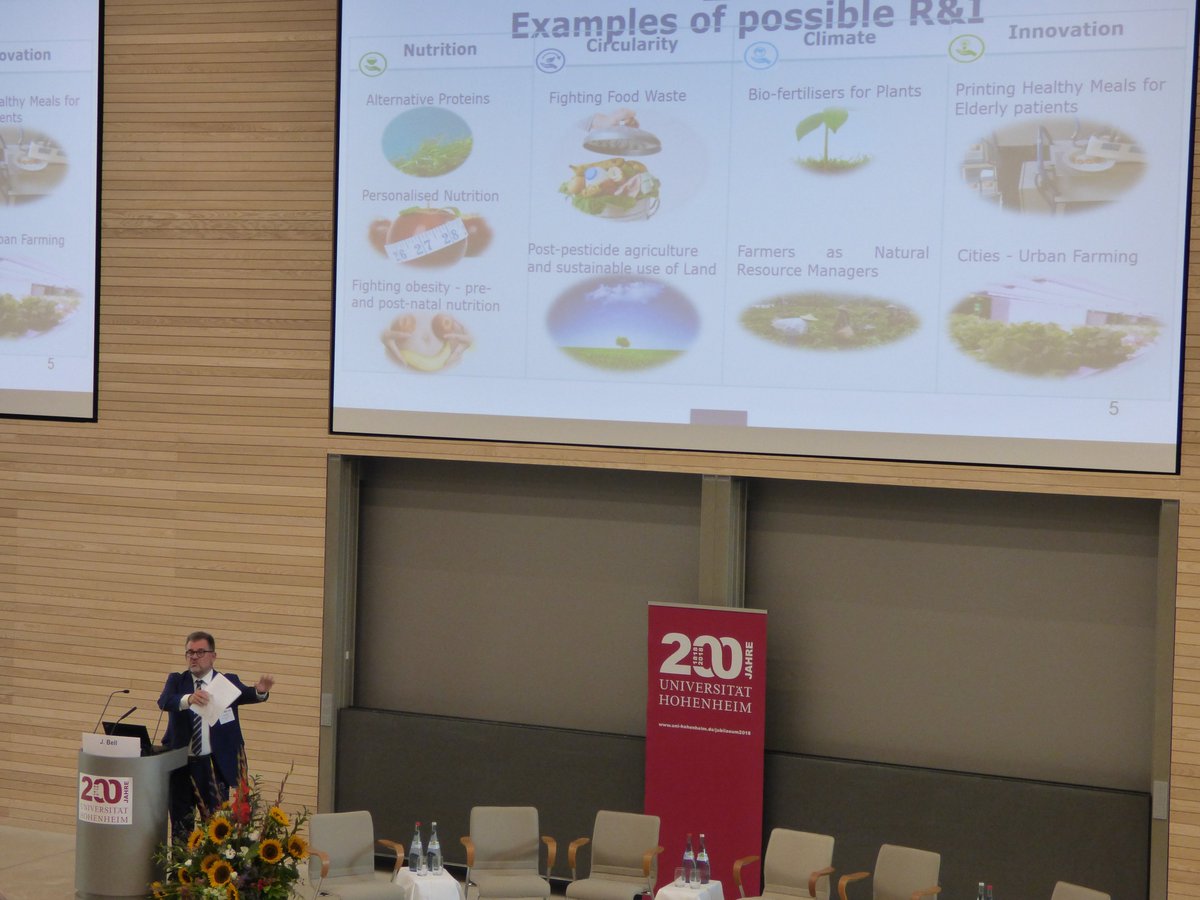 how research and innovation can drive a
sustainable transformation of our food system.
5 – 6 September 2018

. University of

Hohenheim, Stuttgart, Germany.
Congress FOOD2030 Towards Sustainable Food Systems.
The German and European scientific communities, partnering researchers from Africa, Asia and Latin America; representatives from government and the media, and members of civil society organizations, advocacy groups and private enterprises attended this event.
The Congress was organized by various institutions at the University of Hohenheim: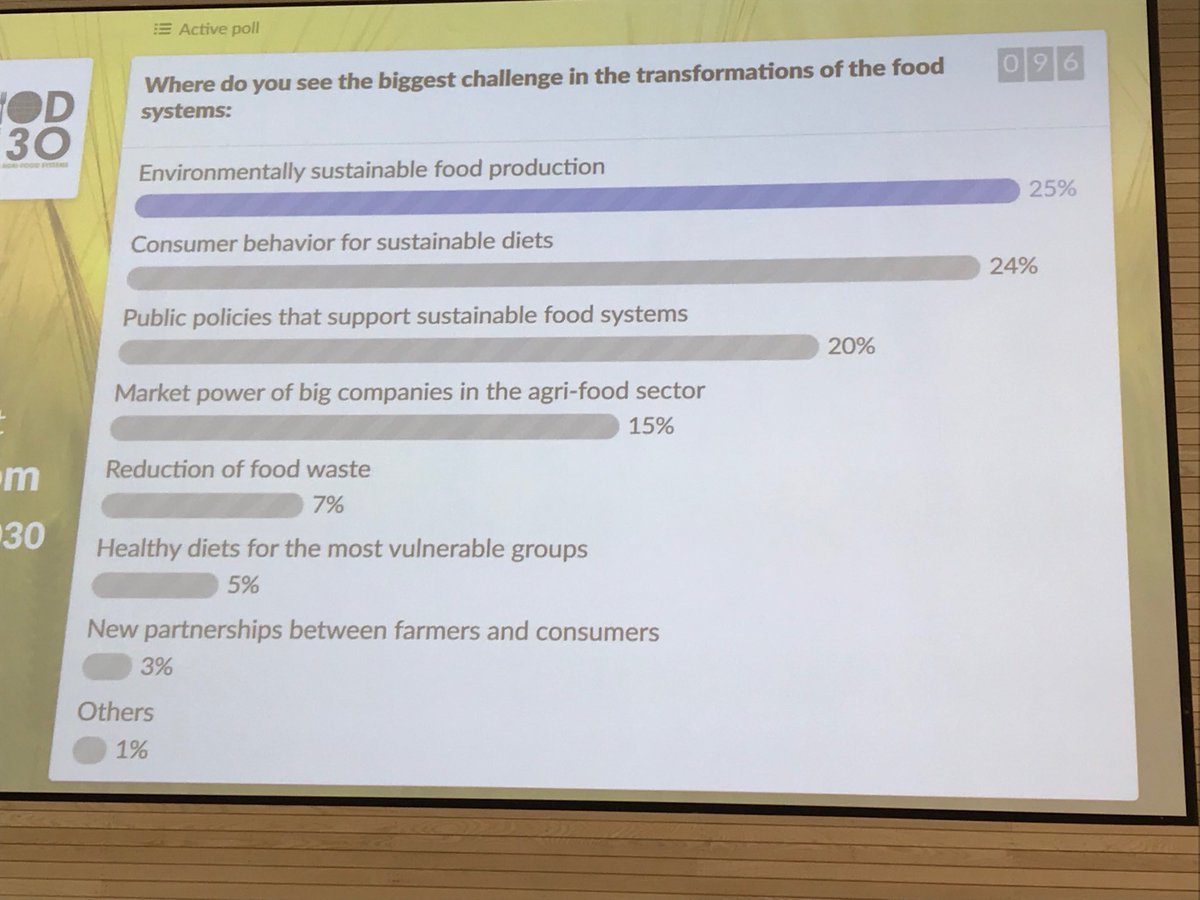 According to the participants of the Food2030 Congress:
What's needed to move towards a sustainable food System?
#CongressFood2030
This Congress, as one of the major events to mark the 200th anniversary of the University of
Hohenheim, Stuttgart brought together experts, researchers and stakeholders from various disciplines with diverse experiences related to food systems.
Program (PDF for download)]
Twitter: @GFE_Hohenheim #CongressFOOD2030
This international and interdisciplinary meeting fostered discussions on innovative pathways for future food systems that are healthy, food secure, resilient and sustainable. It networked researchers, policy makers, civil society and the private sector to facilitate exchanges and interactions in light of the upcoming 9th framework program for research of the EU. It focused on the following questions:
What are new insights from current research projects?
What are new research questions and approaches to transforming agri-food systems?
What expectations do representatives from civil society, public and private sectors have with regard to scientific research and sustainable agri-food systems?
The
programme
covered the following main topics:
A. Health and nutrition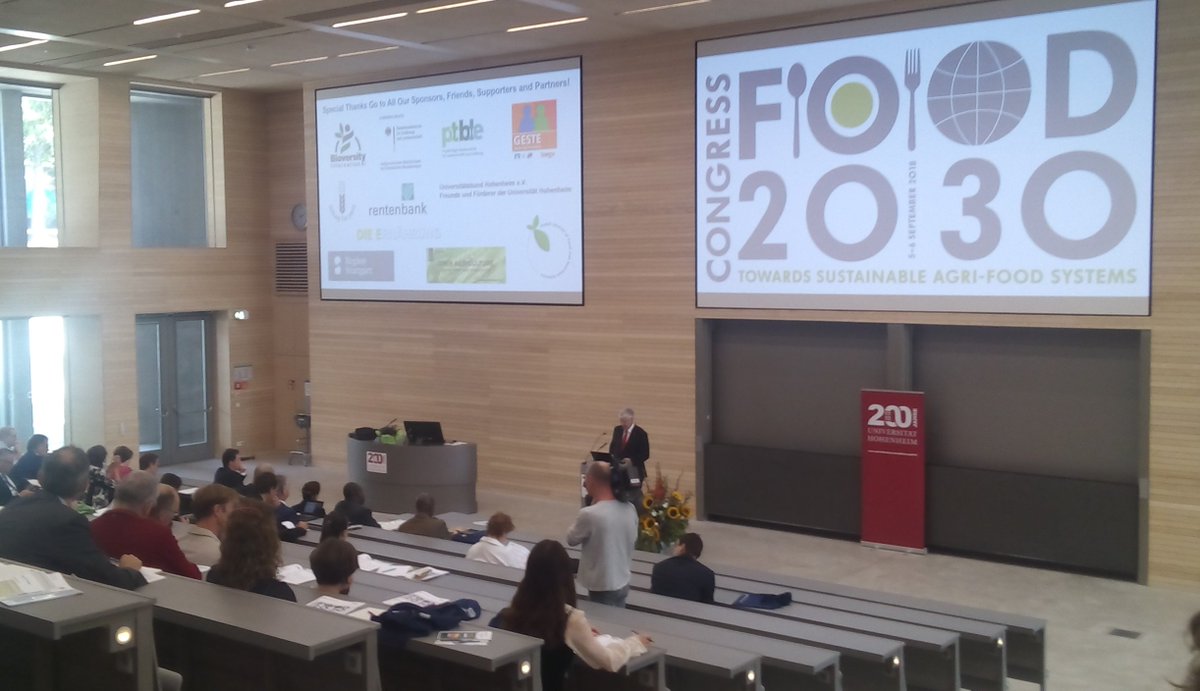 Nutrition is an important factor for a long and healthy life. The global obesity epidemic along with unequal access to food and health systems is among the most urgent challenges of today's societies. We need, for example, to better understand the biological determinants of individual nutrition, find out how to achieve behavioural changes in nutrition and develop suitable policies and communication guidelines for an increasingly diverse audience.
B. Resilience, adaptation and sustainable intensification of food production systems
Global food production systems are subject to transformations induced by changes such as climate, demography, economy, nutrition and consumption. Various strategies have to be developed to ensure food security for future generations. However, conflicts may arise from different sustainable development goals such as diversity conservation and mitigation of climate change. We need to consider these potential conflicts and improve our knowledge about increasing system's resilience to crisis, sustainable intensification and the adaptation of food production systems to socioecological and economical challenges.
C. Bioeconomy and food production
Will increasing biomass use for the production of materials, chemicals and fuels be a risk for global food security? Or will the bioeconomy provide food security through new production schemes, social innovations and economic concepts? What are necessary regulatory changes? How can consumer´s opinions be considered?
Increased urban demand for indigenous vegetables – multiplier effects in the rural Kenyan economy

Henning Krause,

Leibniz University Hannover, Institute for Environmental Economics and World Trade, Germany
Enhancing diet diversification of vulnerable communities after Ebola disease outbreak in Moyamba District, Sierra Leone

Bader Mahaman Dioula

, Action against Hunger, France
Shaking hands with the devil: More meat, milk and eggs on the plates

Silvia Alonso,

International Livestock Research Institute, Kenya
Contribution of milk from tropical cattle breeds to household food security and income in Mali

Christoph Reiber

, University of Hohenheim, Institute of Agricultural Sciences in the Tropics, Germany
Rude awakening of a sleeping giant? Exploring costs and potentials of intensification options in African savannas

Carsten Marohn,

University of Hohenheim, Inst
Out of food insecurity and poverty through land use intensification. A good practice example from Ethiopia

Karin Gaesing

, University Duisburg-Essen, Institute for Development and Peace, Germany
Opportunities that agroforestry offers for increasing the resilience of food production systems

Brigid Letty

, Institute of Natural Resources, South Africa
Social food-related well-being in a diaspora situation

Lubana Al-sayed

, University of Hohenheim, Institute of Social Sciences in Agriculture, Germany
Citizen science meets informatics: Crowdsourcing participatory millet variety selection in Hoima, Uganda for climate change adaptation through Triadic Comparisons of Technologies (TRICOT) Methodology

Gloria Otieno

, Bioversity International, Policy Unit, Uganda
Disseminating promising high-yielding tetraploid plantain bred-hybrids in francophone West Africa Rodomiro

Octavio Ortiz Rios

, Swedish University of Agricultural Sciences, Sweden
The rise of medium-scale farms in Africa: Causes and consequences of changing farm size distributions

Milu Muyanga

, Michigan State University, Department of Agricultural, Food and Resource Economics, USA