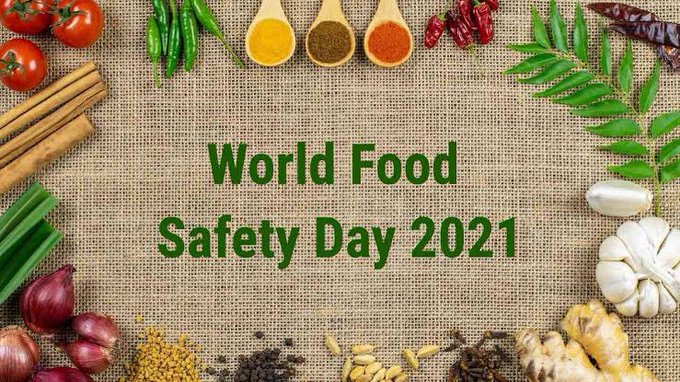 7 June 2021
. On World Food Safety Day, FAO, WHO and the Codex Secretariat hosted an online
discussion with Chief Scientists Ismahane Elouafi (FAO) and Soumya Swaminathan (WHO) to highlight the
important role science plays in keeping food safe, now and in the future.
The scientists talked about the significance of this year's World Food Safety Day theme: "Safe food now for a healthy tomorrow."
The event opened with video messages from FAO Director-General QU Dongyu and WHO Director-General Tedros Adhanom Ghebreyesus and included some food safety success stories from around the world.
"We should fully use new and emergent technologies. On one of the major technologies that we need to use properly is genome sequencing and genome editing (CRISP). (...) It allows us to understand better epidemiology, surveillance, food testing, monitoring, safety, as well outbreak investigation. But we need to do more: we need policies and regulations to provide a better environment to use those technologies to protect us and to increase the safety of our food system. (..) other technologies are digital techologies"
Ismahane Elouafi, Chief Scientists FAO
8-9 June 2021.
South Africa's 2nd Food Safety Summit

The 2nd annual Food Safety Summit South Africa will take place on 8-9 June this year to coincide with World Food Safety Day celebrations. Organizers Anelich Consulting and digital marketing platform, Food Focus, are keen to acknowledge lessons learned from the global pandemic, but also to "make sure we pay attention to the real food safety issues facing the food industry."

The summit will align its theme with that of World Food Safety Day, which this year is "Safe food now for a healthy tomorrow." The event is aimed particularly at food safety professionals and students, food scientists and technologists, risk managers, quality control and quality assurance managers and regulators.
Including:
Prof David Miller:
Mycotoxins: still with us after all these years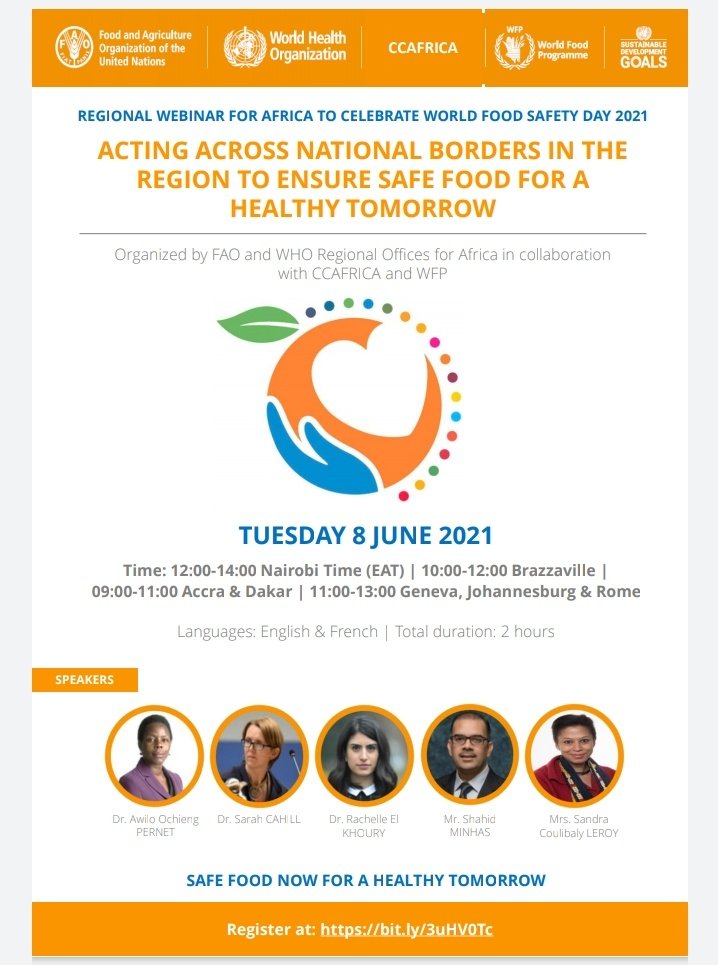 8 June 2021.
FAO, WHO and the WFP are working with the Codex Alimentarius Secretariat and theCodex Committee for Africa (CCAFRICA) to organize a
2-hour webinar for World Food Safety Day
, entitled "Acting across national borders in the Region for ensuring safe food for a healthier tomorrow."
The 8 June event will concentrate on countries' need to invest in strengthening national food control systems and sustaining cross-border cooperation in order to guarantee the availability of safe and healthy food across the region. "Cooperation across borders and a renewed focus on food safety is needed in order to reap the full benefits and opportunities of the African Continental Free Trade Area agreement," say the organizers.
The webinar is aimed at food regulators, authorities responsible for food safety from the different line ministries, nutrition programme managers, agency staff, NGOs, Codex Contact Points in the region and members of the International Food Safety Authorities Network (INFOSAN), as well as academia and research institutions.
7 June 2021.
Denmark's Food Nation will hold a Global Food Talk on World Food Safety Day
Denmark's ambitions and role to support the global agenda with focus on food quality and safety
The food advocacy organization Food Tank will host a panel discussion on World Food Safety Day to discuss "One Health: Food Safety for All".
Francesco Branca, Director of the Department of Nutrition and Food Safety, WHO,
Tom Heilandt, Secretary of the FAO/WHO Codex Alimentarius Commission,
Makaiko Khonjefrom the MwAPATA Institute in Lilongwe, Malawi,
Professor Alan Reilly, who worked at the Food Safety Authority of Ireland (FSAI)
Dr Carla L. Schwan, from the Food Safety and Defense Lab, Kansas State University.
7 June 2021. On the occasion of the World Food Safety Day, FAO Regional Office for Europe and Central Asia and WHO Regional Office for Europe organized a webinar on food safety in the context of sustainable food systems and actions needed to address food safety issues in the human-animal-environment interface to assure "safe food now for a healthy tomorrow". Food Safety in the context of Sustainable Food Systems: Europe and Central Asia Regional Webinar.
Professor Lucia Anelich, of Anelich Consulting food safety solutions,
Susan Featherstone, CEO of SAAFoST
Jane Nock, Chief Technical Food Science Officer for in2food, South Africa.
1-2 June 2021. FAO, PAHO, IICA, OIRSA, and the CCLAC have joined forces to celebrate WFSD during a 2-day webinar for Latin America and the Caribbean with the goal to bring together the different stakeholders involved in the food chain continuum to share their expertise and experiences.