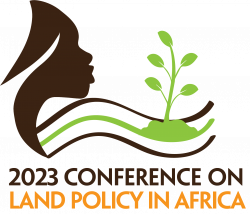 21 - 24 November 2023.
Addis-Ababa, Ethiopia.
The 5th Conference on Land Policy in Africa
.
20/11
There are several pre-events lined up, just before the conference
.
This is a tripartite consortium consisting of the African Union Commission (AUC), the African Development Bank (AfDB) and United Nations Economic Commission for Africa (ECA)
Conference in the context of the 'Year of AfCFTA: Acceleration of the African Continental Free Trade Area Implementation', which is the AU Theme of the year.
Zoom links are accessible for registered participants
Extracts of the agenda
21/11: Opening Ceremony
MC: Dr. Janet Edeme, African Union Commission
Speakers
H.E. Josefa Leonel Correia Sacko, AU Commissioner for Agriculture, Rural Development, Blue Economy, and Sustainable Environment

Ms. Leontine Kanziemo, Lead Advisor, Natural Resources Management, AfDB

H.E Hans Lundquist, Ambassador of Sweden to Ethiopia and Djibouti, and Permanent Representative to AU, IGAD and UNECA.

Hon. Judith Nabakooba, Minister of Lands, Housing & Urban Development, Uganda

Mr. Antonio Pedro, Deputy Executive Secretary, United Nations Economic Commission for Africa (ECA)
21/11: Technical Session

Location:
Nelson Mandela Conference Hall
Zoom Link to Nelson Mandela Conference Hall
Chair:
Dr. Elizabeth Mirika Musvoto, University of Cape Town, South Africa; liz.musvoto@uct.ac.za

Assessing transparency, inclusiveness, and sustainability in large-scale land acquisitions in Africa
1: International Land Coalition, Italy; 2: CIRAD, France; 3: German Institute for Global and Area Studies, Humboldt-Universität zu Berlin, University of Göttingen
---
Medium Scale Commercial Agriculture and its Role in Structural Transformation, Wealth Creation and Enhanced Livelihoods in an African Context: Evidence from Contemporary Zimbabwe
University of South Africa, South Africa
The cohort of medium scale farmers created by the fast track land reform programme (FTLRP) has become pivotal in the country's reconfigured agrarian structure with the State identifying them as key drivers of its agricultural transformation strategy. In an economy that is heavily reliant on the agricultural sector, medium scale commercial farmers are considered as agents of change, bridging the gap left by the predominantly white owned large scale commercial farming sector, decimated by the FTLRP. The predominate black medium scale Zimbabwean farmers are increasingly being considered as critical in spearheading agricultural commercialisation trajectories, facilitating accumulation and as catalytic agents for socio-economic transformation and development.
---
Potential Livelihood Benefits of Entitling Customary Rights to Land in Africa: Evidence from Farm Households in Nigeria
1: Federal University of Agriculture, Abeokuta, Nigeria; 2: Landmark University, Omu-Aran, Kwara State, Nigeria
---
Scaling bottom-up land governance interventions: including local institutions to increase (perceived) tenure security
Utrecht University, The Netherlands,
23/11: Technical Session
Location: Nelson Mandela Conference Hall
Zoom Link to Nelson Mandela Conference Hall
Chair: Prof. Uchendu Eugene Chigbu, Namibia University of Science and Technology, Namibia; echigbu@nust.na

Scaling-up Community Participatory Mapping and Land Use Planning to reinforce customary land governance for multi-stakeholder engagement on sustainable investments and trade on land in Southwest Cameroon.
AJESH (AJEMALEBU SELF HELP), Cameroon
---
Post independence land policies in southern Africa: Improving agricultural productivity and value chains for export
University of Zimbabwe, Zimbabwe
---
A National Land Policy in Crisis: The Case of Ghana
Department of Land Economy, KNUST, Ghana
---
A review of the Enabling Environment for Transformative Land Investment in Ethiopia, Ghana and Mozambique
1: Center for International Forestry Research and World Agroforestry (CIFOR-ICRAF), Kenya; 2: SNV; 3: Wageningen University Research
Impacts of Land Registration and Cash Grants on Agricultural Investment and Trade: Evidence from Women Farmers in Uganda
World Bank, United States of America
The findings of this study indicate that tenure insecurity and credit constraints are important barriers hindering African women's participation in higher-value, agricultural trading. They also show that it is possible to alleviate these barriers through policy design, and that doing so can have important impacts on women's empowerment.
Related: AFSA PUBLICATIONS
November 21, 2023
– We are excited to announce the launch of a series of five national land policy study reports on Senegal, Mali, Togo, Ghana, and Cameroon, as part of AFSA's "Our Land is Our Life" initiative. This landmark release underscores AFSA's commitment to promoting sustainable land rights and governance in Africa.
Key Insights and Objectives of the Reports:

Recommendations for Advocacy Strategy:
They offer recommendations to inform advocacy strategies for land rights, identifying key policy spaces, entry points, and actors best placed for advocacy.
Policy Barriers and Advocacy Opportunities:
The reports aim to identify barriers to land rights and opportunities for policy advocacy, including strategies for challenging opposing narratives.
Stakeholder Analysis:
They provide an analysis of key stakeholders in land policy, identifying allies for protecting small-scale farmers and pastoralists' rights, and examining the influence and narratives of those who favor privatization and investment in land rights.
Implementation of International Guidelines:
The reports assess how international guidelines on land governance, such as those from the UN, AU, and RECs, are being implemented at the national level.
Large-Scale Land Acquisitions:
They evaluate the extent and impact of large-scale land acquisitions by both national and international investors on local land users.

I
mpact Assessment on Land Users:
The reports assess how current land governance frameworks impact various groups such as family farmers, indigenous peoples, women, and youth. This includes examining human rights, land rights, access to and control of land, protection of customary land rights, and involvement in land policy decisions.
Examine Land Policies and Governance:
They seek to understand the national land policies and governance structures, focusing on how these policies affect peasants' rights, women's rights, and food sovereignty.